Danny Reagan (Donnie Wahlberg) may be the one putting his life in jeopardy every day as part of the NYPD, but it was his wife, Linda (Amy Carlson), who ended up dying in the hit CBS drama "Blue Bloods." Her death rocked the Reagan family to their core in the Season 8 premiere episode when viewers discovered she died off-screen in a helicopter crash. Everyone's shaken, but her death was especially detrimental to Danny and their sons as they learn to pick up the pieces and move on.
However, the creative team behind "Blue Bloods" weren't intending to kill Linda in such a manner. As it turns out, Carlson didn't renew her contract in the middle of Seasons 7 and 8, which left the writers with little room for what to do with Linda. The Season 8 opener particularly took fans by surprise because, in the Season 7 finale, a drug cartel sets fire to Danny and Linda's home, which would've been a prime opportunity to kill off the character if they knew that's what they wanted to do.
Due to the timing of everything, "Blue Bloods" showrunner Kevin Wade told Entertainment Weekly that they were short on options: "We were catching up after the fact, after the actress decided not to return to the show. It was an offering out of very limited choices, the way that we handled her departure. We then had really 22 episodes to deal with the impact of the death of that character on the life of her surviving husband and kids, which I like to think we did somewhat successfully and paid respect to her character." Even though the writers thought they paid respect to Linda, Carlson didn't think so.
Amy Carlson wouldn't have killed off Linda the way they did on Blue Bloods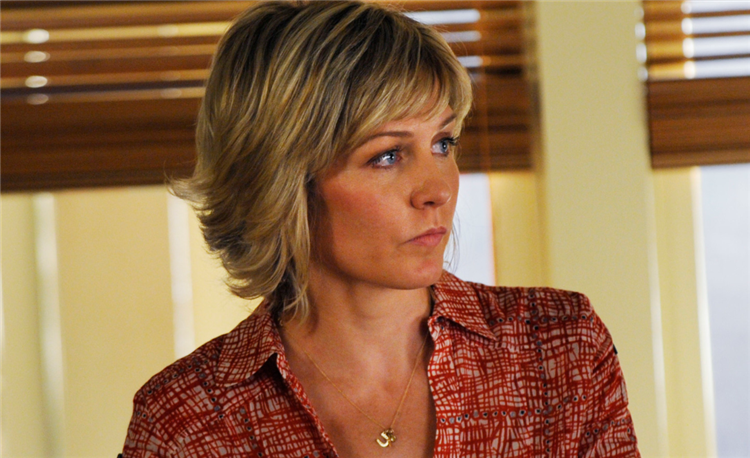 Linda was a prominent presence on "Blue Bloods" for many years. As such, many fans connected with her, especially as she was somewhat on the periphery of what the Reagans were doing, offering an everyman perspective to their daily problems. It should come as no surprise to hear that viewers were naturally upset that Linda was killed off in such an anticlimactic manner, and even Amy Carlson wasn't a fan of what transpired. She told Deadline, "I feel badly that she dies the way she dies. I did not know they would do that, I was surprised. I wouldn't have done that."
Perhaps for this reason, Carlson mentioned she would be open to returning to the show in some capacity, perhaps in a flashback. Ultimately, she just wants fans to be able to say goodbye to a character they clearly came to adore: "I think it's been hard on the fans. I never wanted it to end that way, so I feel sad for the fans because everyone wants closure, and I hear that a lot from the fans." However, all these years later, Linda has yet to return to "Blue Bloods" in any way.
The show's writers made the best of being placed between a rock and a hard place. Showrunner Kevin Wade discussed how Linda's death encouraged them to pursue a new family addition, finally getting Jamie (Will Estes) and Eddie (Vanessa Ray) together. He told EW, "If that was the first scene of the season, dealing with that stuff [about Linda], then maybe the last scene could make an addition to the family." The Season 8 finale sees the pair become engaged, leading to the best family dinner scene of the season. It was a best-case scenario for what was a tricky situation to navigate.