The world of "Blue Bloods" is populated by the Reagan family. They consist of multiple generations of law enforcement professionals who keep New York City safe in multiple capacities. From hitting the streets to putting bad guys behind bars in the courtroom, it seems like you can't swing a stick in an NYPD facility without hitting a Reagan.
However, it's naturally a tough job, and even this family requires some assistance every now and then to get the job done. They have numerous allies and partners who have their backs, and when it comes to the family patriarch, Frank Reagan (Tom Selleck), he has his trusty aide Abigail Baker (Abigail Hawk) to lend a helping hand.
She's the first aide to Commissioner Reagan and often functions as a voice of reason when Frank finds himself pulled in several different directions. Abigail has been there since the show's first season, and given how important she's become, it's strange to think about how she was originally written as a non-entity.
Abigail Baker was written with no last name and no age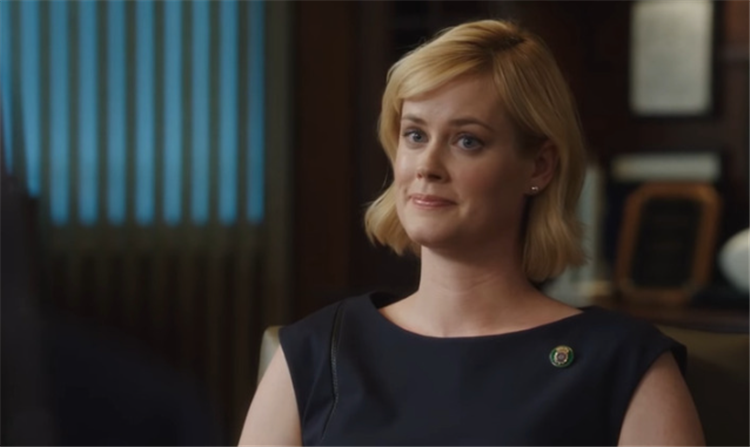 Given how she's factored into numerous "Blue Bloods" storylines over the years, it's hard to think that Abigail Baker was almost a throwaway character. As Abigail Hawk mentioned in an interview with Starry Mag, the character's name wasn't "Abigail" to begin with. In fact, it was "Melissa." Just Melissa, without any last name. She states, "Originally, she did not have a last name. She did not have an age. She did not even have a gender. She did not have a race. She did not have an anything. She was either detective Mel or Melissa. So, no first name. Definitely not my first name."
This checks out. If you go to Hawk's IMDb profile, you'll notice that for the first season of "Blue Bloods," she's credited as playing either "Det. Melissa" or "Det. Melissa Baker." As it turns out, it's all thanks to her co-star Tom Selleck that her character got fleshed out at all, as she goes on to say, "Tom [Selleck] decided to change it to Abigail because he thought Melissa was too ordinary, which I guess is a compliment — so I'll take it. Then he cleared with the lawyers the last name Baker. He obviously thought it was very important for me to have a last name since I was a person on the show. So, they gave me a full-fledged identity and that was all him."
With the show currently on its 13th season, it's hard to imagine it without Abigail Baker, so good on Selleck for knowing a good character when he saw one.