The entertainment industry lost a legend when Treat Williams died on June 12. He had decades of credits to his name and was nominated for a Golden Globe for his work in 1981's "Prince of the City." However, many likely remembered him for playing family patriarch Dr. Andy Brown on "Everwood" for four seasons. But that only scratches the surface of what he accomplished over his illustrious career, and many people in Hollywood have given their condolences publicly.
One of his final performances came in a Season 13 episode of "Blue Bloods," reprising his character of Lenny Ross, who's appeared periodically in the police procedural since Season 6. Lenny always seemed to find himself in trouble whenever he appeared on the show, but he meant well and was always there as a friend to the Reagan family. It seems that camaraderie extended off-camera, too, as several "Blue Bloods" cast members released statements to People after his passing.
Tom Selleck, who plays Frank Reagan, mourned the loss of his friend. "It has been said that we are all just passing time and occupy our chair very briefly," Selleck stated. "My friend Treat was aptly named and occupied his chair so well. I will miss him but I will not forget him. Well done, my friend." Williams even posted a photo of him with Selleck in costume to his Twitter in 2021, writing, "Thanks Tom Selleck and #Bluebloods always a pleasure. Two old pros."
Bridget Moynahan and Vanessa Ray also shared statements on their Blue Bloods co-star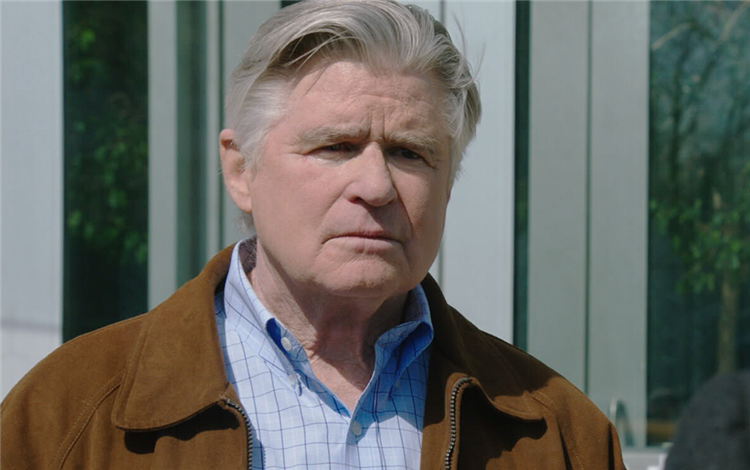 Treat Williams' death may have come as a particular shock to "Blue Bloods" fans, seeing how he appeared on Season 13's "Irish Exits," which aired on May 12. A month later, he'd be gone, and other "Blue Bloods" cast members shared in their grief. Bridget Moynahan, who plays Erin Reagan, also shared a statement to People, mentioning how Williams was a true "actor's actor." "He was a role model off screen as well," Moynahan stated. "His love and devotion to his family was one for all to admire. We lost a good one, folks. RIP Treat."
Vanessa Ray, known for her portrayal of Eddie Janko-Reagan on "Blue Bloods," shared a touching tribute to the late actor on her Instagram: "The first time I worked with Treat on @bluebloods_cbs at family dinner, he found out I was in Hair on Broadway. I said I was the 'Frank Mills' girl. He started singing. He knew every word. I did not. What an incredibly sharp, kind, beautiful artist. Rest now sweet Berger."
Of course, with over 100 acting credits to his name, Treat Williams touched the lives of a ton of people. This only represents a small sampling of the support to come out for the actor in the aftermath of his death. Laura Dern, Kim Cattrall, and Jonathan Bennett, among others, also paid their respects to the dearly departed actor. Treat Williams may be gone, but his impressive body of work will live on.