Bridget Moynahan is comfortable being the sole woman among many men and her work on "Blue Bloods" is no different, as Moynahan plays Erin Reagan, the one woman among her large family of law enforcement workers. Erin's father, Frank Reagan (Tom Selleck), is the New York Police Department's commissioner, just as his father, Henry (Len Cariou), was before him. Her brother Danny (Donnie Wahlberg) is a rough-and-tumble NYPD detective, and her brother Jamie (Will Estes) eventually becomes a sergeant in the NYPD. Erin is also in law enforcement as Assistant District Attorney.
Moynahan has often been the only woman in male-dominated casts (as is true of many Hollywood films) in movies such as "John Wick," "Battle Los Angeles," "The Recruit," and "I, Robot" (per IMDb). And it's something she's perfectly at home with. "Growing up in an Irish Catholic family with all brothers and all boy cousins, I've just been surrounded by men my whole life," she told Glamour, as one similarity between her and her "Blue Bloods" character.
But Moynahan feels fortunate to have done some women-focused projects as well, such as "Sex and the City" and its spinoff "And Just Like That…," the John Cusack-starring romcom "Serendipity," and her 2000 film, "Coyote Ugly." Now in her '50s and mom to her son with footballer Tom Brady, Moynahan feels very grateful to have a steady, secure job with the long-running police procedural. The New York native is also thankful to be able to work mainly in her hometown.
Bridget Moynahan loves being with family in New York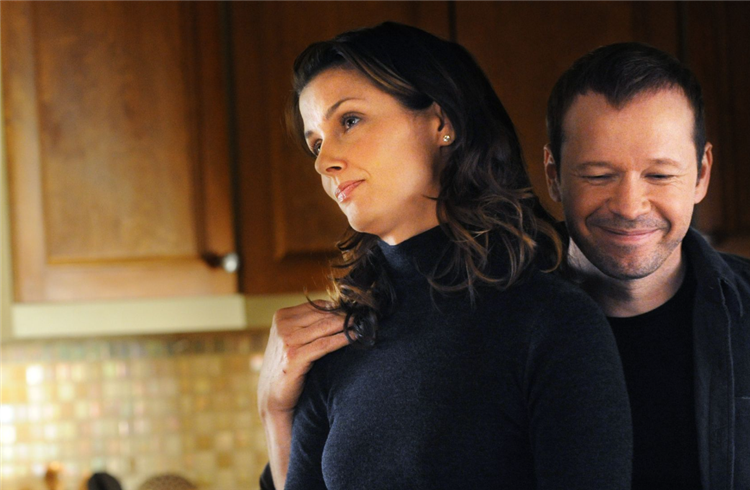 Bridget Moynahan is one of few Hollywood women to land a steady, long-term job like "Blue Bloods." The type of security found in a role like Erin Reagan, Olivia Benson (Mariska Hargitay) in "Law & Order: SVU," or Meredith Grey (Ellen Pompeo) in "Grey's Anatomy," doesn't come along often in the entertainment business. Moynahan is grateful for her work on the show, especially as it allows her to be in the city she loves.
"I didn't want to get lost in L.A.," she told Glamour, acknowledging that much entertainment work happens in Hollywood. "I had New York, and I knew New York. I had that comfort." She intentionally didn't go to Los Angeles until she had a job: "Coyote Ugly." But she, fortunately, got cast in New York-based "Sex and the City" at the same time. And now she's grateful to have "Blue Bloods," even if Moynahan almost turned it down. "It gives all of us here the freedom to have a life with our families," Moynahan said. "I've fortunately been able to raise my son in New York City because of this show. That's a win."
Family is, of course, a huge theme in the series, and it's one reason the family meals on "Blue Bloods" are so popular. "Just being surrounded by your loved ones I think is something that people respond to on TV and maybe, you know, wish to have in their lives a little bit more," she told Daily Blast Live. "Everybody seems to really relate to that."