After 12 years on the air, it's safe to say that "Blue Bloods" is one of the best cop shows of all time. So much sets "Blue Bloods" apart, but the show's staying power comes from its characters. By following the Reagan family, "Blue Bloods" manages to be just as much a character drama as a police procedural.
Will Estes plays Jamie Reagan, the youngest in a family of dedicated NYPD officers. Jamie has changed a lot since the show's early days. He starts out as a rookie on the force, but works his way up the ranks, saves lives, and even marries the woman of his dreams. Jamie has really come into himself, and Estes' performance has kept fans invested in the character for more than a decade. Much like Jamie, Estes has been working for a long time. He started acting when he was just 10 years old, and he's spent the majority of his life in front of one type of camera or another.
Let's take a deep dive into Estes' career history to see what makes the acting chops behind Jamie Reagan tick.
He considers his career a 'happy accident'
Every actor walks their own path in the industry, and Will Estes' journey started very early in his life. Years ago, on an episode of "Whatever with Alexis and Jennifer," Estes explained that since he grew up in Los Angeles, there were numerous opportunities for him to get interested in acting before he was even a teenager. "I just got introduced to a children's agency, and I auditioned for them, and I did a bunch of commercials, and they sent me on to other stuff," he said. Commercials led to TV roles that eventually blossomed into the career that Estes has today.
Even though he's now a successful actor living in New York City and filming season after season of "Blue Bloods," Estes maintains that his entire career is more of a happy accident than anything else. In 2021, he told Glitter Magazine that acting "was an option in my life offered up from the city itself. It chose me more than anything else." His career might have started from being in the right place at the right time, but work ethic and genuine talent have certainly helped keep Estes on the screen for decades.
His first major role was in 'The New Lassie'
It's hard enough for adult actors to find roles, but child actors have an even narrower list of opportunities available to them. After some successful auditions with child talent agencies, luck struck Will Estes again when he landed a lead role on "The New Lassie." Estes was just 10 years old when the series premiered in 1989, and he went on to star in 48 episodes over the course of three years working under the name "Will Nipper." Years later, Estes told Smashing Interviews, "I've had dogs my whole life, and I think that may have been why I got the job." After the audition he learned that some of the other children were afraid of dogs, so his comfort with canine co-stars made him the obvious choice for the role.
Being a dog person helped Estes land his first major role, but his next few parts came from an even stranger coincidence. On an episode of "The Talk," Estes said that when he was a kid, "People used to always ask me if I was related to Rob Estes," the star of "Melrose Place." Will Estes played into the confusion, even going as far as telling some people that Rob Estes was his dad. When he came face-to-face with Rob Estes in person years later, he confessed, and the two of them shared a laugh over it.
He's acted alongside Jon Bon Jovi more than once
Throughout the course of his career, Will Estes has worked alongside some exciting co-stars, but at least one of them also happens to be a rock star. Released in 2000, "U-571" is a film that tells the story of WWII-era American spies sneaking onto a Nazi submarine to break open German codes for the Allies. The film sees Estes working with people like Matthew McConaughey, Bill Paxton, and Jon Bon Jovi.
Estes' association with the rocker didn't end there. In fact, shortly after "U-571" debuted, Bon Jovi released a music video for the song "It's My Life" that stars a familiar face. Estes plays the main character Tommy, who gets to do a few action movie stunts while running from his apartment to an underground Bon Jovi concert. Estes may not have toured with the band, but he is an honorary rock star by association.
He cares about the environment
Will Estes doesn't spend all of his time acting, but he always keeps himself busy. For years he's been a passionate environmental activist, and he's tried to use his platform to promote the issues that are most important to him. On Instagram, he encouraged his fans to vote for political candidates who supported climate change reform, writing, "My work as a marine conservationist and advocate has brought me face-to-face with some of our world's most formidable challenges and I have learned the hard way we must take action every single day in any capacity we can to effect lasting change." A quick scroll through his profile on Instagram or Twitter reveals that when he's not promoting "Blue Bloods," he's advocating on behalf of the environment.
Estes' commitment runs much deeper than social media. He told Looper in November 2021 that his almost-vegetarian diet is reflective of his larger life philosophy. "I just can't divorce the idea of protecting our natural resources in our wild places and the health of our planet from the health of us and our wellbeing, all of us." For Estes, making a difference is as much about big social movements as it is about small personal changes. What makes that approach even better, as he points out, is that by helping the environment, people can also help themselves.
Construction work is a hobby for him
Everyone needs a hobby. Acting and activism keep Will Estes plenty busy, but even he needs to find a way to unwind from time to time. Considering how he never seems to slow down, maybe it's not all that surprising that his go-to hobby would be a full day's work for most other people. "Construction's been a little bit of a hobby of mine," he sheepishly admitted over a decade ago on the daytime talk show "Whatever." Far from being a small-time hobbyist, Estes actually knows quite a bit about construction, tiling, and other renovation jobs.
It might just be that construction happens to overlap with Estes' environmentalist passions. In a 2010 interview Estes explained that he got some hands-on experience installing solar panels in his own home. While taking a class on solar panels, Estes made friends with a contractor, but instead of just hiring out his company for the installation, Estes decided to help out and learn the process for himself. "It wasn't hard," Estes said. "It was d one in about four days, but it wasn't even four full days of work because you had to stop and go back to it." That's one way to spend a break from filming.
He almost met Christian Bale
The vast majority of Will Estes' career has taken place on TV. He's traveled from the set of "The New Lassie" to "7th Heaven," "American Dreams," "Blue Bloods," and more. Along the way, though, Estes found the time to take roles in a smattering of feature films, and one of them just so happened to be Christopher Nolan's "The Dark Knight Rises."
In the film, Estes plays a rookie cop who's stunned when Batman makes a dramatic return to Gotham City and flies by the rookie's patrol car on the Batcycle. Estes will be the first to admit that his role in the film is small enough to be easy to miss, but that did nothing to dampen his enthusiasm for being part of the production.
In an interview, Estes talked about how he very nearly met Christian Bale while filming his scene for the movie. Estes was more than a little starstruck and couldn't quite decide if he wanted to go up to speak to Bale. On his third attempt at walking up to the movie star, he saw Bale, in full Batsuit, drinking out of a juice box because he could hardly move his head in the costume. "And I said, 'You know what? I'm not going to bother Christian Bale today,'" Estes said. "The guy is Batman."
He really admires Tom Selleck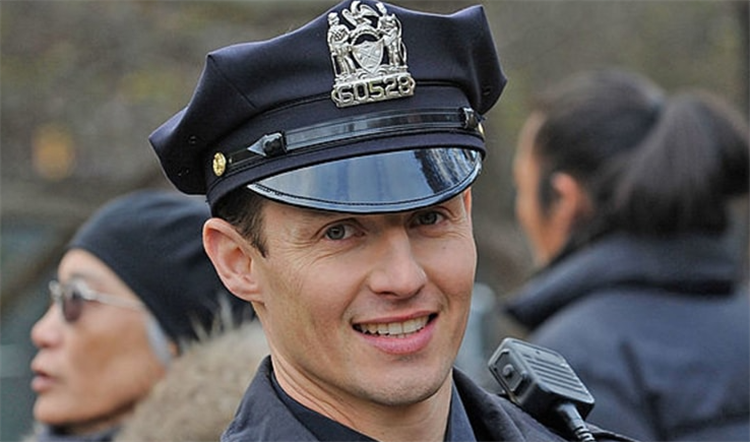 Tom Selleck is a legendary actor who won an Emmy for his work on "Magnum, P.I." back in the '80s. For over a decade, he's played police chief Frank Reagan on "Blue Bloods," and his character serves as an important leader for everyone else in the show. To hear Will Estes tell it, Selleck is as much a leader behind the series as his character is in front of the camera.
When the hosts of Better Connecticut asked Estes what he thinks keeps viewers coming back to "Blue Bloods" week after week, his answer was simple: "Tom Selleck." He was joking a little bit, but Estes went on to say that Selleck is always the most knowledgeable and best prepared person on set. He's the one who every "Blue Bloods" actor turns to when they need advice on how to present their characters or how to handle specific scenes. "He could write, direct, and produce the show, but he maintains he just wants to act on it," Estes said.
By the time he joined "Blue Bloods," Estes had been an actor for decades, but he says that he's learned all new things about storytelling, character building, and entertaining an audience from Selleck. In Estes' mind, "Blue Bloods" is as much Selleck's show as anyone's.
He takes training for roles seriously
Every actor has their own approach when it comes to preparing for a role. Some go method and fully embody the character they're about to portray, while others just learn their lines and see what happens organically in front of the camera. Will Estes has a routine that's somewhere in between the two.
"I try to train based on the role," Estes once told Men's Journal. He doesn't pretend to be his character 24/7, but he tries to engage in the activities that his character would be doing. When he played a Marine, Estes said, "I did anything that was combat-oriented. I would go shoot and box and just sort of get into the whole mindset." It's an approach that lets Estes lead his normal life while still truly coming to understand his characters.
Estes' training is so thorough he once fooled an NYPD detective into thinking he was actually a cop. He told Men's Journal that he was filming a scene in Times Square when a real detective came up and started asking him questions about the job. It wasn't until his partner pointed out that the brass on Estes' costume wasn't for a real police precinct that the detective realized he was an actor.
He's had some interesting fan encounters
Anyone who's been on TV for decades is bound to get recognized on the street from time to time. With all the success that's come with "Blue Bloods," Will Estes has found himself getting more attention than ever before, but that doesn't mean that everyone who comes up to him is particularly polite.
Estes told a story about one of his favorite fan interactors to Glitter Magazine back in February 2021. He and Vanessa Ray were standing on the street getting ready for a shoot when a fan of the show came up to them. The fan was on the phone with a friend and said he couldn't even remember the name of Ray's character. As Estes and Ray were chuckling, the fan looked at Estes and said, "You're a lot smaller in person." Estes said he doesn't hold any grudges, though. "I think he was genuine and completely oblivious, which is why it was so funny," he said.
Estes has also said that more often than not, if fans are waiting around a potential shoot all morning, they want to get some face time with Donnie Wahlberg. He said he respects Wahlberg's ability to wholeheartedly engage with anyone who approaches, no matter the context. He also said that since, "They're usually yelling for someone else," he feels even better when a fan says something to him in person.
He loves living in New York City
Like "Law & Order" before it, "Blue Bloods" is actually filmed in New York City. The real-world locations give "Blue Bloods" an authentic feeling that just can't be replicated on a soundstage or using another city as a New York double. The filming location also helped make one of Will Estes' dreams a reality.
"I always wanted to play a cop on television and live in New York as well," Estes told Smashing Interviews, "so this has worked out great." Estes grew up in Los Angeles, so even when he started working on "Blue Bloods," he probably never envisioned himself becoming a tried-and-true New Yorker, but after more than a decade, that's exactly what he is.
When Glitter Magazine asked Estes in 2021 what working in New York is like, he said, "Cold. Oh, and then really hot and humid. Also, really fun. New York can be like a playground for creative adults." He admitted that he didn't really feel connected to the city after living with the pandemic so long but said he was trying to find ways to get back out there. "I think happiness is a strong espresso, a newspaper, and good conversation all in the same day." It's hard to imagine not being able to find those in the Big Apple, so despite the pandemic, Estes still loves where he lives.