Any longtime fan of the police procedural "Blue Bloods" (or any police procedural, for that matter) will know that police informants are sometimes the only way to get to the bottom of a case — though not all of these informants are as useful as they might first seem. Take Bugs, an offbeat confidential informant who can't quite seem to keep his mouth shut.
Indeed, Bugs' most recent appearance, in Season 13, Episode 17, sees him accidentally revealing that he and his brother Marcus (Sean Nelson) had been talking to the police, which leads to Marcus' tragic death at the hands of his partner in crime Reggie (Stephen Cofield Jr.). These dramatic circumstances put Bugs at the center of the episode, and if you think this low-level C.I. looks somewhat familiar, it's because he's played by actor Derek Gaines — who has been working across television and film for nearly 15 years.
Derek Gaines has worked in film and television since 2009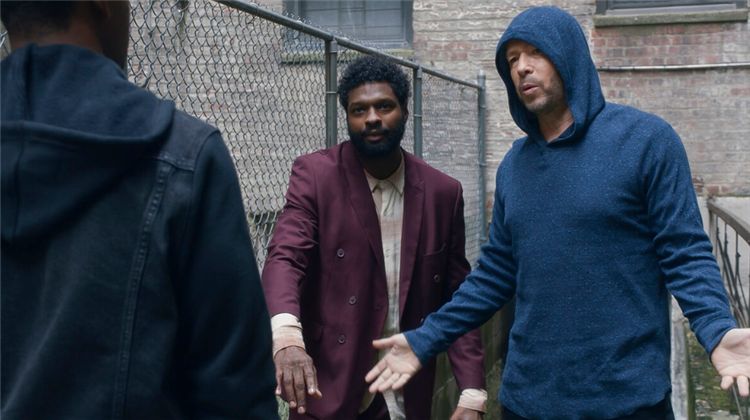 From beginning his career as a writer for "Who's Got Jokes?" in 2009, Derek Gaines has worked across a variety of film and television projects over the past 15 years. He is perhaps most recognizable for his role as Jason "Jaybird" Watkins in the Tracy Morgan-led comedy series "The Last O.G," appearing in 24 episodes across the series' four seasons on the air.
He also appeared in Pete Davidson vehicle "The King of Staten Island" as a character named Zoots and had a brief stint on "Will & Grace" from 2017 to 2019, playing Jack MacFarland's (Sean Hayes) colleague Theodore. More recently, he's appeared in one episode each of "That Damn Michael Che" (playing a tithes collector), "Pause with Sam Jay" (playing a party guest), and "Inside Amy Schumer," the latter of which he also worked on as a writer. Gaines' role on "Blue Bloods" is his most recent to date, and although he certainly makes an impression during his brief stint as the colorful C.I., it seems like his time with the Reagan family has come to an abrupt end.
After his brother's death, Bugs tracks down Reggie and is moments from executing him when Danny (Donnie Wahlberg) intervenes, arresting both of them. Although the "Blue Bloods" side character might not get any jail time, there's no question that his relationship with Danny is strained, and with his cover blown, he won't be able to serve as a confidential informant any longer.