Treat Williams, known for his TV roles on Everwood and Chesapeake Shores, has died at the age of 71 after a motorcycle accident on June 12.
"He was killed this afternoon. He was making a left or a right [and] a car cut him off," his agent Barry McPherson told People. "I'm just devastated. He was the nicest guy. He was so talented.
"He was an actor's actor. Filmmakers loved him. He's been the heart of the Hollywood since the late 1970s," he continued. "He was really proud of his performance this year. He's been so happy with the work that I got him. He's had a balanced career."
When it came to the role that taught him the most and he's taken with him to others, Williams pointed to Andy Brown on Everwood when talking to TV Insider in 2019. "[He] was a really lovely guy, and because it was a regular part in a regular series, which I'd never really done. I was learning how to come in and bring more of myself to work," he explained. "The more of yourself you bring to a TV role, the less work you have to do to squeeze yourself into character. I thought it was great I could [act] as though I had been that doctor and these things had happened to me, but I basically played me."
Scroll down for a look at some of his memorable TV roles (with reflection from the actor on a few), from Good Advice to Heartland, from Everwood to Blue Bloods..
Good Advice (1993-1994)
Williams starred as high-profile divorce attorney Jack Harold sharing an office with Shelley Long's marriage therapist Dr. Susan DeRuzza in this two-season CBS sitcom.
Everwood (2002-2006)
Williams starred as Dr. Andy Brown, a brain surgeon who moved his family to the titular fictional town in Colorado following the death of his wife and opened a clinic, in the four-season WB drama.
"I was a big fan of all the Frank Capra movies — It's a Wonderful Life, Mr. Smith Goes to Washington, Mr. Deeds Goes to Town — and I thought Greg Berlanti wrote a Capra-esque show," he told TV Insider in 2019. "It was just so full of love and good people and surprises and dealing with real life stuff that hadn't been dealt with on the networks before. I was really, really grateful that Greg hired me."
"I have extraordinarily warm feelings about it," he added. "I'm glad other people are discovering it because I think it's probably the best television series I was ever on."
Brothers & Sisters (2006)
Williams played David Morton, a love interest of Sally Field's Nora, in four episodes of the ABC drama.
Heartland (2007)
Williams led the one-season TNT drama as Dr. Nathaniel Grant, a heart surgeon whose dedication to his career took a toll on his health and relationships.
Against the Wall (2011)
Williams starred as Chicago police sergeant Don Kowalski in the one-season Lifetime drama.
Law & Order: SVU (2011)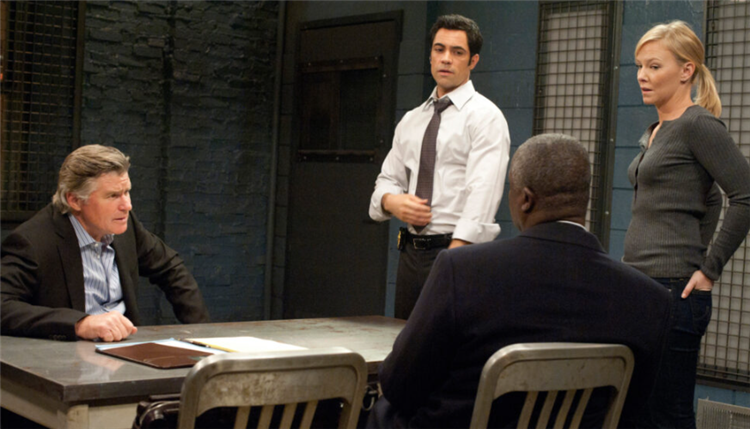 Williams guest starred as Jake Stanton in the Season 13 episode "Spiraling Down" as a famous former quarterback suffering from chronic traumatic encephalopathy, which caused dementia-like symptoms. Former SVU showrunner Warren Leight wrote, in his tribute to the actor on Twitter, that his episode "was among the most memorable performances in my entire time there."
White Collar (2012-2013)
Williams recurred as James Bennett — who ended up being the father of Matt Bomer's Neal — in the USA Network drama.
American Odyssey (2015)
In the one-season conspiracy drama on NBC, Williams starred as Colonel Stephen Glen.
Chicago Fire (2013-2018)
Williams recurred as Benny Severide, Kelly's (Taylor Kinney) father and a former firefighter, across 16 episodes in six seasons of the NBC drama. "I told them when they told me they were going to kill me off, I said, 'Well, it's a good thing the guy's got a twin brother,'" he said with a laugh when looking back on the role with TV Insider in 2019. "I think he'd be proud of whatever [Kelly] wanted to do. He loved his kid. He just didn't know how to show it very well."
Chesapeake Shores (2016-2022)
Williams led the six-season Hallmark Channel drama as patriarch Mick O'Brien. Executive producer executive producer Phoef Sutton told TV Insider at the beginning of the final season, "Treat is absolutely wonderful this year. His playing of the relationship and his playing of the addiction, I think he should get an Emmy nomination for his work this year."
Blue Bloods (2016-2023)
Williams' last TV credit is his recurring role as Lenny Ross, Frank Reagan's (Tom Selleck) former partner, on the CBS drama. "It's really wonderful because Tom and I are basically of the same period, the same era, so we're very comfortable together," he told TV Insider in 2019. "I think the chemistry is great because you can really tell these guys have been through the wars together back in the day. Both of us having played cops so much, we're very comfortable with that, too."