Who is GH's most dynamic duo?
General Hospital invented the concept of the supercouple (we realize those folks in Salem may pick a nit, but still, go with us here), but favorites have waxed and waned over the years. Who could ever forget skipping class to head home for Luke and Laura's wedding?
General Hospital Polling
Who is the viewers' favorite couple as we head into this summer? There are so many to choose from these days, but we asked viewers which one has captured your attention and has you rooting for them. We've got your votes.
GH: Second Choice
Carly (Laura Wright) spent over 25 years obsessed with Jason (Steve Burton). Which is why it's no surprise to 10% of the audience that she would latch onto Jason's twin, Drew (Cameron Mathison). Even if they no longer look alike, we must assume they have other things in common. And if Carly is happy, we're happy.
General Hospital: Something In Common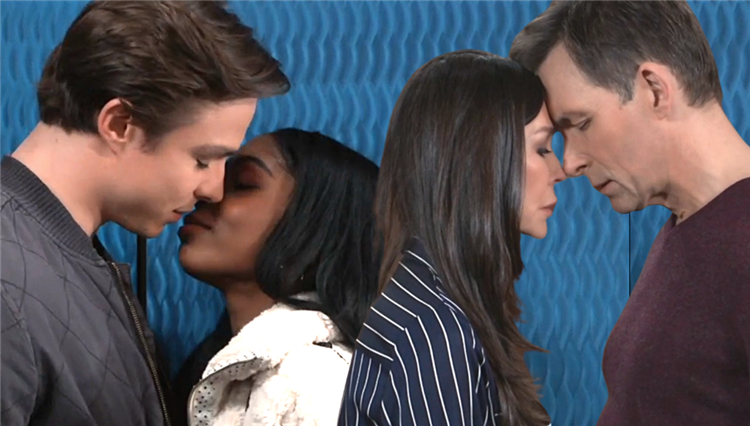 Joss (Eden McCoy) and Dex (Evan Hofer) agree on two things: They love having sex with each other, and they love talking about Sonny (Maurice Benard) while they have sex with each other. What else does a young couple need, 13% challenge? Nothing could ever break up Joss and Dex…unless something happens to Sonny, of course.
GH: Dude In Distress
Trina (Tabyana Ali) played a role in rescuing Spencer (Nicholas Alexander Chavez) when he was kidnapped by Victor (Charles Shaughnessy), and that's enough to make 36% of you believe that this is a couple for the ages. Just check out how they look at each other across a room. Look at the sparks their kisses trigger. And look at how cute they are with baby Ace. They're a family already. They just need to make it official.
General Hospital Through the Years
Valentin (James Patrick Stuart) fell in love with Anna (Finola Hughes) when he was just a sad hunchback. He terrorized her for a while until she had the good sense to love him back. This is what we've been waiting for, 41% of voters cheer. This is who we want to follow along on their adventures — professional and personal. They are the fans' number one!