Spencer Cassadine (Nicholas Chavez) is now part of the "General Hospital" college scene. But he grew up right before our eyes as a boy who was first raised by just a father and then off-screen in a boarding school with no parents at all. That occurred after his dad, Nikolas Cassadine (then played by Tyler Christopher), faked his death.
Yes, Spencer had his grandmother Laura Collins (Genie Francis) for much of that time, but he still missed the influence of a mother, a woman he never knew (via Soaps In Depth).
Courtney Matthews (Alicia Leigh Willis), Spencer's mom, was recently a big topic of conversation on the soap when her family remembered the anniversary of her death. Spencer even snuck out of the luxury prison he was in to visit her grave (via Soaps.com).
What happened to Courtney, and why didn't Spencer get a chance to know his mother except in a fantasy sequence back in 2015?
Courtney Matthews was Sonny Corinthos' sister
Sonny Corinthos (Maurice Benard) grew up believing he was an only child, but he eventually learned that his mother, Adella, had another child she gave up named Ric Lansing (Rick Hearst). And, once he met him, Sonny could never get along with him.
He also discovered that his father, Mike Corbin (then played by Ron Hale), had a daughter named Courtney Matthews, who came to Port Charles in 2001 (via Soaps.com).
When Courtney first arrived on "General Hospital," she had romances with both of Monica Quartermaine's (Leslie Charleson) sons, AJ Quartermaine (Billy Warlock) and Jason Morgan (Steve Burton). However, it was Jason whom Courtney eventually married.
It was a brief marriage as they never emotionally recovered from her miscarriage, plus Courtney couldn't deal with Jason's dangerous mobster lifestyle, a result of him working for her brother, mob kingpin Sonny (via Soaps In Depth).
She married Jax but had an affair with Nikolas
After her marriage to Jason Morgan ended, Courtney Matthews fell for Jasper "Jax" Jacks (Ingo Rademacher), and the pair married. However, when they wanted to have children, they chose to use a surrogate because Courtney was told she could never have a child on her own.
But, when Jax became too close to their surrogate, Courtney couldn't take it and had an affair with Nikolas Cassadine (via Soaps In Depth).
Courtney and Nikolas were then surprised when she became pregnant, and it turned out the doctors were wrong about her fertility. Wanting to hold onto both Courtney and her baby, Jax changed the paternity test results to show that he was the father. But Courtney and Nikolas wanted the baby anyway and fought Jax to retain custody.
Little did they know that things wouldn't turn out the way they planned (via Soaps In Depth).
Courtney died trying to tell the truth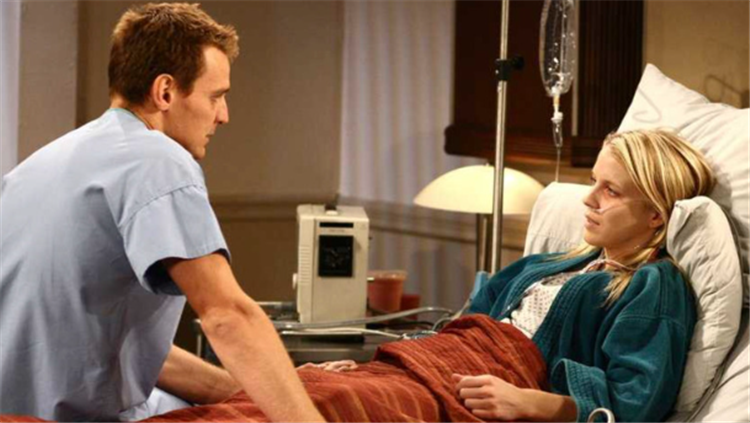 In 2006, there was an unusual encephalitis outbreak that ripped through Port Charles, and several characters were killed off, including Tony Jones (Brad Maule) and Courtney Matthews (via Soaps.com).
When Courtney learned of her illness, she made a choice to let herself die to save the life of her baby, but, before she did, Jasper "Jax" Jacks told Courtney he wasn't her baby's father. She tried to tell Nikolas Cassadine the truth, but she died before she could get all the words out.
Realizing that Nikolas didn't know he had a son, Jax decided to take the baby boy home, named him John Michael Jacks, and tried to raise him as his own (via Soaps In Depth). But a secret like that doesn't stay buried forever in the soap opera world — and this secret had to come out in heartbreaking fashion.
Spencer ended up with his real father
Spencer Cassadine was left motherless when Courtney Matthews succumbed to encephalitis just before he was born, but he had two men who wanted to be his father.
It's a good thing that Robin Scorpio (Kimberly McCullough) learned the truth about Spencer's paternity. She is the champion truth-teller on "General Hospital," having previously informed AJ Quartermaine that he was the father of Carly Roberts' (then played by Sarah Joy Brown) son and not Jason Morgan.
At Spencer's christening, Robin revealed the truth to Nikolas in dramatic fashion, handing him the baby he thought belonged to Jax (via Soaps in Depth). Nikolas was overwhelmed but took on the role of single father with gusto and raised Spencer in his Spoon Island castle, Wyndemere.
He became a precocious child who looked down on the "townies" on the Port Charles mainland.
Courtney visited as a ghost
In the ensuing years, "General Hospital" fans got to see Alicia Leigh Willis' Courtney two more times. In 2015, Spencer suffered burns on his face after a horrific fire and wore a mask to conceal them, afraid to look underneath to see if they had healed.
As he wallowed in self-pity, Willis made a guest appearance on the soap as Courtney's ghost. She visited her son, and they had a long conversation about what makes people beautiful. When Spencer removed the mask, his scars were gone (via Soaps In Depth).
In 2020, Courtney's ghost appeared once again, but Spencer was not involved. Instead, her spirit arrived in the room when her dad, Mike Corbin (now played by Max Gail), died from Alzheimer's disease (via Soap Hub). Courtney was there to escort her father to heaven.
Is that the last we've seen of Courtney's ghost, or will Spencer's mother visit him once again?