It's hard to imagine the 1980s without conjuring an image of Tom Selleck in the title role on Magnum, P.I. The actor has become an enduring pop cultural figure, remembered as much for that iconic character as he is for the rest of his lengthy resume. That makes it all the more impressive that, later in life, he was able to add yet another signature role to his collection: That of New York City Police Commissioner Frank Reagan on the CBS drama Blue Bloods.
Frank is a family man who has the innate ability to dish out tough love and fatherly compassion with equal spirit. Selleck's performance is stellar, but it's also his physical demeanor that sells the character. He appears both cuddly and intimidating and, rather than wear his emotions on his face, he's always hiding them behind Selleck's iconic mustache.
As it turns out, Selleck had a different vision for what Frank would look like early on in production for Blue Bloods. It was a proposed change that could have radically altered both the character and the show he anchors with his presence.
Tom Selleck almost shaved off his mustache for Blue Bloods
After he accepted his role on Blue Bloods, Selleck was prepared to shave off his legendary mustache for the part. In an interview with BUILD Series, Selleck explained the rationale behind his suggestion: "I like some accuracy with characters, so I said, 'Can a police commissioner have [a mustache]?'"
Thankfully, before he got out the razor, show creator Leonard Goldberg took the question to CBS. As it turns out, his fears about his facial hair creating a character inaccuracy were unfounded. Because the New York City Police Commissioner is a civilian position, and not subject to any rules about personal appearance that the NYPD might have, the mustache was fine.
Not only was it within his character's right to have a mustache, but CBS insisted that Selleck keep his upper lip shrouded. It was clearly the right call, as Frank has kept his 'stache throughout all ten seasons of the show. It's obvious that Blue Bloods fans are also fans of Selleck's signature lip accessory, but how did the veteran actor's facial hair get to be so famous, anyway?
The story behind Tom Selleck's iconic mustache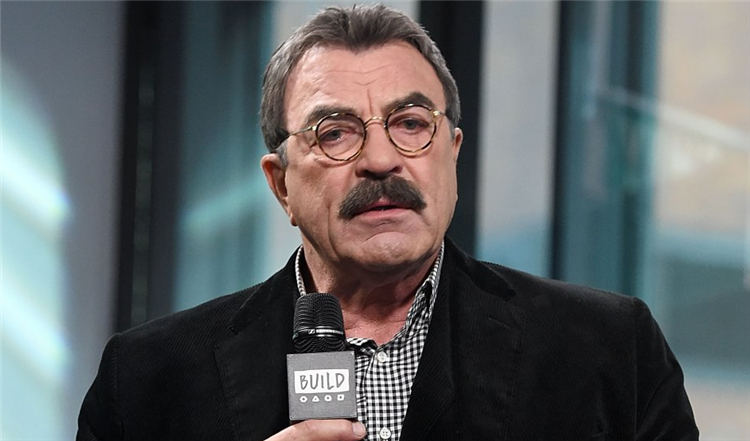 Although Selleck had been working as an actor since the early '70s, his profile skyrocketed in 1980 when he landed the role of rakish Hawaiian private investigator Tom Magnum in Magnum, P.I. The show ran for eight seasons on CBS and became a pop culture touchstone. Magnum's roguish attitude, casual-cool fashion sense, and bushy mustache were all hallmarks of Magnum P.I., and the mustache went on to become a facial hair phenomenon.
Today, as men's facial hair has been looking to the past for inspiration, Selleck's 'stache is seen as one of the most iconic in history. The experts at Beardaholic even dubbed it "one of the most famous mustaches in Hollywood." They pointed out that the actor jokes that his 'stache needs its own agent, and that it even has its own fan-made Twitter account.
In a 2014 interview with GQ, Selleck acknowledged that his facial hair is seen as the Godfather of mustaches, saying of the label, "I don't mind." When asked for advice on how others can achieve the same amount of mustache luster, he had some tough advice: "You either got it, or you don't."
Needless to say, Selleck definitely has it, but all this talk of Selleck's ubiquitous facial hair probably has you wondering, "What would he look like without it?"
When you might have seen Tom Selleck without a mustache
During the same BUILD Series interview in which Selleck discussed his Blue Bloods role, the actor offered some advice to anyone who might have trouble picturing what he looks like without a mustache: "I would recommend In & Out as clear evidence that I have an upper lip."
Selleck was referring to the 1997 Frank Oz comedy film in which he co-stars as an entertainment reporter who helps a deeply closeted gay man (Kevin Kline) come to terms with his sexuality. The actor shaved his face for the film, and said in a press interview at the time, "It wasn't a big deal shaving it off."
Fans of beloved '90s sitcom Friends have also likely seen Selleck's naked face. The actor played Monica's optometrist turned boyfriend, Richard Burke, throughout the show's second and third seasons. He sported the trademark mustache for most of his appearances on the show, except for the episode "The One Where Monica and Richard Are Friends," in which he appeared without it. The episode was filmed around the same time as In & Out, which explains why he suddenly shows up with a clean-shaven face, much to the chagrin of Selleck mustache lovers everywhere.