Abigail Hawk has been on "Blue Bloods" since it first premiered on CBS in 2010. In the drama portraying a multi-generational family of cops dedicated to New York City law enforcement, she plays Detective Abigail Baker, a constant aid to Tom Selleck's character, Police Commissioner Frank Reagan. In every episode, the Reagan family has dinner with every member present. Sometimes other characters are lucky enough to receive an invitation; however, we have not had the opportunity to see Hawk sit amongst the Reagans.
The actress spoke about this with Starry Constellation Magazine, saying, "We consistently talk about how we will be the last to get invited." She joked, "I think it would be adorable and awesome, but I don't know. I feel like you'd almost have to get each of us separately because we wouldn't fit at the table. Maybe Nicky would have to be back out in California. Both of the boys would have to be at college instead of just one in order for us to fit." In the interview, Hawk also expressed that the role continues to challenge her. So what was her biggest acting challenge on the show?
Abigail Hawk's biggest Blue Bloods challenge is playing a character older then she is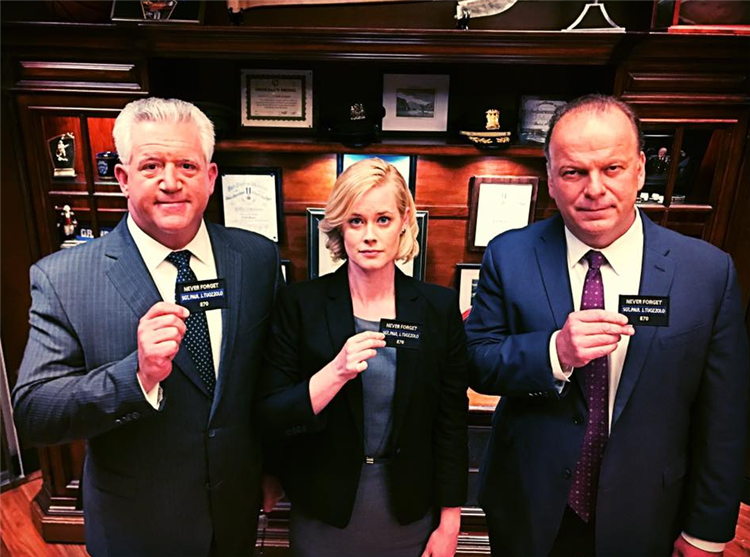 In her interview with Starry Constellation Magazine, Abigail Hawk revealed that her character is five years older, which presents an interesting acting task of trying to figure out how Abigail Baker would respond to situations having five more years of experience in her life. She also revealed that she and Tom Selleck spoke in depth about what caused Frank to bring Baker on as his Assistant to the Commissioner. The actress has shared how much she "adores" working with Selleck and called him a "huge champion of mine" when speaking with Pop Culture.
One thing that stands out when it comes to Baker is her dynamics with Frank, Garrett, and Sid. "The thing that I love about her is that she's just so capable of reading the room and reading people. Like Tom calls Baker like Frank's Radar from 'MASH' — she almost has this sixth sense about people that are going in and out of that office and what he needs and what he doesn't need. I love their relationship. I love the relationship between all of us — looping in Garrett and Sid Gormley. Particularly we're all just really in tune and he keeps us because we're good at very specific things," she adds. It's no wonder that fans want to see more of Hawk's character going forward.