The GH recap for April 21, 2023, has Spencer and Trina terrified but together.
The General Hospital recap features Trina Robinson telling Spencer exactly what she wanted.
General Hospital Recap Highlights
In this episode, Trina and Spencer were locked away together. Back in Port Charles, Drew and Curtis searched for clues into where The Haunted Star was headed. Also, Sonny surprised Dante when he said he was invited to Michael and Willow's wedding. At Charlie's, Sam was suspicious of Gladys, who badmouthed Cody. Poor Cody tried to defend himself with Sasha and Brook Lynn but didn't have much luck. Finally, Molly got shocking medical news. Now, let's dig a little deeper into the details.
Dangerous Romance For Trina Robinson And Spencer
Trina (Tabyana Ali) and Spencer (Nicholas Alexander Chavez) were crushed to still be Victor's (Charles Shaughnessy) hostages but glad they now got to be in the same room together. At least the guards got Trina out of those heels and into some comfortable clothes. She finally had to admit she was scared and Spencer did his best to reassure her that everything would be okay despite Victor being out of his mind. Spencer believed that Victor still had some humanity inside him but Trina didn't want to count on that off chance.
Despite their fears, Spencer and Trina were able to share some light and flirty moments. They admitted how much they meant to one another without saying the 'L' word, but at least Trina found dating him to be a challenging adventure. She told him he wanted to experience everything she never had before, alluding to sex, but Spencer said this was not how he wanted it to be. He wanted it to be special, but she admitted what would make it special was that it would be with him. She pointed out this could be their last chance. As they began to make love, they noticed the ship had stopped, and they were already docked.
Back on land, Curtis (Donnell Turner) and Drew (Cameron Mathison) began searching through Kim Nero's (Tamara Braun) storage facility to see what she had that belonged to Drew while he was still a Navy SEAL. Amazingly, there was a map in a book that Drew gave Oscar (Garren Stitt) with markings and notes on it in Drew's handwriting. In the corner was the sign for Virgo, which was also found on a canteen in the storage unit. The men realized Virgo and Demeter were related in mythology, and that Demeter was the goddess of fertility and agriculture.
Laura (Genie Francis) and Alexis (Nancy Lee Grahn) met up at GH, and Alexis actually asked about her missing nephews. Laura decided maybe Alexis could help clue them into what Victor is up to. Alexis gave insight into both Mikkos and Victor, explaining that Victor had very lofty goals in life and was not as greedy as his brother. The women went on to wonder where Nikolas was, and Laura couldn't imagine why they heard nothing from her son.
When Curtis and Drew showed up, Laura left Alexis to listen to what the men had to say and was fascinated with the markings on the map as she wondered if they led them to various 'treasures.'
GH Recap: Sonny Is Way Too Optimistic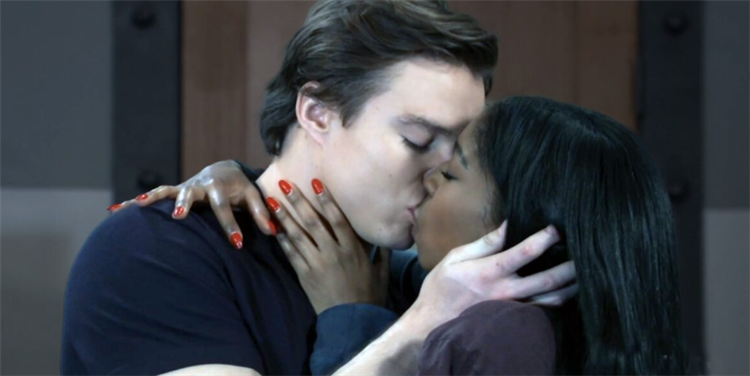 Dante (Dominic Zamprogna) paid a visit to Sonny (Maurice Benard), where he was discussing the Pikeman shipment with Dex (Evan Hofer). That shipment that should have happened months ago is happening on the same day as Michael's (Chad Duell) and Willow's (Katelyn MacMullen) wedding, which was coming up quite quickly. Dex left without Dante hearing what they were talking about, leaving father and son alone.
When Dante learned that Sonny planned to go to the wedding, Dante told him that wouldn't be happening. He didn't want Sonny to crash the wedding, but Sonny said he was invited. Dante was happy for him until he learned that Nina (Cynthia Watros) wasn't invited. Sonny admitted he had mixed feelings about going because he felt Willow was the one who wanted him, not Michael. But, he was also concerned about Nina's feelings. Dante rightly pointed out it could damage Sonny and Nina's relationship if he is accepted back into the family and she is left out.
Sonny said he believed he and Nina would be fine and that Willow would accept Nina one day. Sonny convinced himself that it would all work out and decided he was not an optimist. He truly believed everyone would one day reconcile. He wasn't even worried about that Pikeman shipment getting in the way of the wedding.
However, Dex sure was as he once again learned that Sonny wasn't as bad as Michael led him to believe. Before the wedding, Sonny had Dex bring an envelope of papers to Kristina (Lexi Ainsworth). It turned out Sonny had found some property to build a center for homeless youth that would be called the Corinthos-Davis House. Kristina gushed to Dex about how caring and great her father was.
General Hospital Recap: Cody Defended Himself, Molly Got A Shock
Cody (Josh Kelly) made his way to the main house to talk to Brook Lynn (Amanda Setton) and try to suss out whether he was going to lose his job, and BLQ reassured him he would not. She didn't want to believe that Cody stole that bracelet and pointed out how careless Gladys (Bonnie Burroughs) was. Cody told her he believed he was framed, but Brook Lynn wanted proof. Cody didn't have any, and BLQ had to admit she didn't see Cody as a thief.
When Brook Lynn asked if he had any idea who would set him up, Sasha (Sofia Mattsson) showed up. BLQ left them alone for a bit, and Cody insisted to Sasha that he did not steal the bracelet. Sasha wasn't sure she believed him, so she asked if she was just being used. Cody sincerely insisted that he had changed. When Sasha pointed out all the things Gladys had been saying, Cody couldn't help himself and blurted out Gladys was the one who set him up. He explained how he thought it happened, but Sasha didn't believe him. Cody made the choice not to tell Sasha what Gladys was doing with her money, which just alienated Sasha even more.
Before heading over to the Qs, Sasha had breakfast with Gladys at Charlie's, where they discussed the bracelet. Sasha just couldn't see Cody as a thief so Gladys poured it on thick, telling Sasha she was naive and bad-mouthing Cody as much as she could. She insisted that Cody just couldn't be trusted, but Sasha still defended him. Gladys then suggested that they leave town on a vacation. Sasha couldn't get out of town at the moment, so Sasha asked her to go on her own and even offered to pay for her trip.
Sam (Kelly Monaco) walked in and saw them talking, making her remember what Cody said about not being able to trust Gladys. After a talk with Kristina, she overheard Gladys on the phone asking for price points on a resort vacation and started questioning Gladys. Sam's suspicions rose as Gladys went off on Cody. Sam admitted she posted Cody's bail and that she believed he was innocent, even asking why Glady seemed to be taking this crime so personally when the bracelet didn't even belong to Sasha. At this point, Gladys knew Sam was onto her.
Sam's sister Molly (Haley Pullos) had her own problems. At her doctor's appointment to get the go-ahead to get pregnant, she learned she might have endometriosis, a condition that gave her painful and heavy periods that could also affect her fertility.