NCIS star Brian Dietzen shared a heartfelt tribute to the long-running CBS show as he reunited with his co-stars on the picket lines of the ongoing writers' strike.
The actor, who plays Dr Jimmy Palmer on the show, got together with his colleagues on Tuesday to show their support for the members of the Writers Guild of America and SAG-AFTRA who are currently striking.
He described how he got his job on NCIS and reflected on his experience as a young actor in the post. Sharing a photo of the NCIS cast and crew holding signs while posing for pictures, including Sean Murray and Gary Cole, Brian wrote: "In 2001 I booked a part that relocated me to Canada and got me in the Screen Actors Guild. I was so incredibly thrilled to be a part of this union, and I still am. All throughout high school and college, I had fantasized about becoming a professional theater actor. Even though I was now performing on a different kind of stage, I felt incredibly supported by the professional union.
"Two years later, in 2003 I was cast as a one-day guest star on a project that would change my life. This little spin-off of the show JAG needed someone to play an assistant medical examiner opposite the legend David McCallum. I was lucky enough to be the guy to play Jimmy Palmer."
Xem bài viết này trên Instagram
He continued: "Over the course of the next several years, I recurred on the show and thanks to my union's protections, I was guaranteed a residual payment whenever a performance of mine aired. It enabled me to get medical coverage for myself and my wife, and to pay our bills.
"As the show's success grew, so did my own, and I'm forever grateful to the group of people both past and present who I've created alongside. I've been so blessed on this journey. It's taken a lot of people, from craft service to the network heads, and everyone in between, working very hard together to build this show.
"Today a bunch of us NCIS folks got together to celebrate our show, and stand in solidarity to support all WGA and SAGAftra members striking to develop payment structures and protections that'll allow future actors, writers and shows to grow and flourish the way we've been able to."
Paying tribute to the cast and crew of NCIS, he added: "I love the people I work with. I'm proud to stand by them as we wait for a fair deal. I'm sure that there'll be a way for everyone (actors, writers and studio folks alike) to be included on future revenue streams and benefit from the successes we're all working hard for.
"When we do reach an agreement, we'll be getting back to the stage to do what we do best. I look forward to it."
He ended the message by thanking the LA-based ice cream company, CVT Soft Serve, for keeping the cast cool in the hot sun: "Shoutout to @cvtsoftserve for helping us serve our fellow members some ice cream on a hot day."
Fans were quick to show their support for the star, with one person writing: "We stand with you all!" while another added: "As a huge fan of NCIS in its entirely, I stand behind you & all your fellow cast mates, writers – everyone!"
The strike has resulted in production delays on various scripted shows, including NCIS. Industry insiders have predicted that the strike will be settled in the fall, which means the 21st season of the CBS show should hit screens early next year.
Why are the writers on strike?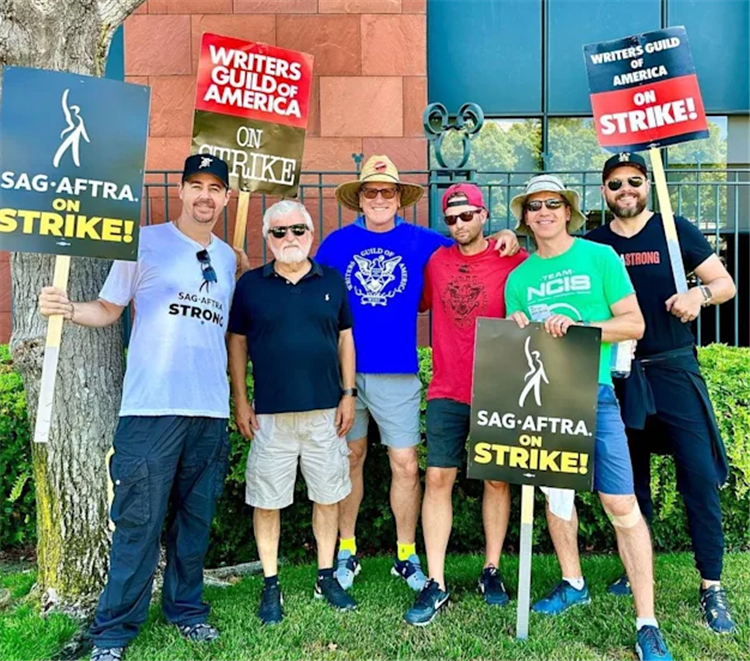 After failing to negotiate a deal with the Alliance of Motion Picture and Television Producers (AMPTP), which represents major companies like Apple, Disney, and Netflix, the WGA issued a call for a strike on May 2.
The writers' demands include a compensation raise, a steady pay structure, and assurances that artificial intelligence won't be employed in scriptwriting. The writers are on strike because of a disagreement over how they get paid in the streaming era.