The two-part season 2 finale kicks off Monday with the first hour, "Past Due," which puts the focus squarely on Jane Tennant (Vanessa Lachey) and her CIA past when the discovery of a dead former MI6 agent leads to questions about her dealings years earlier. With the tables turned, Tennant — who becomes a prime suspect in the death of the MI6 agent — is forced to go to extreme lengths to track down who's responsible and potentially put her team in danger.
"The cool thing about NCIS is it can go very highbrow, CIA, Bourne Ultimatum action. This two-part finale, for me, is the best of that version of our show," teased NCIS: Hawaii star Noah Mills, who plays Tennant's second-in-command, Jesse Boone. "It goes back to Tennant's CIA days and stuff that's coming back to haunt her, putting all of us in precarious situations — legally and how we do our jobs. It puts her family in danger. It was just awesome, that two-part [finale]."
As Tennant goes MIA, her team is left in the dark as they attempt to put the puzzle pieces together of where she's run off to and what her next move might be. One of those people she reaches out to is Tennant's former CIA mentor, Maggie Shaw, played by guest star Julie White. To make matters more complicated for the NCIS: Hawaii crew is the arrival of Supervisory Agent John Swift (guest star Henry Ian Cusick) from the Office of Special Projects, who's been brought in to assist the team in their investigation. More likely, he's a thorn in the team's side.
"You'll see some familiar faces that come to play, which I think will be super exciting for the fans," Mills previewed. "And it was cool to see our show have that breadth of history and size in it fromNCIS to the CIA to the FBI, and they carved out a really nice action movie in this two-part finale. I thought it was some of the best writing and I think will be some of the best episodes we've had for sure."
The actor noted that with Tennant on the lam, it leaves Jesse to step into a leadership role, something viewers have seen him do before. Secrets that Tennant has hid regarding her sketchy past sometimes are best kept hidden, Mills hinted.
"She has a very, I guess, interesting past and some of which we're not totally aware of," he elaborated. "We know that she's been through a lot in the CIA. She's had this long, illustrious career, but it's also shifted into areas that would be 'not OK' with department rules and guidelines. So I think in this episode, when push comes to shove and she's out on a limb, we formulate in a different way, which is me taking charge and doing everything I can to protect her, but also being very aware that some things are beyond our reach and also maybe beyond our protocol."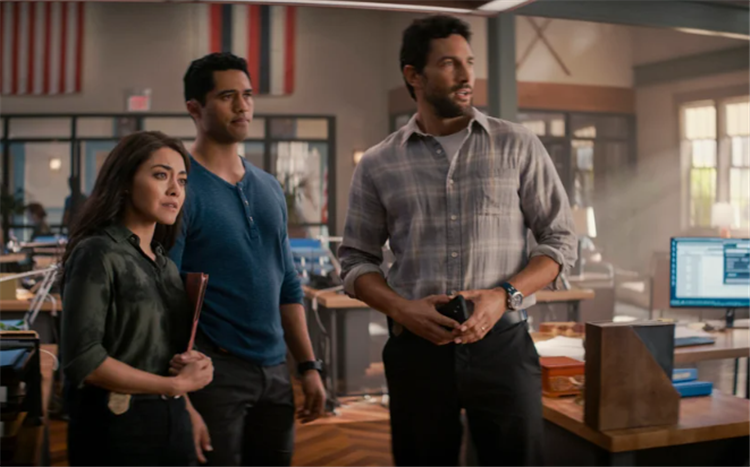 "There's a scene with Jason [Antoon], who plays Ernie, and I'm like, 'I'm asking you to do this. Do you understand?' And he's like, 'Yeah, I understand,' because it's something really we shouldn't be doing," Mills continued. "But we have an understanding through looking at each other. We're doing this for our boss and for our friend."
The 40-year-old actor hinted that what transpires in the two-hour finale will have a lasting effect on Tennant and the team moving forward.
"That's a really interesting question and I think one that is still in process and it will be interesting to see how the writers and producers carry that into the beginning of season 3 because they definitely will," he said when asked about the impact of finale events. "Her past and some of her emotional decisions do put other people in jeopardy and do pull us out of our job description. Tennant is an emotional character and is charged especially in this two-part because it's her past and Maggie Shaw's involved. It'll be interesting to see, legally, what comes down on her from the higher-ups of the NCIS."
"I think for us, in the two-part, the main objective is getting her home safe and figuring out what she's dealing with and helping her as best we can. But yeah, it's a really good question anytime you go through an experience like that, when you're in it, it's about survival and about taking out the threat," Mills added. "After, you might have the moment to look back on it and say, 'I do have an issue with you disappearing and… not communicating because you're putting us in a hard position.' So I think there will be some bones to pick there and some pretty serious ramifications. It'll be interesting to see how it all plays out."
As for how viewers should be feeling heading into the finale, Mills warned they "should be very worried."
"There are some major changes coming to season 3 and it will be a different dynamic, I'll put it that way, in the beginning of season 3," he hinted, adding that he hopes Jesse's family will finally be introduced. "And I'm sure there will be some uncomfortable adjustments and some new relationships that we'll have to explore within season 3, which I think will be really fun and a little tense."