A show is only as good as the cast of characters and the actors who play them. When you think of "24," you almost instinctively think of Jack Bauer (Kiefer Sutherland) as he navigates the country's most dangerous threats. Nailing the core cast is essential for a brand new series to gain ratings and longevity.
Sometimes, it isn't even a casting director or studio that convinces an actor to take on a role, but a costar who knows that they are the right choice. For example, Martin Scorsese told Entertainment Weekly that he asked Joe Pesci to come out of retirement for "The Irishman" over 50 times. In the end, Robert De Niro had to convince him to do it.
A similar situation occurred with the long-running CBS series "Blue Bloods," as Donnie Wahlberg, who plays Danny Reagan, had to convince his on-screen sister Bridget Moynahan to join the cast as Erin Reagan — here is how he did it.
Who does Donnie Wahlberg play?
Danny Reagan is the epitome of the Reagan family legacy. He is the oldest child of Frank Reagan (Tom Selleck) and tends to follow every tradition handed down from previous generations. From military service (he served in the Iraq War as a Marine) to putting on the NYPD uniform (15 years of service as of the pilot episode), he is the poster boy of the Reagan name.
Unfortunately, the hand-me-down attributes of the Reagan line are not always of a positive type like honor and duty. They also include a hotheaded nature and a mean streak that gets Danny into trouble regularly, as he often argues with other detectives or attorneys when he perceives them as doing subpar work. When asked if his son "crosses the line" by violating protocols in Season 4, Episode 19, Frank says, "I think he walks on the line."
Donnie Wahlberg brings grit and intensity to "Blue Bloods," a show that needs a little of both to keep a dash of realism in the law enforcement community. After 12 seasons, he is undoubtedly a fan favorite.
Who does Bridget Moynahan play?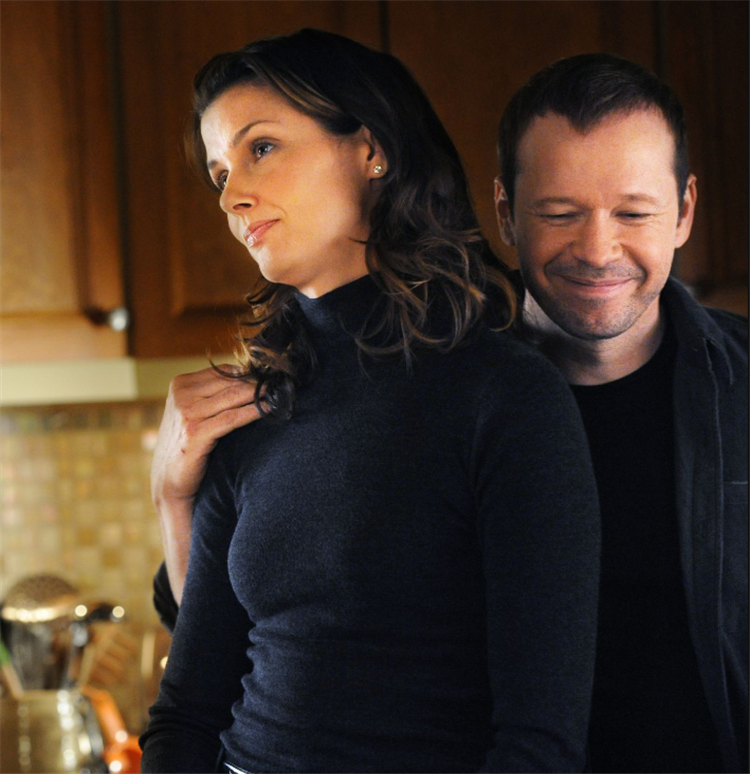 Assistant District Attorney Erin Reagan is the only daughter of Frank Reagan and his late wife, Mary. She grew up with three brothers: Danny, Jamie (Will Estes), and Joe (killed off-screen by a group of corrupt cops known as The Blue Templar). She has a daughter, Nicky Reagan-Boyle (Sami Gayle), and an ex-husband, Jack (Peter Hermann), who she reconnects with throughout the series.
It is implied multiple times throughout "Blue Bloods" that Erin had a "wild side" as a child, something that she doesn't have in common with her daughter. As a result, she develops a similarly rigid temper and toughness that makes her a formidable opponent across the aisle in court. It's revealed in Season 8 that she previously wanted to be a police officer and join the "Reagan family business," but after taking the test, she discovered it wasn't for her and chose law instead. In Season 5, it is mentioned that she graduated top of her class at Columbia University.
Moynahan made her screen debut as Natasha in "Sex and the City" in 1999, before primarily focusing on film roles in "The Recruit" and "I, Robot," continuing her career from there (via IMDb). But her turn as Erin may be her defining role.
How did Wahlberg convince Moynahan to play Erin Reagan?
When an actor plays a character for over a decade, it is impossible to imagine anyone else portraying them. But that was almost a reality for Erin Reagan, as Bridget Moynahan initially turned down the "Blue Bloods" role. Wahlberg recounted how he convinced her to join the cast in an interview with Entertainment Tonight.
"I called Bridget Moynahan, but she said, 'I already turned it down, I'm not going to do it,'" said Wahlberg. "I begged and pleaded and made her an offer she couldn't refuse. Which was that I would give her all of my paychecks if we weren't able to shoot in New York. So, thank God we shot in New York."
Even though the two of them are constantly bickering due to living on two different sides of the justice system (Danny does whatever he has to do to get criminals off the street, while Erin holds him to the highest standard), they are a dynamic pair. Some of the best scenes in "Blue Bloods" are when one pushes and the other pulls, sibling rivalries brought to life at every Reagan dinner.