The GH recap for June 15, 2023, has Nina ready to face the music for having the nerve to report a crime.
The General Hospital recap features Nina Reeves realizing honesty might be the best policy.
General Hospital Recap Highlights
In this episode, Ava gave Nina some advice that she got ready to take while Drew told Carly he was willing to fall on the sword in her honor. Spencer made a good impression with Curtis but didn't seem to get very far with Portia. Jordan broke some bad news to Zeke while asking him to keep a big secret. Finally, Gladys did her best to get Sonny to do her bidding. Now, let's dig a little deeper into the details.
General Hospital Recap: Nina Reeves Makes A Big Move
While Sonny (Maurice Benard) tried to discuss wedding dates, Nina (Cynthia Watros) was preoccupied with work and couldn't stop thinking about Ned (Wally Kurth). She was surprised to hear that Sonny was now doubting that Ned was the one who tipped off the SEC and tried to hide her worry. At least Ava (Maura West) stopped by to pick up Avery (Ava and Grace Scarola) and distract Nina. Sonny soon took a call from Dante and learned that the doctors were in the process of waking Ned, which only served o make Nina more worried.
Once alone, Ava advised Nina to keep her cool, but Nina had to inform her that Ned knew everything and would probably spill the second he woke. Nina was pretty much ready to give up, knowing Sonny and Willow would never forgive her for the crime of turning in someone who committed a crime. Ava tried to be pragmatic about things and advised Nina to just tell Sonny the truth. Maybe he could forgive her if she was just honest.
General Hospital Recap: Nina Reeves Goes To Sonny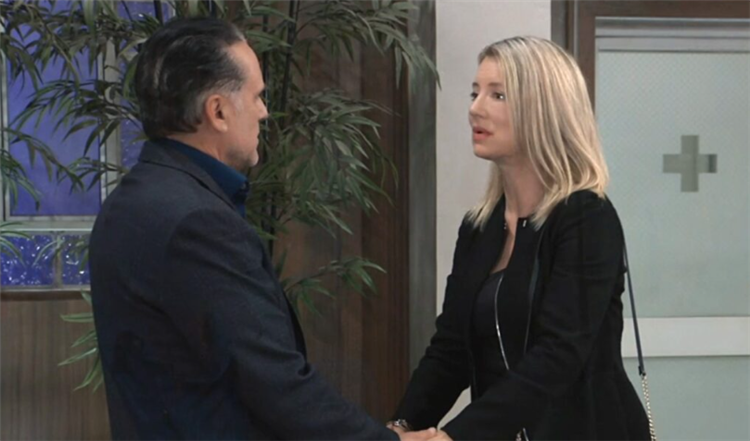 Nina didn't agree, so she tearfully took off her engagement ring because she was sure Sonny would end things with her by the end of the day. When she ran to GH to make her confession, Sonny immediately noticed her ring was gone.
Carly (Laura Wright) was stunned when Drew (Cameron Mathison) told her he was willing to take the fall for her insider trading debacle, once again reasoning that her kids missing her was much more perilous and tragic than his kid missing him. Carly tried to talk Drew out of it, but he figured he'd only be gone for a few months. When Carly pointed out that he has missed out on so much of Scout's life, Drew brushed it off. At least she had Dante. Yes, nothing was going to stop him from going to jail for Carly, a woman who kicked him out of her life five years ago as soon as she learned he wasn't really Jason (Steve Burton).
So, Drew pulled out the Nina card, and it worked. There was no way she could allow herself to go to prison and have Donna (Scarlett Brielle) raised by Sonny and Nina. Yes, Drew had to take the fall for her dumb stock purchase that cost her everything. Finally, Carly admitted that losing him would break her heart.
GH Recap: Messy Ashford-Robinson Lives
Trina (Tabyana Ali) was happy when Spencer (Nicholas Alexander Chavez) showed up at the Metro Court pool for Curtis's (Donnell Turner) birthday party bearing a gift — a signed limited edition painting called Jammin' At The Savoy. Spencer then impressed Curtis even more by thanking him for saving them in Greenland.
When alone, Trina expressed how impressed she was with Spencer impressing Curtis like that. Even Portia (Brook Kerr) was nice to Spencer — for a little while. When Spencer brought up Esme (Avery Kristen Pohl) and Ace (Joey and Jay Clay), she pointed out how difficult it must be for him to co-parent a baby with Esme. She rightfully asked him to enjoy his youth, and Spencer assured Portia that he would while always making time for Trina. Trina was decidedly not happy with her mother's line of questioning with her boyfriend and knew how her mother felt about Spencer. When Spencer had to leave to pick up Ace at daycare, Trina was disappointed but understood why he had to leave.
Portia seemed concerned when Zeke (Gavin Houston) told her that Taggert (Réal Andrews) stumbled onto the elevator and didn't seem to be okay. Zeke said that at least someone was with him. When Portia asked who that someone was, Jordan (Tanisha Harper) got off the elevator, and Zeke called her over. Portia and Zeke were surprised that the other knew Jordan. Zeke explained that they met at the pool bar the night before, so Portia said that Jordan must have been pinned down for hours after meeting Zeke. After all, he is known for talking too much. Jordan nearly choked when Portia uttered those words but managed to keep her cool.
Zeke could see how awkward Jordan felt and questioned her once they were alone. She told him she was the police commissioner, and when he heard her last name, he immediately knew she was related to Curtis. Jordan had to admit he was the ex she kissed who went back to his wife. Jordan begged him to keep that kiss a secret from Portia, but that didn't sit well with Zeke. He was further disappointed when Jordan told them they couldn't get involved any further because the situation was too messy.
General Hospital Recap: Tracy Is Angry, Gladys Is A Wreck
Cody (Josh Kelly) was there as a comfort to Leo (Easton Rocket Sweda) as he looked through a horse picture book and talked about Ned being injured. When Tracy (Jane Elliot) arrived to take Leo to GH to see Ned, she and Cody clashed over how Tracy spoke to the boy. Tracy explained that she knew everything about him and didn't seem to like his presence, but Brook Lynn (Amanda Setton) soon showed up and ordered her grandmother to leave Cody alone.
Brook Lynn explained to Tracy that Leo felt an attachment to Cody and it wasn't right to disrupt an autistic child's routine, but Tracy didn't care. Finally, she relented and told BLQ that Cody would be fired after Leo's routine was slowly modified.
Gladys (Bonnie Burroughs) freaked out when Selina (Lydia Look) texted her that she was back in the country soon and would want her money or some info on Sonny. As she tried to text Selina back, Sonny snuck up behind her, and she dropped her phone. Sonny didn't see what was on it, but he did notice that Gladys was a nervous wreck. She explained that Sasha's (Sofia Mattsson) appointment had her on edge, but Sonny was happy Sasha wanted to end her guardianship. Gladys argued that it was too soon, so Sonny pointed out that it wasn't up to Gladys to decide. Finally, Sonny agreed to talk to Sasha and to see if she had made the right decision.