General Hospital (GH) spoilers for Tuesday, June 20, reveal that Portia Robinson (Brook Kerr) will vent to Elizabeth Baldwin (Rebecca Herbst) now that she knows Curtis Ashford (Donnell Turner) kissed Jordan Ashford (Tanisha Harper) behind her back.
Although Portia was hoping to put the past to rest, she'll point out that Curtis had other ideas. Curtis still wants to move forward in his marriage to Portia, but she'll have a lot to process and will appreciate Liz offering a sympathetic ear.
"I won't let you down," Elizabeth says in Tuesday's preview clip. Liz can always be counted on in a crisis, so she'll step up as a source of support.
Speaking of support, Marcus Taggert (Real Andrews) will thank Jordan for providing some when he was drunk at the Metro Court recently.
Taggert was in bad shape over the DNA results, but Jordan did her best to sober him up and give him comfort.
"If I said no, would you believe me?" Taggert asks Jordan in the preview video.
Perhaps Jordan will wonder if Taggert's still battling doubts about being Trina Robinson's (Tabyana Ali) "real" dad.
Taggert is certainly Trina's father in every way that counts, so their bond is as real as it gets. Even so, Taggert will continue to struggle over the news that Curtis and Trina share that biological tie.
At GH, TJ Ashford (Tajh Bellow) will try to stay positive as he talks to Molly Lansing-Davis (currently played by Holiday Mia Kriegel) about their family options.
Although TJ will insist he really thinks this could work, Molly will get some discouraging updates from Dr. Sofia Navarro (Christina Ferarro).
Once Molly's latest ultrasound results come in, she'll find out she'll probably never produce enough viable eggs to make a baby with TJ.
That'll bring another crushing blow and convince Molly to put any baby plans on the backburner.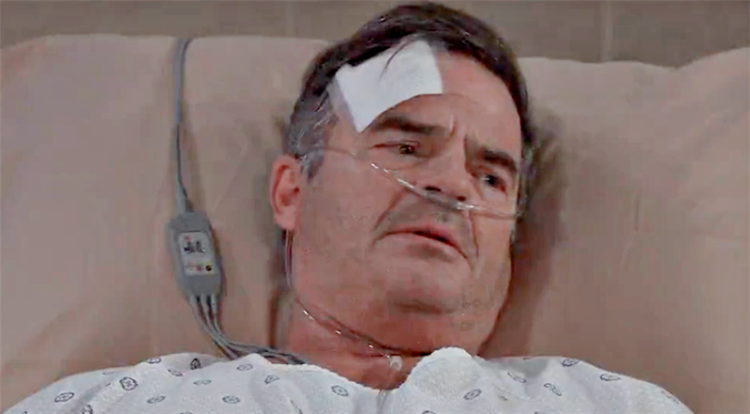 At some point, TJ will confide in Alexis Davis (Nancy Lee Grahn), so he may admit he's worried about Molly and all the unlucky breaks she's dealing with right now.
Other General Hospital spoilers say Drew Cain (Cameron Mathison) will fill Sam McCall (Kelly Monaco) in on his decision to plead guilty and resolve this SEC nightmare.
Sam will object to the idea of Drew landing in prison and missing out on more time with Scout Cain (Cosette Abinante), but he'll argue that this is the best possible solution.
Of course, Drew will expect a light sentence due to the plea deal Zeke Robinson (Gavin Houston) worked out for him. Unfortunately, things won't go according to plan in court later this week!
Until then, Carly Spencer (Laura Wright) will tell Sonny Corinthos (Maurice Benard) that things are about to be resolved with the SEC, so she'll share how Drew intends to take all the blame.
At the park, Ava Jerome (Maura West) will warn Nina Reeves (Cynthia Watros) that it's only a matter of time before Ned Quartermaine (Wally Kurth) tells everybody.
Although Ned currently believes he's Eddie Maine, Ava may argue that his memory issues could be temporary.
Nina backed out of telling Sonny the truth, but Ava will think she'd be better off coming clean now before Ned regains his memories and exposes her SEC tipoff secret.
General Hospital spoilers say Ava will give Nina a lot to think about, but Nina will continue to keep quiet for now.