General Hospital (GH) spoilers for Monday, June 19, reveal that Ava Jerome (Maura West) may get caught snooping at Sonny Corinthos' (Maurice Benard) place. Ava was planning on searching for incriminating evidence there, but she also knew she had to work fast since the nanny was on the way.
Pilar (Brenda Barberena) will indeed pop up for some scenes soon, so she might grow suspicious if she finds Ava digging around.
It could leave Ava worried Pilar might say something to Sonny, but it seems she'll smooth things over for now.
Once Ava updates Austin Gatlin-Holt (Roger Howarth) at the hospital, he'll suggest it might be time for a new nanny.
Austin may think Ava can pay one who'll be a little more cooperative and could perhaps help with her mission to get the goods.
Later, Austin will deliver a warning to Laura Collins (Genie Francis), but she'll apparently have a negative reaction.
Laura will seem agitated as she asks if that's Austin's medical advice, so she may push him to butt out if he cautions her about her Russia trip.
As Curtis Ashford's (Donnell Turner) pool party continues, he'll bond with Trina Robinson (Tabyana Ali).
Trina will joke about them making boring progress, but Curtis will think any progress is a good thing right now.
Over with Portia Robinson (Brook Kerr), she'll grill Zeke Robinson (Gavin Houston) about how he could possibly know how Curtis has been behaving.
Zeke hinted about Curtis' behavior since the wedding, but Portia won't understand since her brother hasn't even been in town.
Although Jordan Ashford (Tanisha Harper) pushed Zeke to keep quiet about the kiss she shared with Curtis, he'll struggle to deceive Portia.
It may not be long until Zeke cracks and spills the beans, so stay tuned to watch him face Portia's pressure.
In the meantime, an interesting opportunity will land in Jordan's lap, so we'll see if she takes advantage of it.
Speaking of opportunities, Nina Reeves (Cynthia Watros) feels like she has to take her chance to come clean to Sonny Corinthos (Maurice Benard) before Ned Quartermaine (Wally Kurth) rats her out.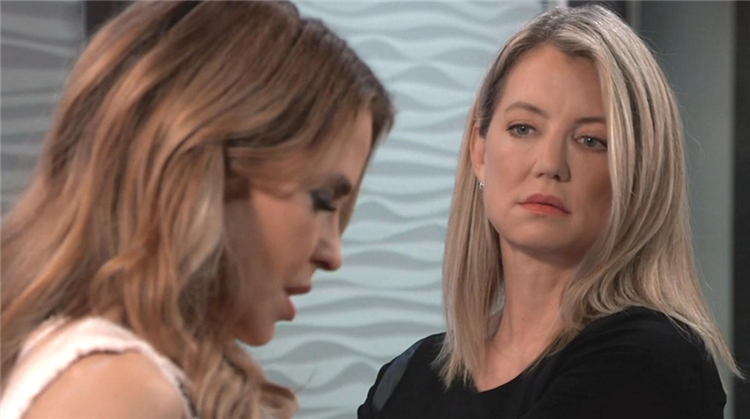 "Once you know, there's no going back," Nina says to Sonny in Monday's GH preview video.
Nina will be prepared to confess how she reached out to Martin Grey (Michael E. Knight) and got him to deliver her anonymous tip to the SEC.
Before Nina can admit the truth, she'll find out about Ned's strange condition and will have to come up with some other way to spin things.
Nina will invent a story to explain her missing engagement ring and keep her romance with Sonny going after all.
As for Ned's current state, he knows it's 2023 and that he's in Port Charles. However, he no longer answers to Ned and just insisted that his name is Eddie Maine!
Eddie Maine was Ned's rockstar persona that originated in the '90s, so he's somehow turned that version of himself into a guy who's living in the present.
"I don't know what the hell you're talking about," Ned aka "Eddie" says in Monday's preview clip.
Olivia Quartermaine (Lisa LoCicero), Tracy Quartermaine (Jane Elliot) and Brook Lynn Quartermaine (Amanda Setton) will try to remind Ned of who he really is, but he won't remember any of the memories they try to bring back.
Will "Eddie" think he's married to Lois Cerullo (Rena Sofer), Brook Lynn's mother?
Alexis Davis (Nancy Lee Grahn) was also romantically entangled with Ned as "Eddie's Angel" once upon a time, so there could be some intriguing places to go with this story.
General Hospital spoilers will push someone to step up in the midst of Ned's crisis, so she may have to give Tracy a lecture or Olivia a pep talk.
It sounds like this Eddie twist will be a game-changer, so stick with us for more news on what it means for Ned and his loved ones.