General Hospital May 22nd spoilers reveal The plan belongs to Gladys Corbin (Bonnie Burroughs). Harrison Chase (Josh Swickard) is conversing with Tracy Quartermaine (Jane Elliot), who is not afraid to express her views. Josslyn Jacks (Eden McCoy) and Michael Corinthos (Chad Duell) will also be at odds with one another. The SEC drama also keeps going. What you should know is as follows.
General Hospital spoilers: Bad idea alert?
First, General Hospital spoilers reveal Gladys meets with Selina Wu (Lydia Look). After Sonny Corinthos (Maurice Benard) turned down her investment pitch, Gladys needs to switch gears if she's going to settle that debt. And it seems like she has a thought. In the promo Gladys promises Selina, "I have something that could be even better." If we were Selina, we'd have serious doubts! We honestly don't see how she's going to do better than getting info on Sonny's business for Selina.
General Hospital spoilers: Decide, already!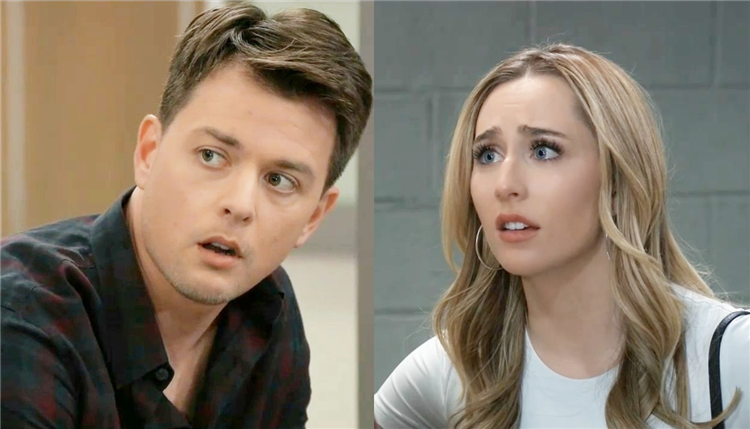 Elsewhere, Tracy meets with Chase. It's not the lunch confession Tracy had promised, so Brook Lynn Quartermaine (Amanda Setton) should be happy about that much. However, we're not sure Tracy won't end up messing things up for Brook Lynn after all. In the promo, Tracey challenges Chase, "Forgive her, and skip off into the sunset or cut her loose." Good advice, but that one could go either way for Brook Lynn. And we're not sure we want to be there when/if Brook Lynn finds out Chase dropped her for good after speaking with Tracy. If they think it's tense there now…
General Hospital spoilers: At odds
Meanwhile, General Hospital spoilers reveal Joss confronts Michael. However, it looks like this won't be a one-sided thing here. In the promo, Michael asks Joss, "How could you do that to him?" By that, it's clear she'll tell him about her meeting with Sonny. And much like Dex Heller (Evan Hofer), Michael will point out what a horrible plan that was. Let's see if they can work something out, or if a war between siblings is the next problem in that family.
General Hospital spoilers: Carly and Drew vs. the SEC
Regarding the SEC snafu, it appears that Drew Cain (Cameron Mathison) and Carly Spencer (Laura Wright) are having a strategy meeting on May 22. She asks Drew in the advertisement, "How do we get through this without turning against one another?" That is almost certainly an impossible endeavor, in our opinion. They are entirely at fault, and it appears the SEC has a solid case based on past discussions of this matter. We thus wish them success. They will require it!