Be prepared for an emotional rollercoaster, according to General Hospital Spoilers For The Upcoming Two Weeks (August 7–18, 2023). It implies that Sam will keep having misgivings about Gladys. Additionally, Sam will become interested in Dr. Damon Montague and begin to look into him. Hopefully the dubious pair's true nature will soon come to light. Sonny will begin developing his own plans in the interim. Anna can find herself in yet another tense circumstance. Will she and Sonny be able to discover the truth behind these unidentified attacks? Find out by reading on!
Anna Grills Valentin, Sonny Lays A Trap
Sonny and Anna have been working hard to piece together all the problems they are now experiencing on General Hospital. Valentin Cassadine will land directly in Anna's line of fire when he returns to Port Charles during the week of August 7–11, 2023. She will question him about all the information he has been withholding concerning his relationship with Pikeman and demand answers. More ties between Pikeman and WSB will become apparent as the episodes go on, according to Anna. Maybe Sonny isn't so crazy after all about Ana being WSB's target!
General Hospital spoilers tease that Sonny will discuss some urgent matter with Brick. He will want Brick to find the best way to deal with Mason. He needs the goon to remain alive till the tie Sonny manages to find Nikolas Cassadine's body. However, Sonny will be in for a huge shock when he eventually finds out that Nik is actually alive. Later, Sony will lay out a trap to draw out his enemy. Now it remains to be seen whether this enemy is the one he id dealing alongside Ava, or the one he is dealing alongside Anna. Although, the spoilers tease that in one of the upcoming episodes Anna will find herself in a very testing situation, which will deeply worry Sonny.
Cody Tries To Reach Sasha, Trina Reaches Out To Curtis
Elsewhere in Port Charles, Cody will meet roadblock after after roadblock in his attempts to reach Sasha at Ferncliff. He will eventually seek Brook Lynn's help in getting to Sasha. BLQ will try to create a distraction so that Cody is able to sneak in. However, Gladys will create a new hurdle for him when she realizes that he is trying to meet Sasha. General Hospital spoilers tease that she might even try to take some legal action against Cody in this matter. But for how long will she be able to contain the truth?
Meanwhile at the hospital, Trina will make a bold decision. She will go against Curtis' wish of staying away and decide to meet him. She will finally manage to knock some sense into him, and manage to impress him with her stance. The father and daughter duo will bond on General Hospital and this will perhaps give Curtis some hope to move forward in his life despite his current predicament.
Dex Lands In Trouble, TJ-Molly Meet Their Surrogate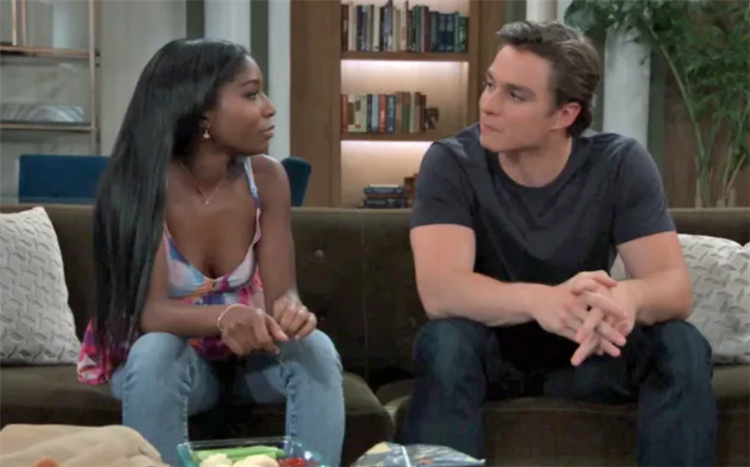 General Hospital spoilers tease that Sonny will be taking some huge risks during the week of August 14-18, 2023. Apart from setting traps, he might also feed some wrong information to Betty which she may then deliver to Mason or someone else in the organization. Dex too, will get pulled into this whole mission. In fact, he might get involved in a situation that might put his safety in jeopardy. His latest work crisis will send Joss in panic mode. Will she once again spiral out of control and make some unlikely moves?
Elsehwere, TJ and Molly will have a very important meeting with someone in the upcoming episodes of General Hospital. Perhaps it will be with a possible surrogate. However, the spoilers tease that the parties will not be able to reach common ground, and the opportunity will slip from Molly and TJ's hands. This might once again bring the couple back to ground zero. Do you think Molly will once again start considering Kristina's offer of surrogacy?
Willow Gets Some News Update, Brook Lynn Tries To Dupe Tracy
General Hospital spoilers reveal that Willow Tait Corinthos will get some news updates during the week of August 14-18, 2023. These could be some positive health updates from her doctor. If that's the case then it will certainly bring her a lot of relief. However, it is unlikely that she will still be recovered enough to go back to her work and old life full time. So she may have to get in some more days of rest before she dives back into the real world.
Brook Lynn will decide to get her grandmother to tell the truth somewhere else. She will therefore make Tracy Quartermaine intoxicated in the hopes that she will reveal her true motives for Deception. In this case, BLQ might also try to identify Tracy's covert ally. Later on in the week, Tracy and Gregory will clash as she tries to get the health information he is trying to conceal. Do you believe the Quartermaine women will succeed in learning the truth? For more General Hospital news, keep checking TV Season & Spoilers.