We wish this GH star a very happy birthday!
General Hospital's Sam McCall doesn't always have that much to celebrate, given all that she's dealt with in the recent and more distant past. However, the same can't be said for her portrayer, Kelly Monaco.
Happy Birthday, Kelly Monaco
That's because she was born on May 23, 1976, in Philadelphia, Pennsylvania, which means that this talented performer is turning 47 years old today! Monaco became interested in acting after taking lessons while enrolled in Pocono Mountain High School.
After being featured in the adult publication Playboy, Monaco landed her first television role. From 1997 to 1998, she played Susan on the syndicated series Baywatch. In addition, she served as Carmen Electra's body double.
Minor roles in features like BASEketball, Idle Hands, and Mumford followed. Between 1999 and 2003, Monaco starred in ABC's Port Charles as Olivia "Livvie" Locke, as well as Livvie's doppelganger Tess Ramsey.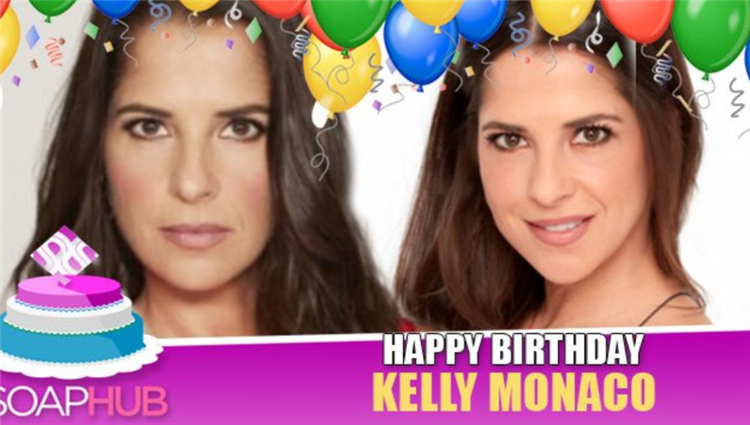 In 2003, Monaco joined the cast of General Hospital — in the role of career criminal turned private investigator Sam McCall — where she has remained ever since. Her work for that program has earned her a Daytime Emmy Nomination.
Monaco's other credits include guest appearances on Spin City and Baby Daddy. She participated in the 2011 reality series Dirty Soap alongside many of her daytime peers — including fellow GH-er Kirsten Storms (Maxie Jones).
Monaco participated in and won the first season of the reality dancing competition Dancing with the Stars in 2005. Her second appearance on the program resulted in her placing third.
In February 2009, Monaco appeared in the Jerry Mitchell-produced burlesque act Peepshow, a production staged at Las Vegas' Planet Hollywood Resort and Casino.