GH spoilers for June 27, 2023, have Valentin trying his best to reason with Anna.
General Hospital spoilers reveal insistent boyfriends, more terrifying threats, BFF confessions, and so much more. You won't want to miss a moment of this intense new episode.
General Hospital Spoilers Highlights
Anna (Finola Hughes) is still wallowing in self-pity trying to find a new direction in life. She couldn't even get Laura (Genie Francis) to allow her to go to Chechnya with her to find Nikolas, something that would have given her a purpose and distraction.
Valentin (James Patrick Stuart) knows that he can't leave the country with Anna in this current state so he stops by to make sure she is okay and finds she is not. She insists that he leave and get ready for his trip but Valentin won't take no for an answer and plants himself in Anna's living room to talk. In fact, he is thinking of not going to Chechnya at all if Anna continues to keep herself locked in her house, barely seeing anyone.
Will he be able to get her to snap out of it and will she convince him to go help Laura either way?
GH Spoilers: Nina's Panic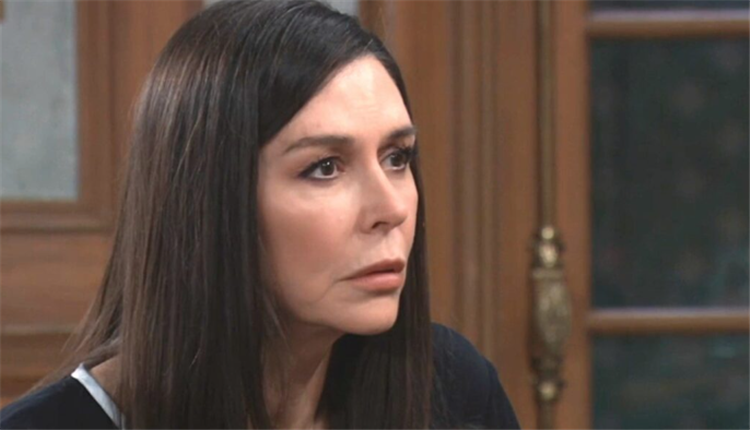 Nina (Cynthia Watros) was relieved to see that Neddie (Wally Kurth) is indeed Eddie Maine in his mind and remembers nothing about their conversation right before his plunge into the pool. That meant that she was safe for now, and Sonny would not find out she was the one who ratted out Carly (Laura Wright) and Drew (Cameron Mathison) to the SEC.
However, now Neddie is staying with Sonny (Maurice Benard), and she feels this close proximity isn't going to make things any easier. As for Neddie, he is not sure why Sonny is being so nice to him and thinks it might all be a trick. Nina is going to have to think fast to somehow get Neddie out of the picture.
General Hospital Spoilers: Ava Is Freaked, Trina Is Stunned
Ava (Maura West) is still quaking in her boots over her own mess with Austin's (Roger Howarth) cousin Mason (Nathanyael Grey) and the disappearance of Nikolas's body. She has no idea her ex is still alive, but she does know she has to do Mason's bidding in order to stay out of jail.
Austin gives Ava another warning that leaves her more rattled than ever. But then, something else happens that might fulfill Austin's wish to give Avery (Ava and Grace Scarola) and Donna (Scarlett Brielle) a new nanny. Did Austin go behind Ava's back, or is she in on this plan?
Poor Trina's (Tabyana Ali) life is still a mess thanks to her very messy family. She is still not sure how to accept Curtis (Donnell Turner) as her father and also has to deal with Spencer (Nicholas Alexander Chavez) living with Esme (Avery Kristen Pohl) again.
Trina takes time to open up to Josslyn (Eden McCoy) and share her troubles. She even tells Josslyn all about the evidence against Esme that Victor (Charles Shaughnessy) left for Spencer. However, Trina is shocked when Joss wondered why they didn't turn it over to the police, even if Spencer believed it was fake.