Gladys Corbin (Bonnie Borroughs), according to General Hospital spoilers, has gone too far this time. Drugging her daughter-in-law Sasha Corbin (Sofia Mattson), however, is the worst thing she has ever done.
Gladys is acting selfishly. Selina Wu (Lydia Look), to whom she is deeply indebted, has been receiving payments from Sasha. Gladys would do anything to prevent Sasha from ending her guardianship because doing so will put an end to her mother-in-law's money making scheme.
That is the reason that she is going along with a plan to get her son's widow hooked on drugs, but there is someone helping her. Dr. Damon Montague (Darin Toonder) is prescribing pills to Sasha that are causing her bizarre behavior.
Who is Dr. Montague and why is he hurting Sasha?
General Hospital Spoilers: Is Dr. Montague An Undercover Agent?
One theory is that Dr. Montague is working undercover with the police or the WSB to infiltrate Ms. Wu's illegal gambling game at The Savoy.
Selina does not only run the poker game, but she is also a powerful mob boss in Port Charles. The authorities may be finally looking into her illegal activities to take her down, along with the entire Wu family.
The crooked doctor may not be a doctor at all, and he could also be investigating Gladys for stealing money from Sasha.
There is one problem with this theory. Someone working with law enforcement could not illegally prescribe drugs to a patient. But this is General Hospital, so who knows?
Is Dr. Montague Really Someone From Sasha's Past?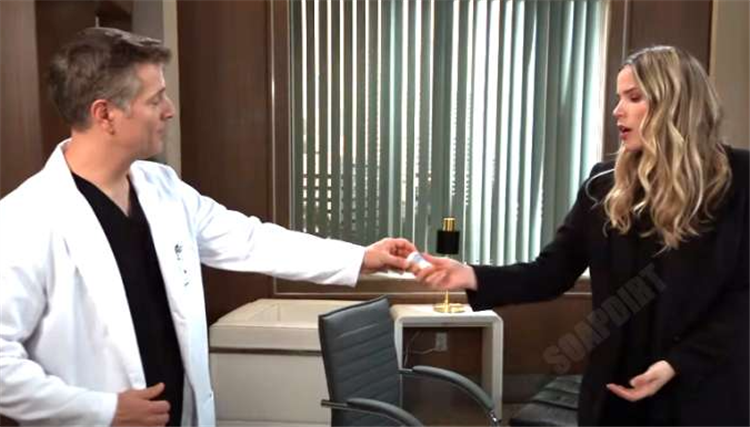 On General Hospital, Sasha's past has never been revealed. She arrived in Port Charles under the guise of being the long-lost daughter of Nina Reeves (Cynthia Watros). Valentin Cassadine (James Patrick Stuart) came up with the scheme to get Nina back. It didn't go well at all.
Little is known about Sasha's life prior to meeting Valentin. According to the facts provided so far, her mother, Amanda, died. After that, she was raised by her grandma.
It was when she needed money for her grandmother's operation that she took the job with Valentin. As of now, she has not mentioned any other family.
We are unaware of Sasha's potential prior transgressions or potential enemies. The corrupt Dr. Montague might be someone she's wronged in a previous life, or he might be working for someone who wants to exact revenge on her.
Sasha's background might eventually be revealed.
Fans hope that Sash does not relapse into drug addiction, whoever the doctor may be. The poor woman has endured enough suffering. She needs some joy in her life right now. Could Cody Bell (Josh Kelly) be a part of that?