GH spoilers for June 29, 2023, have Portia wanting to talk with Esme.
General Hospital spoilers reveal sneaky moves, tears and romance, one angry mother, and so much more. You won't want to miss a moment of this exciting new episode.
General Hospital Spoilers Highlights
Portia (Brook Kerr) already had one recent chat with Esme (Avery Kristen Pohl) at the hospital, and now it looks like the young woman is there again with Ace in tow. Somehow Portia gets her alone again and decides they need to have a little chat.
There is something very specific that Portia wants to discuss. She wants Spencer (Nicholas Alexander Chavez) out of Trina's (Tabyana Ali) life for good and thinks Esme may be her ticket to making that happen. Will she encourage Esme to leave town again and make getting between Spencer and Trina sound appealing? After all, Portia can tell how much Esme still leans on Spencer.
GH Spoilers: Ava Wants Answers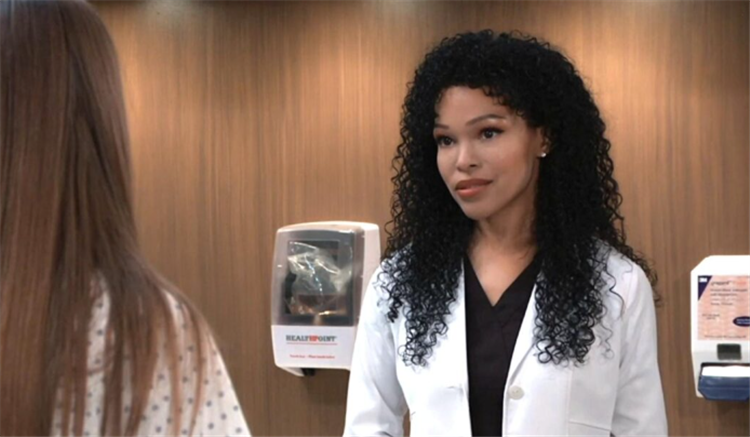 Ava (Maura West) still can't believe that Austin (Roger Howarth) would be willing to use her child to get Pilar fired and do Mason's (Nathanyael Grey) bidding. She lays into him like never before and then wonders what the heck he has gotten them into.
As for Austin, he is unrepentant and refuses to apologize for anything. He warned her that Mason could destroy them both and is willing to do whatever is needed to ensure that doesn't happen. Well, so far Pilar still has a job so will he do something else to make sure he can install a new nanny?
General Hospital Spoilers: Date Night And Promises
Some of our favorite Port Charles citizens settle in for some couples time on Thursday. While Elizabeth (Rebecca Herbst) and Finn (Michael Easton) are not an official couple and never really dated, junior matchmaker Violet (Jophielle Love) doesn't care and invites Liz over so she can spend an evening with her dad.
While Dante (Dominic Zamprogna) and Sam (Kelly Monaco) enjoy a night out without stress, Drew (Cameron Mathison) and Carly (Laura Wright) are a mess as they know their time together is dwindling. At least Carly promises to wait for Drew for three years or however long it takes to get him out of Pentonville.