On "Blue Bloods," the Reagan family dinners are at the heart of the show. Yes, its core structure is as a police procedural, but those heartfelt conversations between the tight-knit New York City law enforcement dynasty is what has kept viewers coming back for 12 seasons.
Starring Tom Selleck as level-headed NYC Police Commissioner Frank Reagan, "Blue Bloods" — which airs Fridays on CBS — follows the clan as they try to keep law and order in the Big Apple. Every week, though, the family gathers for a legendary Sunday dinner, where onscreen siblings Donnie Wahlberg, Bridget Moynahan, and Will Estes mull over both their personal and professional problems.
Also at the table is Len Cariou, who plays family patriarch and retired commissioner Henry Reagan, who's often looked to for thoughtful advice and old-line experience. During an exclusive interview with Looper, the veteran actor opened up about filming those famous family dinners, revealing that one was the very first scene ever shot for the series.
Filming the first family dinner was 'baptism by fire'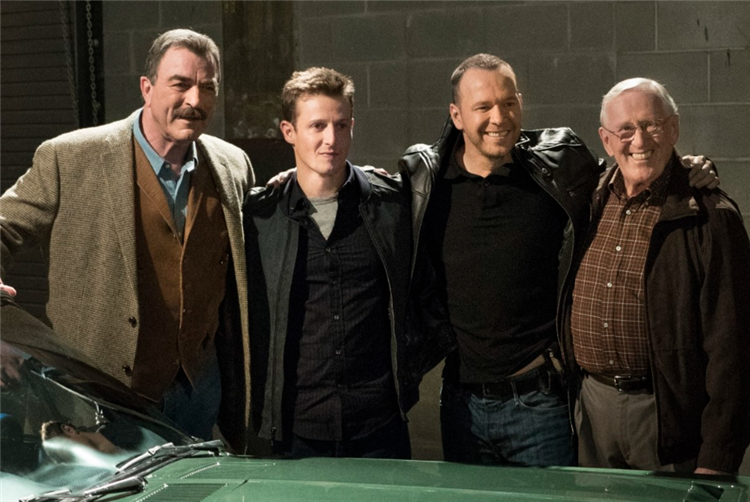 The Reagan family dinner scenes have been a core part of "Blue Bloods" since the very first episode aired back in 2010, and Cariou says they are "great fun" to do behind-the-scenes.
"We have to [have fun]," Cariou shared. "We're there for a long time. There's nine of us, so the scene takes a long time to film. We're all sitting around and we all joke and carry on … There's a little bit of gossip going on and some jokes are being told and all that."
That jovial on-set familial vibe was cultivated at the dinner table in the very beginning, when the "Blue Bloods" cast was surprisingly asked to film that scene on their first day on the set.
"When we filmed the pilot, it was the very first scene that we did," said Cariou. "And I said to Leonard Goldberg, our founding executive producer, 'Why are we doing this first? We hardly know one another.' He said, 'Well, I want there to be one of these scenes in every episode. So, I figured baptism by fire. Let's see if it works.' He came back the next day and said, 'It works like gangbusters.'"
That doesn't mean the cast wasn't put in the hot seat. "We all had to make up a history, right then and there, on the spot," revealed the veteran actor. "Who was the oldest in the family? What was our background? What was my background? We made one up and established the family business right then and there.