GH spoilers for July 10 – 21, 2023, promise the drama heats up over the next two weeks.
General Hospital spoilers reveal two weeks in Port Charles with some serious story movement.
General Hospital Spoilers: Upcoming Highlights
As shots ring out at the Metro Court pool, it looks like Sonny (Maurice Benard) is the target (but is he the victim?) and everything that happens after that has him wondering what is really going on with the Pikeman Group. It also has his loved ones worried as a life hangs in the balance. Are things about to go terribly wrong for 'Corinthos Coffee'?
Kristina (Kate Mansi) has to worry about her father but also about the idea that is now in her head. She is determined to become Molly's (Holiday Mia Kriegel) surrogate even if Molly is not sure that should happen. This is a big commitment and Kristina may have to face the fact that she is not ready for it. However, those aren't the only troubles on Kristina's mind over the next two weeks.
Finally, Sasha (Sofia Mattsson) knows something is going on with Brook Lynn (Amanda Setton), Tracy (Jane Elliot), and Deception, and that has her nervous. Therefore, she takes her new addictive anti-anxiety meds and things start to spiral out of control in her life — which is just what that snake Gladys (Bonnie Burroughs) wants. Will she play right into her mother-in-law's greedy little hands?
GH Spoilers For July 10-14
Monday, July 10, 2023
A shot rings out at the Metro Court. Who takes the bullet while enjoying a night at the pool? It could be Sonny.
Dex (Evan Hofer) gets bad news. Does he hear about that pool shooting?
Alexis (Nancy Lee Grahn) urges caution. She doesn't want Kristina to make a major mistake.
Molly ponders an offer. She can't believe what Kristina wants to do for her and TJ (Tajh Bellow).
Josslyn (Eden McCoy) doesn't like what she sees. Her friend is very upset about Spencer (Nicholas Alexander Chavez).
Tuesday, July 11, 2023
A life hangs in the balance. That sounds like a serious shooting and the GH doctors better be on the case.
Marshall (Robert Gossett) opens up to Stella (Vernee Watson). He is feeling lost in life.
Nina (Cynthia Watros) is horrified. Did something happen to Sonny? Or does this have to do with her daughter?
Finn (Michael Easton) and Liz (Rebecca Herbst) have a frank talk. Will they face that they were never really together?
Joss is suspicious. She never seems to trust anyone but Dex. Who is she giving the side eye to now?
Wednesday, July 12, 2023
Lucy (Lynn Herring) and Felicia (Kristina Wagner) embark on a caper. Hello, Pine Valley, PA. We have missed you so!
Sasha (Sofia Mattsson) surprises Maxie (Kirsten Storms). Does she tell her what she saw at the pool?
General Hospital spoilers tease that Chase (Josh Swickard) is gobsmacked. What kind of shock does he get?
Martin (Michael E. Knight) seeks advice. He has no idea how to run a company like ELQ.
Cody (Josh Kelly) tries to outsmart Selina (Lydia Look). Good luck with that one, Cody.
Thursday, July 13, 2023
TJ assists in a surgery. Does this surgery have to do with removing a bullet? We know TJ can save the day.
Chase makes an arrest. Who did something wrong this time, besides a shooter?
Michael (Chad Duell) makes a romantic gesture. He can do that now that Willow (Katelyn MacMullen) is home.
Alexis is worried about Kristina. Her daughter seems worried about everyone, too.
Cody makes an offer. Is this an offer that someone can't refuse?
Friday, July 14, 2023
Kristina gets the cold shoulder. Does Molly not want to speak to her?
Dante (Dominic Zamprogna) develops a theory. He needs to figure out who was behind that shooting.
Gladys tries to run interference. She needs to always stay one step ahead.
Trina (Tabyana Ali) is overcome with emotion. Hopefully, Spencer brings some good emotion.
Mac (John J. York) makes an admission to Sam. Does he know Sam well enough to confide in her?
General Hospital Spoilers For July 17-21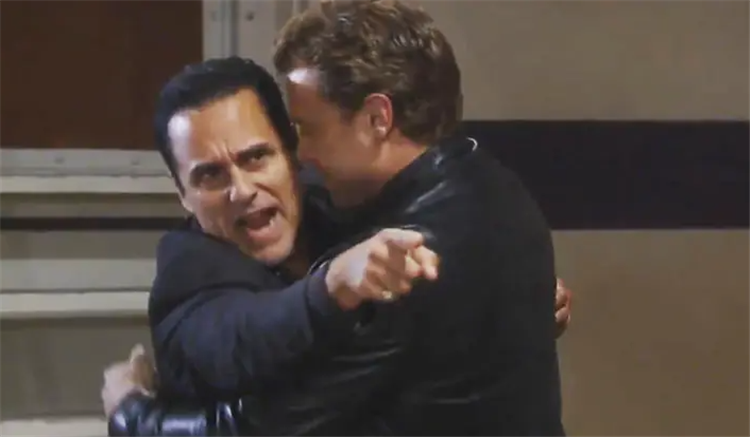 Monday, July 17, 2023
Ava (Maura West) makes a confession. She should just tell someone about her predicament already.
Leo (Easton Rocket Sweda) acts out. He is not handling the "Neddie" situation very well.
Lucy turns on the charm. She needs to get lots of information.
Austin (Roger Howarth) relays a message. Might this message be from Mason (Nathanyael Grey)?
Chase tracks down Ned (Wally Kurth). Does Chase try to reason with this new persona?
Tuesday, July 18, 2023
Brook Lynn is relieved. She is glad Chase found her father.
Alexis runs interference. She should join Gladys in the running interference game.
Gregory (Gregory Harrison) surprises Tracy. Is he actually nice to her?
Mac offers his assistance. Who is he trying to help? Does he end up in Pine Valley too?
Sam comes clean. What secret is Sam hiding? Maybe she is mad at Carly (Laura Wright) after all.
Wednesday, July 19, 2023
Sasha does damage control. Something is going wrong in her life again and she is not sure what.
Taggert (Real Andrews) checks on Trina. Father and daughter spend some bonding time together.
Portia (Brook Kerr) questions Spencer. He better settle in for a parental inquisition.
Kristina works through her feelings. She is a mess and trying to hide it, but it keeps getting harder.
Molly opens up to Sam. She is not sure how she is feeling or if Kristina's idea is the right one for all of their lives.
Thursday, July 20, 2023
Sam plays mediator. She needs Kristina and Molly to talk honestly with one another.
General Hospital spoilers show that Austin is overly confident. That does not bode well for Ava.
Gladys is alarmed. Is she finally about to get caught in the act?
Maxie defends a friend. She won't let Sasha go down without a fight.
Esme (Avery Kristen Pohl) seeks answers. Does she want to know more about her other life?
Friday, July 21, 2023
Dex gets a new assignment. Well, he isn't much help protecting Sonny.
Josslyn gets shocking news. Does Dex have a wife somewhere?
Drew (Cameron Mathison) is suspicious. Cyrus (Jeff Kober) is keeping him on his toes.
Nina rushes to the hospital. Who is in trouble?
Ava reassures Austin. She thinks she has everything under control.