Was Sonny's proposal a pity ask? Something about his delivery, and the conversation leading up to the question that gives off a disingenuous vibe. It almost seems like Sonny proposed out of pity!
Recap for General Hospital: A great liar led Sonny Corinthos (Maurice Benard) astray a few years ago. Cynthia Watros' character, Nina Reeves, exploited a helpless man in Nixon Falls who she knew had a family back home. The Corinthos family was split apart as a result. Strangely, Sonny believes he has fallen for his captor. They now intend to ride off into the distance.
Sonny Buys Nina's Pity Party, But It'll Cost Her In The End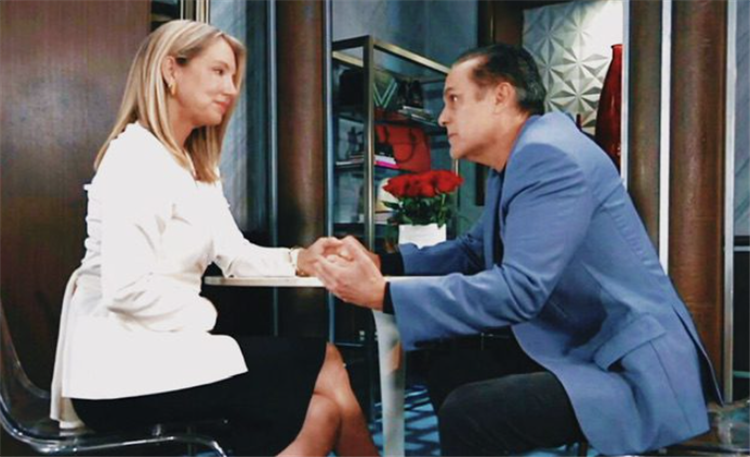 Nina's little sob fest was a manipulation tactic to get Sonny on her side. Once again, she played victim as she cried wolf. Then, Sonny's random marriage proposal took the audience, as well as Nina, by surprise. Although she's yet to answer him, we should probably just assume that she goes forward with the engagement with her secret hanging over like a dark cloud.
General Hospital rumors storyline speculations hint toward a disastrous outcome for Sonny and Nina. It's clear that their lives don't align. Love should come naturally. Neither party should have to jump through hoops in hope for peace. In relationships, family dynamics play a major role in the health of the couple's relationship. So, because Sonny's entire family cannot stand her, it just doesn't seem realistic for Nina and Sonny when so much stands between them.
Recent General Hospital rumors claim that Sonny's marriage proposal was made under the impact of Nina's pity party and his desperate need for approval. She was really applying the pressure. She undoubtedly made him feel guilty when he expressed his opinion about Carly, Michael, and Willow. She was dissatisfied that he claimed to be Switzerland and not her staunchest ally. Making someone feel guilty for having limits is a basic tactic used by an entitled, self-serving individual. Nina was fortunate since this benefited her. Fans of General Hospital now question whether Sonny's proposal was motivated by sympathy.
Let's be real here. Would Sonny have proposed if it wasn't for their conversation?