The GH spoilers for Thursday, June 15, 2023, have Sonny putting Gladys on the spot.
General Hospital spoilers reveal confrontations, special offerings, nerves on the edge, and so much more. You won't want to miss a moment of this emotional episode.
General Hospital Spoilers Highlights
Gladys (Bonnie Burroughs) is not happy that her access to Sasha's (Sofia Mattsson) money train could possibly be coming to an end, especially since Selina (Lydia Look) has made her request for a payment known — information on Cousin Sonny's (Maurice Benard) business. With each passing day, Gladys is falling further into a financial hole with the lady mobster.
The thing is, getting information from Sonny isn't an easy prospect, and it looks like whatever a desperate Gladys does sets off Sonny's Spidey senses. He has questions of his own for Gladys, and there's a good chance she's not going to have the right answers. What will Gladys do then?
GH Spoilers: A Fine Mess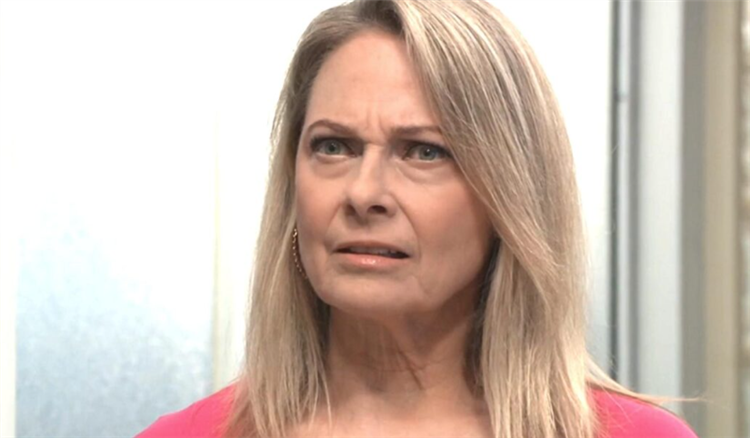 Also, a problem on the Sonny front is Nina (Cynthia Watros), but will Sonny even realize that the woman he loves and plans to marry is a complete bundle of nerves? With news that Ned (Wally Kurth) is making a turnaround, her goose may end up being cooked. Will he wake up and spill all he knows about her being the one to tip off the SEC about Carly's (Laura Wright) insider trading adventure?
Speaking of that debacle, GH spoilers also tease that Drew (Cameron Mathison) makes an offer. Is he about to prove to Carly that he really does love her by saving her from the mess she created when she didn't listen to him and got involved, trying to help him and Michael (Chad Duell) way back when with their merger plans?
General Hospital Spoilers:
With all of this going on for Nina, Sonny, Carlly, and all, Ava (Maura West) senses an opportunity. Will she figure out how to use what's going on with Sonny and Nina to glean information about Pikeman that she could feed to Austin's (Roger Howarth) awful cousin Mason? She needs to save her own hide since he knows what she did to Nikolas.
Nikolas's son, Spencer (Nicholas Alexander Chavez), comes bearing a gift — but will it be for Curtis (Donnell Turner), whose birthday it actually is, or for Trina (Tabyana Ali), the young woman he's crazy about? Either way, look for Portia (Brook Kerr) to set her sights on the young man. She has some tough questions for him that she wants answered.