Get caught up on all the juicy goings on this week on GH…
The General Hospital recaps for April 3 – April 7, 2023 featured singing, dancing, gunplay, bloody violence, and so much more.
General Hospital Recaps: Monday, April 3
The red carpet walk for the Nurses Ball got underway with host Sydney Val Jean (Chandra Wilson of Grey's Anatomy) promising "thrills, excitement, and mystery." Backstage, Maxie (Kirsten Storm) and Brook Lynn (Amanda Setton) issued last-minute orders…Homebirds Michael (Chad Duell) and Willow (Katelyn MacMullen) took in the events via a live stream. Lucy Coe (Lynn Herring) did likewise from the confines of her safe house…One of Victor's (Charles Shaughnessy) lackeys announced that they'd located Lucy, Anna (Finola Hughes), and Valentin (James Patrick Stuart).
GH Recaps: Tuesday, April 4
GH was preempted for "Breaking News" coverage.
General Hospital Recaps: Wednesday, April 5
Representatives of the nursing staff open the ball with a rendition of "Lovely Day." Josslyn (Eden McCoy) and Trina (Tabyana Ali) perform "Why Don't You Just Meet Me In The Middle?" Later, Elizabeth (Rebecca Herbst) offers a moving tribute to Epiphany (Sonya Eddy)…Valentin serenaded Anna at their safe house.
Cody (Josh Kelly) threatens to out Gladys's (Bonnie Burroughs) gambling with Sasha's (Sofia Mattsson) money unless she comes clean first…Spencer and Trina conclude that they are indeed a bona fide couple…Brook Lynn kept Linc (Dan Buran) from perving on Blaze (Jacqueline Grace Lopez) and eventually found him corralling a clearly uncomfortable Josslyn.
Victor instructs his minions to dispose of Lucy but keep Valentin and Anna alive. Said minions converge on the supposed safe house just as Lucy admits to decamping to the Metro Court earlier in the day.
GH Recaps: Thursday, April 6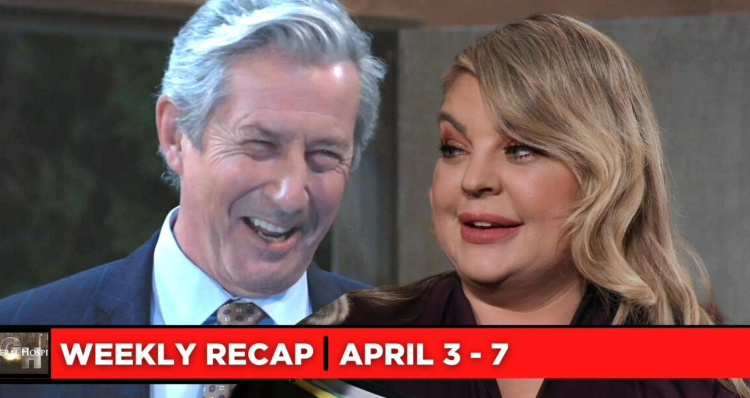 Bobbie, Mac (John J. York), and Felicia (Kristina Wagner) reflected on Nurses Balls — and their own performances — past…Brook Lynn extracted Josslyn from Linc's grasp…Trina and Josslyn chance upon Spencer excoriating Dex. They in turn blast Spencer…Spencer is warned that Victor will soon be contacting him and that he should decline at his peril…Sonny sets up a scholarship fund for nursing students endowed in Epiphany's memory and in Stone Cates's name.
Anna, Valentin, and Lucy managed to duck and cover from the initial onslaught of bullets. On Anna and Valentin's orders, Lucy makes a break for freedom. Seconds later, Victor's crew infiltrates the cabin. With Anna's mobility at stake, Valentin hands over the much-prized necklace. Victor in turn puts a bullet in Anna!
Cody pointedly questioned Sasha about the sale of Brando's garage. Gladys interrupted the pair, saw Cody off, and besmirched his character…Jordan and Mac discussed Eileen's death and resolved to speak to Victor…Portia groused to Elizabeth and Finn about her and Trina's estrangement; they both assure her that they'd soon get back to getting along with each other.
Lawyer-turned-singer Danielle Ponder performs "Someone Like You." Brook Lynn and Chase are affected by the lyrics. Backstage, Carly enthuses over Danielle…Finn introduces Chase and Blaze's act. While the singers bask in the subsequent applause, Linc clambers into the limelight and gets into Blaze's personal space. As a result, Brook Lynn storms the stage and outs Linc's predatory behavior. Blaze backs up Brook Lynn's claims. Dante escorts Linc from the building and charges him with creating a public disturbance. Gladys takes the opportunity provided by the scene to slip away.
Magicians extraordinaire Georgie Spinelli (Lily Fisher) and James West (Gary James Fuller) — with an assist from Liesl (Kathleen Gati) — perform impossible feats. Their final trick is complicated by Liesl's abduction by one of Victor's henchmen…Gladys plants her bracelet in Cody's jacket pocket.
General Hospital Recaps: Friday, April 7
Milo and the Magic Wands perform…Gladys sets up Cody to take the fall for her "missing" bracelet. Cody insists he's innocent. Mac personally places Cody under arrest…Anna was rushed into surgery…Nina and Maxie grew concerned over Liesl's literal disappearing act…Laura goes to General Hospital after learning about Anna's shooting leaving Esme (Avery Kristen Pohl) and Ace alone and vulnerable. Upon returning home, she was greeted by the sight of an unconscious Esme — and no Ace…Spencer heeded Victor's call and found himself trapped aboard the mobile Haunted Star.
Carly takes to the stage, requests Bobbie's presence, and takes delight in marking her mother's 45th anniversary at the hospital as viewers were treated to a series of flashbacks of Bobbie throughout the years…With Sonny's aid, Lucy ditches her tail and literally crashes her own memorial segment.