The General Hospital recap features Spencer freaking out as Trina Robinson decided to take charge.
General Hospital Recap Highlights
In this episode, Trina Robinson shocked Spencer with her presence on The Haunted Star. Liesl was also shocked to see where she was and who kidnapped her. Nina, Sonny, and Scott deduced that Victor had Liesl and Laura realized Spencer was in as much trouble as his baby brother. Drew and Carly were tasked with telling Willow that she probably won't be getting any of that coveted bone marrow. And finally, Diane did a job for Sonny and got the info that he needed. Now, let's dig a little deeper into the details.
General Hospital Recap: Trina Robinson To The Rescue
Trina (Tabyana Ali) continued to listen in on Spencer (Nicholas Alexander Chavez) and Victor's conversation and heard Victor announce that none of them would ever be returning to Port Charles, and that included Ace. Spencer refused to agree to Victor's (Charles Shaughnessy) plans, telling him he had a life in Port Charles, one that was starting to actually get good. Victor remained cryptic, telling Spencer that he would learn his true plans in good time. He then had Ambrose lock Spencer in his stateroom.
Finally, one of Victor's goons brought Liesl (Kathleen Gati) to see Victor in the dining room, where Liesl demanded to be let go. Well, Liesl wasn't having it as Victor explained to her that he was going to finish the job that he and Mikkos started 40 years ago. When Liesl lunged toward Victor, it gave Trina a chance to run and find Spencer in his stateroom.
Needless to say, Spencer was stunned to see his girlfriend but also horrified to realize he had put her in danger. She admitted she followed him to The Haunted Star because her instincts said he was in trouble. Trina also surprised Spencer by telling him that Liesl is being held captive, as well. At this point, both Spencer and Trina were freaking out, but Spencer was not even going to attempt to escape without Ace.
Trina reasoned with Spencer that his power-mad freak uncle would never hurt a baby, but Spencer didn't care. Trina then tried to convince Spencer she was the best person to sneak around the boat and see what Victor was really up to because nobody knew she was there. Trina promised Spencer she would be careful because he couldn't get rid of her that easily. With that, the pair kissed, and Trina took off on her mission.
Back in the dining area, Liesl realized she was in real trouble when Victor threatened the lives of everyone she loved, including Scott. Liesl assured Victor that his latest scheme would blow up in his face like all his other insane plots.
GH Recap: The Search For Victor And His Hostages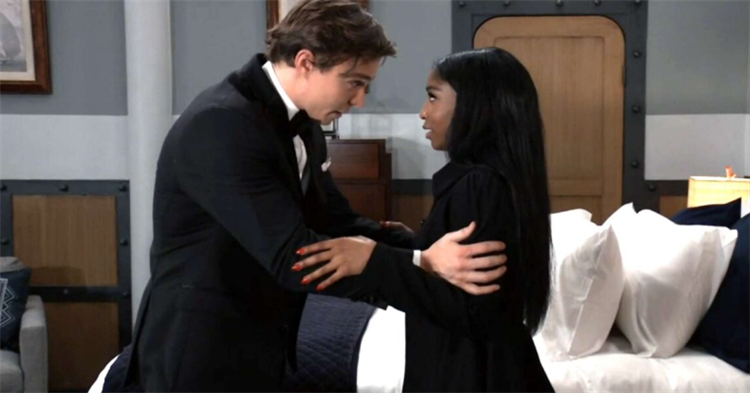 Nina took it upon herself to tell Scott (Kin Shriner) that Liesl was missing, and they were going to have to find her on their own since the authorities weren't being much help. Sonny tried to remain optimistic about finding her by tracking her devices, but it seemed logical that Victor had that covered. Scott was sure that Liesl was trouble and reminded them about the time Victor had him thrown from an airplane just to get his hands on Liesl. It finally hit Nina and Sonny (Maurice Benard) that Victor was behind Liesl's disappearance.
Diane (Carolyn Hennesy) approached Robert (Tristan Rogers) at the hospital and tried to get him to open up about how he was feeling, but she soon got called away to see Sonny. Dante (Dominic Zamprogna) then updated Jordan (Tanisha Harper) and Robert on the events of the night and informed them that Liesl was also now missing. Robert knew immediately that Victor had to be behind Liesl's disappearance. He then headed to the Port Charles Police Department to talk to the goon who followed Lucy (Lynn Herring) to the Metro Court, but Diane soon showed up to get info out of him on Sonny's behalf. Later, Diane confirmed for Sonny that Victor took Liesl and the rest on a not-so-three-hour tour aboard The Haunted Star.
Dante and Laura (Genie Francis) paid Esme (Avery Kristen Pohl) a visit to update her on the search for Ace. When Dante showed Esme the security footage from Laura's building, she identified Victor's goon, Ambrose, as the man who took her baby. Esme wondered why Nikolas (Adam Huss) would have her baby kidnapped, but Laura told her this was Victor's doing, not Nik's.
When Esme saw that Laura couldn't reach Spencer, she wondered if he had helped his uncle take Ace. Laura insisted that was impossible and informed Esme that she believed Victor had taken Spencer along with Ace. Esme decided she could not keep Ace safe in Port Charles and told Laura she'd be leaving town as soon as she got her baby back. Laura tried to talk her out of it, but all Emse wanted was for Ace to come home.
Sonny, Jordan, and Dante had a confab at the Nurses Station, and Sonny wondered if Nikolas's disappearance was also related to Victor, but Dante didn't think so. However, Sonny was more determined than ever to bring down Victor no matter what.
General Hospital Recap: Willow's Hopes Destroyed Again
Drew (Cameron Mathison) and Carly (Laura Wright) walked into the gatehouse on a mission — they had to deliver bad news to Willow (Katelyn MacMullen). Liesl vanished, and nobody could find her. They explained what happened with the magic act, and Carly came to the conclusion that Liesl was kidnapped. Surprisingly, Willow thought of Maxie (Kirsten Storms) and Nina's (Cynthia Watros) worries rather than herself. Carly was stunned that Willow would be thinking of others at this time, insisting Liesl would be found. After all, Sonny was in on the search, and that was enough for Carly.
Once alone, Michael (Chad Duell) tried to be a support for Willow, thinking she would feel angry and defeated, but all she wanted was to be left alone and enjoy some hot chocolate and whipped cream. When Michael went to the kitchen, Willow finally broke down over her sad, sad situation. Michael then returned to see a devastated Willow on the floor, telling him she was so close to a cure but it was taken away from her again.