The GH recap for May 18, 2023, has Curtis and Jordan Ashford in a close moment.
General Hospital recap features Curtis Ashford pouring his heart out to Jordan before making a big move.
General Hospital Recap Highlights
In this episode, Curtis wondered if the DNA test was the right thing while Portia vowed to take matters into her own hands regarding Spencer and Trina. Esme grew suspicious of Alexis and Sam, but Alexis explained to the young woman why she needed a job. Molly and TJ got bad news from Dr. Navarro and wondered what to do next. Finally, Holly and Robert came to a conclusion about their relationship.
General Hospital Recap: Curtis Ashford Has Paternity Woes
The messenger deliveries continued with Spencer (Nicholas Alexander Chavez) being the next to receive an invitation to the reading of Victor's (Charles Shaughnessy) will. This immediately worried Portia (Brook Kerr) because of Trina's (Tabyana Ali) involvement with the Cassadine family. Curtis (Donnell Turner) tried to reassure Portia, but it didn't do much good, even when Curtis praised Spencer for his actions in Greenland.
Meanwhile, Trina didn't even want Spencer to attend the reading but soon became distracted when Taggert (Réal Andrews) was the next person to arrive in the hospital halls. Finally, a lab tech arrived to see whether Cutis or Trina wanted to get their cheeks swabbed first. Curtis volunteered to go first as Trina waited nervously.
General Hospital: Curtis Ashford Makes A Surprising Move
When Curtis returned to The Savoy after his test, Jordan (Tanisha Harper) snuck up behind, prompting Curtis to wonder aloud if he did the right thing taking the DNA test. Jordan assured him that he did, but Curtis wondered if Trina would be better off believing Taggert was her biological father.
He wanted what was best for Trina, but also wanted the results to show she is his daughter. When Jordan vowed to stand by Curtis's side no matter what, he grabbed and kissed her, and she didn't argue.
GH Recap: Esme's New Life, Molly's New Heartache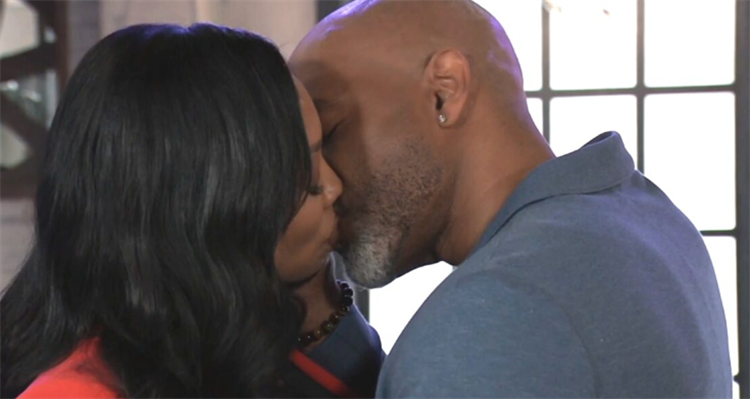 Sam (Kelly Monaco) was surprised to see Alexis (Nancy Lee Grahn) showing Esme (Avery Kristen Pohl) around The Invader offices. Esme remembered Sam from when she asked her some questions at Spring Ridge and worried she was a reporter, but Sam explained that Alexis was her mother. This only served to make Esme more paranoid that even the Cassadine women were trying to manipulate her. When Alexis introduced Esme as her new receptionist, Esme wanted out because she wasn't even sure if she should trust this job offer.
Alexis managed to get Esme to stay by reasonably explaining that Ace being a Cassadine, made Esme family and that any mother would be happy to have a job to support their child. Esme agreed to keep the job and left, which prompted Sam to wonder if Alexis knew what she was doing. Alexis assured her she wouldn't be snowed the way she was when she was nice to Harmony. Just then, Alexis got her will reading invite, and Sam announced she had one too. They both wondered what Victor was really up to with this will.
The subject then turned to Gregory (Gregory Harrison), but Alexis refrained from telling Sam that Gregory has ALS. She did mention she hadn't heard from Gregory since he told her bad news she wasn't about to reveal to Sam.
Spencer was later shocked to see Esme get off the elevator and was even more surprised when she told him she was there to get a drug test for the new job his Aunt Alexis offered her. Spencer and Trina were immediately suspicious of this job offer, but Esme explained she needed money, so she took the job.
When Esme was gone, Trina told Spencer that Esme's job was a good thing because there was a better chance she'd stay in Port Charles with Ace. Portia watched the entire close exchange between Trina and Spencer and was not happy at all. She told Taggert she was ready to put the kibosh on things.
As for Molly (Haley Pullos), she and TJ (Tajh Bellow) were both nervous wrecks as they waited for her doctor to meet them in an exam room. Finally, Dr. Navarro arrived and confirmed that Molly had severe endometriosis. A fertility test showed that Molly would likely never be able to conceive a child. However, she did tell them there could be alternatives to becoming parents. That didn't matter to a distraught Molly, who only wanted to cry in TJ's arms.
General Hospital Recap: An End For Robert And Holly
At The Savoy, Robert (Tristan Rogers) wondered what Holly (Emma Samms) was up to with Selina Wu (Lydia Look) and accused her of doing something nefarious. Holly asked for a moment alone with Robert and explained Ethan's (Josh Ryan) plight. She needed money and thought Selina might be able to help get her a quick influx of cash.
Robert wanted to help her, which prompted Holly to admit she was in love with him. Still, she didn't want to get him in any trouble while she helped Ethan, but Robert didn't know how they could have a relationship if she kept her illegal activities a secret. Robert promised to always be there for her, but he didn't see how they could be together. A tearful Holly realized she'd likely lost her chance with Robert. Finally, Holly and Robert shared a tender kiss goodbye.