The General Hospital recap features Holly Sutton on the search for Ethan and hitting paydirt.
General Hospital Recap Highlights
In this episode, Holly and Felicia go undercover to find Ethan, while Robert flirted with Diane back in Port Charles. Chase went before the civilian review board with Blaze and Brook Lynn in his corner. Chase's dad Gregory had an offer for Alexis that didn't go as planned. Nina was on board with whatever Sonny had to do to find Liesl as Willow made plans for her death that included peace between Sonny and Michael. Now, let's dig a little deeper into the details.
Holly Sutton And Felicia On A Caper
Felicia (Kristina Wagner) and Holly (Emma Samms) met up in a Venezuelan hotel room to discuss the Ice Princess necklace. Robert (Tristan Rogers) had already told Holly that Victor (Charles Shaughnessy) had the real thing at this point. She wanted to help bring Victor down but felt they needed to first find Ethan, as well as Luke's (Tony Geary) killer. Holly explained she had given up hope of locating Ethan (James Ryan), but just learned he was on the same island. Felicia pointed out that it was a bit coincidental.
The ladies put on their formal finest and made their way into a private auction house Victor runs. Holly was sure Ethan was somewhere nearby, so they posed as bidders and were shocked when the first item up for bid was her son. "For the privilege of ending the life of Ethan Lovett, the bidding will start at $1 million."
GH Recap: The Chase Men And Their Women Have Their Say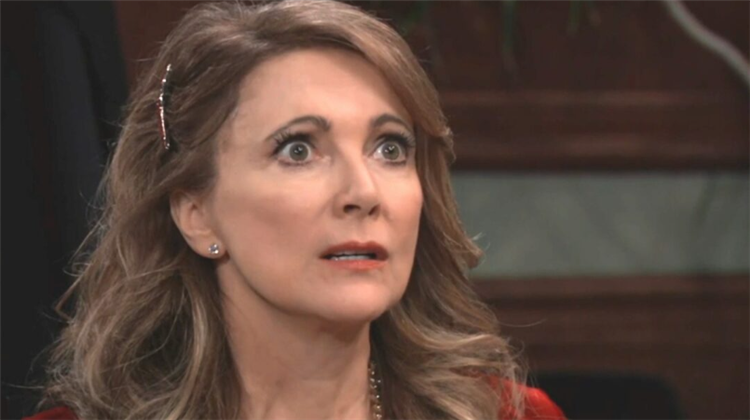 Brook Lynn (Amanda Setton) came barreling into the civilian review board meeting room to help Chase (Josh Swickard) present his case and get his job back. She gave him a pep talk as the board walked in, and Chase was happy to have her stay for moral support. Blaze, AKA Allison Rogers (Jacqueline Grace Lopez), soon arrived to speak on Chase's behalf, telling the board how Chase stood up for her to sexual predator Linc Brown (Dan Buran).
She explained that Chase made her feel safe and protected, just like a cop should. Brook Lynn was up next and gave a heart-filled speech about how much Chase cares about other people, another trait all cops should have. Finally, Chase spoke for himself and said no matter what happened after the meeting, he will always be thankful for his time as a PC cop. When the meeting was over, Chase thanked Brook Lynn before the review board returned with an answer.
Gregory (Gregory Harrison) surprised Alexis (Nancy Lee Grahn) at her office, asking if he could be involved with the Victor hostage-taking story considering it was the story of the year. Since this was about Alexis's family, he thought he could be of help as she tried to keep her emotions in check. Alexis was grateful for his offer of assistance but didn't like the idea of not being able to help him. Gregory went on and on about friendship, but Alexis accused him of missing her and admitted that was true. She even missed him, too, so she took him back as her reporting partner.
Before they got to work, Alexis insisted on talking about his condition. She worried that working with her could hurt his health and that she might not be able to help him if he fell ill. Gregory didn't think that was a good enough reason to tell her what he was suffering from, so Alexis let the subject go — until he passed out right in front of her.
General Hospital Recap: All About Sonny
Carly (Laura Wright) and her daughter arrived at the gatehouse at Carly's son's beckoning to help Willow (Katelyn MacMullen) plan another deathbed wedding, but first, Willow had a request of Carly. She explained that she wanted her children to grow up with family all around them, whether she was alive to see it or not. She then brought up the resentment Michael (Chad Duell) feels towards Sonny (Maurice Benard), as well as the fact that Dante (Dominic Zamprogna) and Kristina (Lexi Ainsworth) do not feel the same as her fiancé. She worried that Donna and Avery might start seeing Sonny's side of things too, leaving Michael isolated from his siblings, thus giving her kids a smaller family.
It finally hit Carly that Willow was asking her to convince Michael to forgive Sonny for the crime of choosing someone else over his mother. Carly admitted that she never asked Michael to defend her in such a way and never encouraged this estrangement, but Willow asked her to talk to Michael because she might be the only person who could get through to him about Sonny, so Carly agreed.
While Willow and Carly spoke, Michael and Josslyn (Eden McCoy) waited outside, and Joss couldn't wait to tell Michael that Sonny knew all about her relationship with Dex (Evan Hofer) — in fact, he had known for months. Josslyn remained completely perplexed that Sonny didn't really care, something that also seemed to confuse her brother. Michael had to admit that Sonny called and offered help in finding Liesl (Kathleen Gati), and this stunned Josslyn. Could Sonny not be a big, bad monster ogre after all?
Sonny and Robert met up at GH, and all Robert could do was give Sonny dirty looks, thanks to sending a very willing Diane (Carolyn Hennesy) to represent the man who tried to kill Lucy (Lynn Herring) at the Nurses' Ball. Sonny defended himself by saying they now know to look for The Haunted Star thanks to Diane's work, so Robert should be thanking him rather than berating him. Nina (Cynthia Watros) soon interrupted their talk, so Robert left.
Nina informed Sonny that she knew he helped discover that Victor had set sail with her Aunt Liesl (and the rest). She was determined to find them and help Willow, so she asked Sonny to tell her everything he knew and how he got the information. Sonny didn't like it, but he finally relented and told her everything about Diane and Victor's goon. Nina admitted she could handle knowing about Sonny's business, but she changed the subject right back to finding Liesl. Sonny assured her that both he and the authorities were on it, and they'd locate Liesl as soon as they could.
When Diane showed up at the hospital, Robert went on and on about her working for Sonny, but she made sure to point out she has many clients, and Sonny is just one. They then had a chat over tea in which Robert accused Sonny of compromising Diane, so she rightly pointed out that he is not necessarily compromised whenever he accepts a plea as DA, nor is he compromised when he breaks the law and rules for the WSB. They then decided to have dinner together.