Gladys refuses to let Sasha Gilmore live in peace.
The General Hospital recap for July 27, 2023, features Gladys making Sasha's life more of a living hell.
General Hospital Recap Highlights
In this episode, Gladys proved what a horrible person she is by trying to trick Sasha some more while Maxie just wanted to help her friend. At least Cody finally told Dante some truths. Carly was not happy when Nina stopped by Kelly's with some surprising news. And finally, Liz and Finn had some good advice for Portia and Curtis.
General Hospital: Sasha's Confused, Cody Confesses
Sasha (Sofia Mattsson) woke up in Ferncliff tied to the bed and confused about how she got there. Soon, Gladys (Bonnie Burroughs) arrived and was surprised that Sasha didn't remember what happened with Cody (Josh Kelly) at the Metro Court pool. She was forced to tell Sasha she tried to kill Cody. Dr. Montague was right behind Gladys to tell her she had a psychotic break. Both Gladys and Montague teamed up and told Sasha that her friends telling her she was getting better was all part of her delusions.
Once alone with Sasha, Montague tried to tell her all the good stuff in her life was imagined, but a smart Sasha finally realized that her life was great until the dirty doctor gave her a new prescription.
After Gladys left the room, she was shocked to see Maxie (Kirsten Storms) but knew she couldn't let her in with Sasha. So, she did her best to get Maxie to leave. Somehow, Gladys managed to convince Maxie to get coffee with her as Montague drugged her once again.
Cody was doing much better in the morning as Sam (Kelly Monaco) and Dante (Dominic Zamprogna) gave him a good breakfast. However, he was still worried sick about Sasha. Cody stressed that she didn't mean to stab him so he was more concerned with her than he was for himself. Apparently, Sam didn't want to know too much because she left to see Molly (Brooke Anne Smith).
Once alone, Dante asked Cody more questions about why he thought Sasha's breakdown was suspicious. Cody pointed out that it happened way too quickly and wondered why Dante was taking it all at face value. Cody finally explained that he didn't trust Gladys, so he brought up the sale of Brando's (Johnny Wactor) garage. Dante just wanted to know what Cody was doing at The Savoy with Gladys and Selina (Lydia Look). Finally, Cody told Dante everything about the poker game and Gladys stealing Sasha's money.
When Sam arrived at her sister's, Molly was working on the couch with a cast on her leg. She fell down the steps at the courthouse because she was too busy thinking about whether she and TJ should even have children. Rationally, Molly believed she would be fine without kids, but her heart would always feel like there was something missing.
General Hospital Recap: Old Vendettas, New Convictions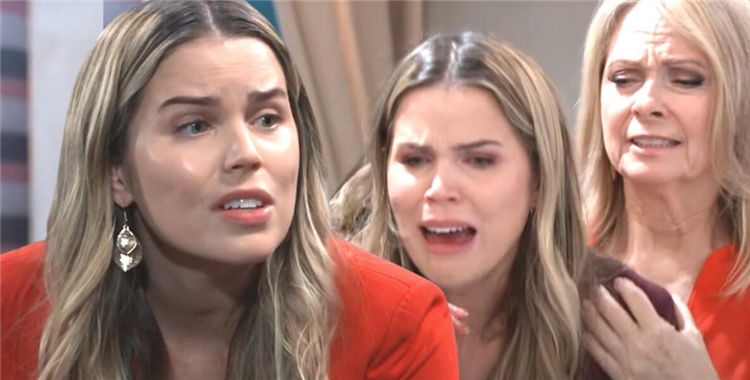 Carly (Laura Wright) was all ready for a new beginning at Kelly's and spent her time packing takeout until Nina (Cynthia Watros) suddenly walked in. Nina did her best to be nice but was surprised to hear that Carly owns Kelly's. Nina made a point of telling Carly she gets to visit Willow (Katelyn MacMullen) now, which left Carly a bit perplexed. She started to rag on Nina for not giving Willow space, so Nina informed her that Willow requested the visit.
Nina even thanked Carly because she assumed that Willow asked her to visit because Carly dropped her vendetta. Carly looked at Nina like she had two heads because why would Carly ever drop a vendetta against someone? She even told Nina outright that she hadn't. Nina insisted they should try to get along for Willow's sake, but Carly just wasn't having it.
Elizabeth (Rebecca Herbst) stopped in to check on Curtis (Donnell Turner) and see how he was doing on a personal level. She was surprised to hear he didn't want Trina (Tabyana Ali) and Portia (Brook Kerr) to visit him but soon had to comfort Portia after Finn (Michael Easton) texted her an SOS. She needed to help a weeping Portia. Liz was forced to tell Portia about Curtis's visitor request, so Liz did her best to talk her friend through the heartache while Finn (Michael Easton) left to talk to Curtis.
Portia was a hot mess and Curtis really didn't want to talk to Finn, but he at least attempted to be polite. Finn told Curtis he was there for him, but Curtis just wanted to have some space for the moment. Finn wasn't ready to give him space and still wanted to talk. He advised him not to isolate himself from the people who care about him and hoped he would not go back to drugs. Curtis reiterated his pride as a man made him not want Trina and Portia to be tied to him anymore.
At least Liz's talk encouraged Portia because she barged right into Curtis's room and told him that she will not listen to him and would be taking him home to their house.