The GH recap for June 30, 2023, has Spencer and Esme having an interesting evening.
The General Hospital recap features Esme and Spencer having some bonding moments with Esme realizing a few truths.
General Hospital Recap Highlights
In this episode, Esme wondered about her old relationship with Spencer while Trina confessed that she hated them spending time together. Curtis and Jordan had a few angry moments, but Zeke interrupted their talk. Ava and Austin shared some moments of passion in bed, but Ava seemed to regret it. Sasha and Sonny talked about her mental health and Sonny gave Sasha his analysis on her state of mind. Finally, Violet made it clear she just wanted a mom. Now let's dig a little deeper into this episode.
GH Recap: Spencer And Trina Had An Emotional Night
A pensive and shirtless Spencer (Nicholas Alexander Chavez) tried to reach Trina (Tabyana Ali) but kept getting her voicemail. When Esme (Avery Kristen Pohl) walked into his room to give him an ice pack, he snapped at her to leave. Esme refused to leave because she was worried about Spencer's physical well-being. She was also angry at him for attacking someone without thinking about what an arrest would mean for Ace.
Esme also insisted on calling a doctor, but Spencer managed to stop her and finally told her what happened with Dex (Evan Hofer). It turned out that Spencer knew for sure that Josslyn (Eden McCoy) cheated on Cameron (William Lipton) with Dex. Esme thought Spencer should be mad at Josslyn and not Dex, and that made a lot of sense. Esme also believed that Spencer was angry deep down and lashed out when he didn't mean to, just as she did — as if this was supposed to bond them emotionally.
Finally, Esme asked what they were like together when they were dating and Spencer told her that he did love her, but he now knows she was just using him and he can't get over that. Esme tried to defend the actions she didn't even remember, so that gave Spencer a good memory of her to share.
It turned out Trina's (Tabyana Ali) voicemail picked up Spencer snapping at Esme, but Trina brushed it off to talk to her mother about Curtis (Donnell Turner). She wondered why Portia (Brook Kerr) would let Curtis off the hook so fast so Portia let her daughter know this was none of her business. Portia changed the subject and managed to get Trina to admit there was some trouble with Spencer. Portia thought Spencer was back to his old ways, and Trina admitted she didn't recognize him anymore. Portia believed this was who Spencer had always been.
Trina immediately jumped to Spencer's defense, so Portia tried to play nice and admitted that at least Spencer had matured — somewhat. Of course, Portia brought up the parenting class she suggested to Esme just so Trina would know all about it. Trina admitted that she was going crazy at the thought of Spencer spending time with Esme.
GH Recap: Ava Beds Austin, Jordan Dealt With Two Men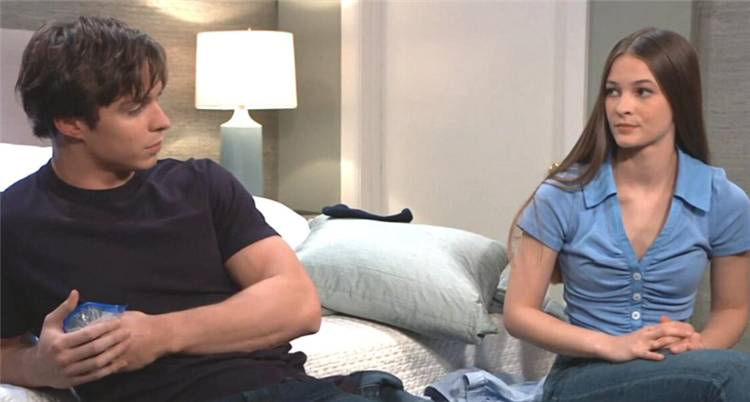 Ava (Maura West) and Austin (Roger Howarth) got dirty in the bedroom, and when it was all over, Ava tried to get rid of him as fast as possible. Austin was a little taken aback by her cold attitude, but Ava insisted their time in bed was a mistake, but Austin didn't think that at all. Ava believed the only reason it happened was because of Nikolas's accidental death, so what they did was all wrong. She then warned him if he ever pulls anything with Avery again, the next body she dumped would be his. After Austin left, they both had smiles on their faces.
Jordan (Tanisha Harper) took a call from Zeke (Gavin Houston) and turned down his invitation for dinner. Things got more complicated when Curtis arrived to know why she told Portia about their kiss. Jordan informed him she was not the one to give Portia that news. Instead, it was his brother-in-law Zeke. Just then, Zeke showed up, and Curtis warned him if he didn't keep his big mouth shut, there would be a problem. When Curtis left, Zeke tried to talk to Jordan, but she didn't want to have anything to do with him.
General Hospital Recap: Sonny Analyzes Sasha
Sasha (Sofia Mattsson) stopped by Sonny's (Maurice Benard) for a chat and wondered why he called her over. Sonny wanted to talk about Sasha's future and asked if she was ready to end her guardianship. Sasha (Sofia Mattsson) insisted it was time, and Sonny informed her that Gladys (Bonnie Burroughs) didn't think she was ready. Sasha admitted she had some doubts and talked them out with Sonny. She was still experiencing bad days, and they scared her, but Sonny determined everything she was feeling was normal. In the end, in his amateur mental health expert capacity, Sonny determined Sasha was indeed ready to cut Gladys loose.
Violet (Jophielle Love) was horrified that Aunt Elizabeth (Rebecca Herbst) would leave her date with Finn (Michael Easton) when she was having a nightmare. She needed both of them and wanted Liz (Rebecca Herbst) to stay, so they comforted her and explained that Liz had to leave. At least she gave Violet some warm milk before she left.