The GH recap for June 21, 2023, has Jordan fed up with Portia.
The General Hospital recap features Jordan Ashford wondering why she ever kept Portia's secret, to begin with.
General Hospital Recap Highlights
In this episode, Jordan (Tanisha Harper) informed Portia of a few things she really needed to know, while Trina demanded that Curtis tell her the truth. Sam enlisted Spinelli's help to get the goods on Gladys, while Sasha defended her friend to her mother-in-law and business partners. Finally, Molly and TJ could barely believe it when they got some more bad news. Now, let's dig a little deeper into the details.
General Hospital Recap: Jordan Ashford Is Just Honest
Jordan was surprised to see an angry Portia (Brook Kerr) walk into her office. Portia just wanted to know why Jordan kissed Curtis (Donnell Turner). Jordan told her the truth — it was just one fleeting kiss. Portia just continued to yell at Jordan and accuse her of interfering in her life, especially since Jordan just slept with Portia's brother. Jordan was shocked that Zeke (Gavin Houston) was the type that would kiss and tell — and tell someone else's secret.
Portia got Jordan to admit that she still harbored feelings for Curtis for a while, but not anymore. As Portia railed at her, Jordan had to bring up the fact that she kept a whole 20-year paternity secret from Curtis, so in no way is Portia innocent. Portia didn't care and just blamed Jordan for blowing her secret.
Jordan finally told her that the only reason she didn't inform Portia about the kiss was that Curtis asked her not to. That just upset Portia more. Jordan tried to soften the blow by telling her that Curtis just wanted to protect Portia while he figured out his own feelings. As Portia pushed some more, Jordan confessed that she was the one who told Curtis so long as soon as she learned he moved back in with Portia. Finally, Jordan dropped the biggest truth bomb of all. The kiss would never have happened if Portia had just taken Jordan's advice and told Curtis the truth about Trina (Tabyana Ali) before the wedding.
Trina dropped by The Savoy to see what really happened between Portia and Curtis the day before. Everything seemed almost perfect at Curtis's party, and then Portia just ran off. Curtis didn't want to tell her what was going on, which only served to anger Trina and tell him that Uncle Zeke warned her to keep her distance from Curtis. Trina just wanted respect and trust from Curtis, so he decided to tell her he kissed Jordan. Trina was understandably shocked but was glad that the secret was out.
GH Recap: Getting The Goods On Gladys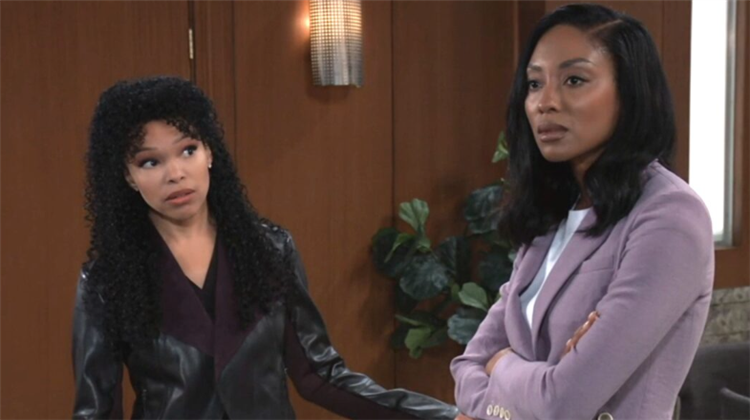 Spinelli (Bradford Anderson) met with Cody (Josh Kelly) and Sam (Kelly Monaco) in the park but did not like the idea of helping Cody with anything. Sam finally got Spinelli to agree to help them expose Gladys (Bonnie Burroughs). Spinelli had all the dirt on her, and Cody was just worried about Sasha.
The Deception ladies met to discuss business at the Metro Court Gardens. When the subject of Brook Lynn (Amanda Setton) and her family came up, Sasha (Sofia Mattsson) mentioned that Leo (Easton Rocket Sweda) was finding comfort with Cody and the horses. All Gladys could do was disparage Cody, leading Sasha to tell her to zip it. Even Maxie (Kirsten Storms) defended Cody, despite Gladys's faux outrage. The women all found it odd just how much Gladys couldn't stand Cody, and Sasha believed it started before the bracelet incident.
Lucy (Lynn Herring) explained that she would trust Cody over Gladys any day, considering that his biological mother was Dominique (Shell Danielson), who was also her daughter Serena's (Carly Schroeder) biological mom. Maxie's first instinct was also to trust Cody over Gladys. Too bad Sasha believed that Cody and Gladys were both victims, and someone else stole that bracelet and slipped it into Cody's pocket. Lucy wondered if Sasha should upset the person in charge of her money, so Sasha announced Gladys probably won't be her guardian much longer.
Both Maxie and Lucy wanted to write letters of recommendation to the judge on Sasha's behalf, just as Nina did. When Sasha left her friends alone at the table, they discussed her relationship with Cody. As Sasha returned, she heard Maxie tell Lucy that Cody might have feelings for Sasha.
When Gladys left the table to visit the pool, Cody called and asked if they could chat in person. When Cody arrived at the pool, Sam also showed up in a very bad disguise to watch Cody and Spinelli try to convince Gladys that they had evidence to prove what she did. Gladys accused them of bluffing as Sam recorded the whole thing with a small microphone. Cody and Spinelli then tried to convince Gladys they had pictures of what happened. Gladys was even more nervous when Spinelli explained that he could get into her phone fitness app and track her movements the night of the Nurse's Ball.
General Hospital Recap: Davis Girl Problems
Kristina (Kate Mansi) showed up at the pool bar to see what her sister was up to and almost ruined the whole plan as she spoke about her new homeless youth foundation without noticing Sam was busy. Finally, Sam sent her away to get some mimosas, and Kristina had to accept that Sam was busy.
Molly (Holiday Mia Kriegel) and TJ (Tajh Bellow) were devastated to learn she didn't have very many viable eggs, and IVF success was slim. The couple had to absorb more bad news, and TJ tried to convince Molly it was just a setback. He tried to be optimistic, but Molly just looked at things pragmatically, as lawyers often do. She also needed time to absorb this news before deciding on the next step.