General Hospital spoilers and rumors tease Nina Reeves (Cynthia Watros) is a bundle of nerves-did the security cameras catch her and Martin Grey's (Michael E. Knight) conversation?
Nina Reeves Watched As Tracy Quartermaine Shot Down
Nina observed Ned Quartermaine (Wally Kurth), who overheard Tracy Quartermaine (Jane Elliot) and Drew Cain (Cameron Mathison) discussing her with Martin, flee from confronting her. But before he could inform, Ned tripped over some wet towels close to the pool's edge, hitting his head on the concrete and going in face first.
She kept everything to herself when she went to Sonny Corinthos' (Maurice Benard) penthouse, even when Brook Lynn Quartermaine (Amanda Setton) called to tell Sonny what happened.
Then, as they were all waiting to hear about Ned's condition, Harrison Chase (Josh Swickard) shot down Tracy's accusations that Drew Cain (Cameron Mathison) attacked Ned with murderous intentions.
He had security tape from the Metro Court that shot her down as a liar-and Nina starts to worry if her and Martin's conversation is on tape as well.
Ned Quartermaine May Never Wake From His Coma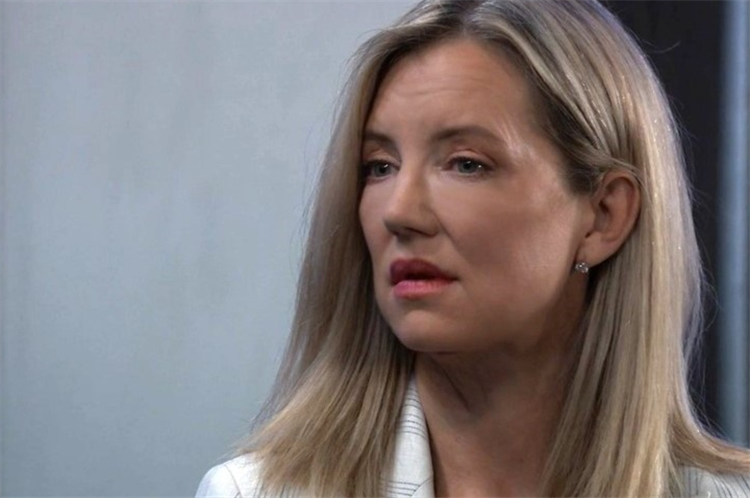 TJ Ashford (Tajh Bellow) leaves the intensive care unit and tells Ned's loved ones that it's too soon to say for sure whether or not he will ever wake up from his coma. Although Nina feels bad for Ned, doing so would prevent him from telling Sonny about her secret, which would undoubtedly spell the end of her happy ever after with him.
Sonny refuses to let Carly Spencer (Laura Wright) lose because he believes the DOJ may be using her as a pawn to get at him. He continues to support Drew and Carly.
At least, that's one theory floated by Diane Miller (Carolyn Hennesy), the SEC charges being a back door for the DOJ and that made sense. But if her and Martin's conversation and Ned's accusations are also on security tape, that can be subpoenaed in court and that means she could still be exposed.
Nina Reeves' Secret May Not Be Safe
It may be her paranoia, but Nina thinks Chase cast her a suspicious look when he confronted Tracy with the video evidence, exonerating Drew from Ned's attempted murder.
Nina is more hopeful that Ned won't wake up or at least won't recall their confrontation the longer he is unconscious, but she is also more terrified. The surveillance footage from Metro Court gives Nina reason to believe that Chase knows the truth, but he hasn't been to interrogate her so perhaps it wasn't captured on camera.
Because of Sonny's loyalty to Carly, which Nina hopes she could erase, she becomes increasingly concerned that she will be found out and that she would lose him for good. Nevertheless, Sonny's child with her is all she sees, regardless of the fact that he also has a grown child with Olivia Quartermaine (Lisa LoCicero).