Is Portia Robinson's GH marriage in trouble?
Jordan Ashford thought her marriage to Curtis was over on General Hospital. What with signing divorce papers and him being married to another woman.
General Hospital Polling
But just like Curtis (Donnell Turner) got mad at Jordan (Tanisha Harper) for lying to him and divorced her, he got mad at Portia (Brook Kerr) for lying to him. So he kissed Jordan. And ordered her to keep it a secret. Should Jordan fight for the man who should have been hers to begin with?
General Hospital: Jordan Ashford Mistakes Were Made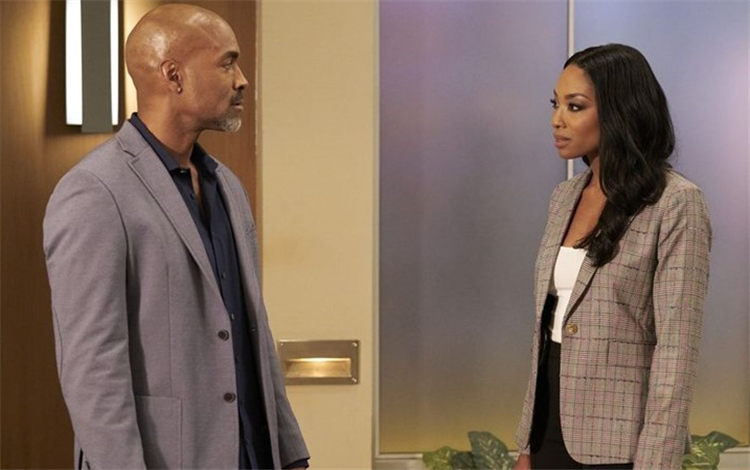 Curtis was wrong to divorce Jordan in the first place. When she lied to him about Taggart's (Réal Andrews) death, it was for legitimate, professional reasons. Curtis was the one who threw a temper tantrum. Now we, personally, would have considered their divorce good riddance to bad rubbish. But 22% think that if Jordan still misses her ex, then, yup, go after him, woman!
GH Class Act
Jordan is the one who should still be with Curtis, 25% agree, but she is also too classy to stoop as low as to fight for her man aggressively. If Curtis decides for himself that he wants her back, then Jordan can consider accepting. But, until then, there is nothing to be done.
General Hospital: Loser Land
Jordan can do so much better, 53% confirm, and, frankly, Portia can have him. They are an ideal match if Curtis can castigate Jordan but forgive Portia for lying about Trina (Tabyana Ali) for over two decades. And if Curtis can lie about kissing Jordan and Portia shrugs it off under the rule of "turnabout is fair play," then this marriage was meant to be. Curtis, Portia, and a resentful Trina can go off and be a happy family together, and Jordan can find a man who isn't as big of a hypocrite. Which, in Port Charles, is never easy.