Fans may have been shocked when Victor's final act of revenge against Anna on  General Hospital was to expose her past as an agent of the evil DVX, but portrayer Finola Hughes found herself also quite stunned to learn of the plot twist!
"I really didn't know that was coming down the pipeline!" the actress admitted to Soap Opera Digest. "Frank [Valentini, GH's executive producer] didn't give me much of a heads-up on that one. For Anna, it's a gut punch. It comes out of left field when she suddenly gets arrested. It was pretty quick and pretty cold! I think it's really interesting and kind of sad, this twist."
After everything that superspy Anna Devane has done for the WSB over the years, to have her high standing with the agency suddenly shattered to pieces naturally makes her very angry, as seen in the scenes where she threatened to take the entire organization down with her.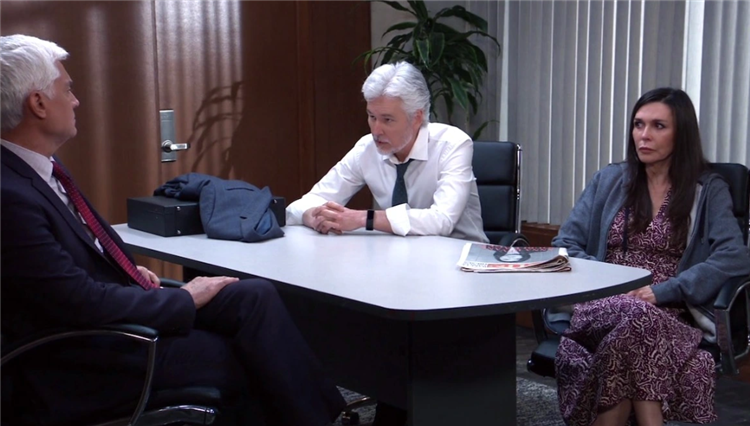 "She has just succeeded in helping to bring somebody down that was going to be extremely damaging to the world and now, she is being used as a way for the WSB to have a clean slate," Hughes explained. "They're using Anna as a way to say, 'We are turning our backs on our old methodology, we are going to say it never happened and we're going to lay all of the responsibility for that kind of conduct on Anna Devane. We're going to distance ourselves from her and basically cancel her!'"
And Anna will still be affected by this particular story twist in the future. Hughes reflected, "I think it's an intriguing aspect of her background and I think there's a lot to be mined there and for her to face some of that stuff. What does it appear like to her closest friends when she is destroyed in the media? What does that entail, both for her and for those who adore her? It's good, in my opinion.
So stay tuned to see how Anna puts the pieces of her life back together again!