NCIS: Los Angeles fans are in mourning since the series is ending soon, but Eric Christian Olsen read fan comments on TikTok, and his reaction is priceless.
The NCIS TikTok account dropped fans a very fun gift recently and got Marty Deeks himself to read fan comments that ranged from spelling his name wrong to making him reminisce his muscles to fans naming their dogs after the detective-turned-NCIS agent (and calling out the name after they pee inside the house).
That wasn't all, however, as the NCIS account posted yet another TikTok of Eric Christian Olsen reading even more fan comments. These ones included more wrong names, his 2009 film Fired Up, his iconic and shaggy hair, and Deeks' shoe game. Olsen's reactions are pretty on point the entire time, and considering he isn't on social media very often, it's a refreshing sight to see. Unfortunately, he did say that he probably won't ever join TikTok as he knows what the algorithm is like. Luckily, we can count on other sources of entertainment for that.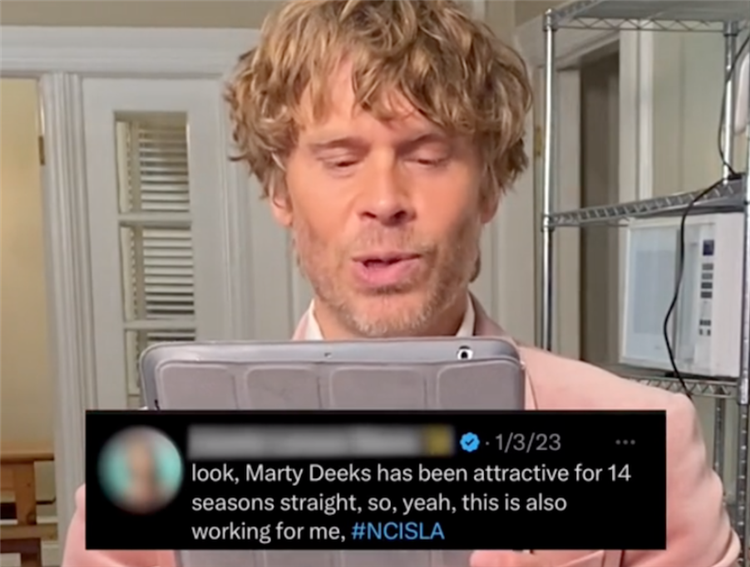 Right now, it looks like these are the only two videos of Eric Christian Olsen reading fan comments, but it wouldn't be surprising if the NCIS social media team are holding back. There are likely many more funny comments to be read, and now I wouldn't mind if this became a whole series, and not just with Olsen, but the entire NCIS: LA team.
Portraying Deeks since the first season, Olsen seems to have the personality down pretty well, as this definitely would have been similar if Deeks was the one who was on TikTok. As the end of NCIS: LA gets close, fans can likely expect a few more videos to drop of the cast, either reading fan comments or doing something else. It will be a sad time when we have to say goodbye to the Los Angeles team, but at least we can count on the NCIS TikTok to bring the funny content.
NCIS: LA is planned to have a two-part finale next month, with an hour-long special airing after the series finale. With an ATF case and the Callanna wedding, it's going to be a finale that you won't want to miss. It's going to be an emotional time for everyone, and it's good that we can rely on social media to keep our spirits up. There will also probably be at least a few more comedic moments, even in the finale, that we can look forward to, which is always a good thing, especially for a show as serious as this one.