For over ten years, CBS' Blue Bloods has remained a consistent staple for the network. Managing to outlast other police-centered dramas, Blue Bloods is currently in its 11th season. The show is about the Reagan family, whose members currently serve or have served in law enforcement. It stars former '80s TV hunk Tom Selleck as Commissioner Frank Reagan, Donnie Wahlberg as Detective Danny Reagan, Will Estes as NYPD Officer Jamie Reagan, and Bridget Moynahan as Assistant District Attorney Erin Reagan.
The series may have interested audiences over the years thanks to its focus on realism. After all, via Screen Rant, the show actually has a former NYPD detective who goes over its scripts to ensure that Blue Bloods' stories come as close to real-life police cases as possible. However, the show's other major appeal is its focus on the Reagan family unit. Blue Bloods' most commonly repeated scene is the Reagan family gathered at the commissioner's home for a traditional Sunday dinner. It's during these scenes that the family gets to discuss police business as well as what's going in their lives.
Due to how integral these family gatherings are, viewers are used to seeing an outside shot of Commissioner Reagan's colonial-style home. But what's surprising is that the home isn't just made for TV. It's real.
The commissioner's home on Blue Bloods is in a common New York location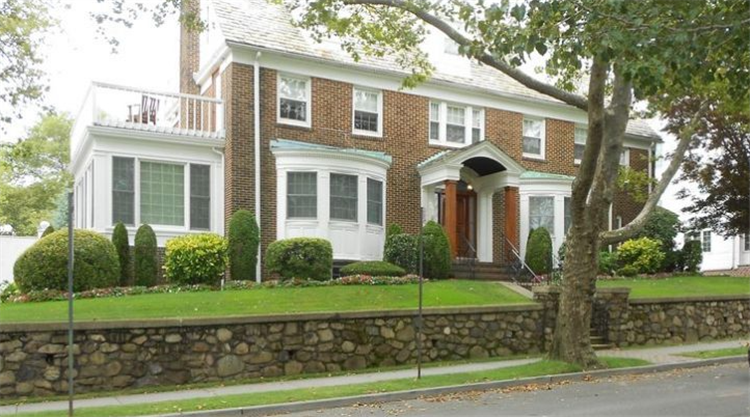 It turns out that Commissioner Frank Reagan's Brooklyn home on Blue Bloods isn't just based on a lovely New York neighborhood. According to Brooklyn Eagle Daily, the exterior shot of the colonial-style brick house that's shown on the show is actually located at 8070 Harbor View Terrace in Bay Ridge, Brooklyn. However, the interior of the home we've seen on the show is actually shot in a CBS Studio. As for what the interior of the real-life Brooklyn home looks like, well, only members of the Eparchy of Saint Maron of Brooklyn know. The Brooklyn Eagle Daily also reported that the home has been owned by the religious organization since 1978, and it's likely that the church's bishop currently resides in it.
Curious fans may only be able to get an outside glimpse of the home if they ever find themselves in Brooklyn. But we've got to hand it the series for sticking to their guns when it comes to realism. Not only is the home real, but as a Country Living article highlighted, the home is even in the same area of Brooklyn where the Reagan family reside on the show.