GH needs to spread the love around.
General Hospital should be ground zero for love in the afternoon. After all, it's the only soap left on the network that coined the phrase back in the 1980s with an ingenious ad campaign. However, love in the afternoon seems to have disappeared in Port Charles — unless you're Josslyn and Dex, a pair that never seems to do anything but have sex.
General Hospital Takes Chaste To New Heights
In 2020 when soaps returned to production after the COVID hiatus, it made sense to put love scenes on hold or to allude to couples having sex but not show it. We saw a lot of cameras panning to candles as they faded to black on GH, as well as blow-up dolls and actors' real-life loves as stand-ins on The Bold and the Beautiful. However, love scenes are back in full force now on soaps. Too bad in Port Charles, the only couple that gets them frequently is Josslyn (Eden McCoy) and Dex (Evan Hofer).
While it's nice that Joss and Dex have a healthy sexual relationship (even though she was sexually violated with revenge porn a little over a year ago and has had no residual psychological effects that could have been explored), they shouldn't be the only characters we see enjoying that aspect of their relationship.
We know GH is willing to push the boundaries with love scenes after a much more mature couple, Anna (Finola Hughes) and Valentin (James Patrick Stuart), made love for the first time last year. Their first time was steamy, sexy, and playful while leaving much less to the imagination than we expected. Last fall also featured a love scene montage with Chase (Josh Swickard) and Brook Lynn (Amanda Setton), Sonny (Maurice Benard) and Nina (Cynthia Watros), and Mac (John J. York) and Felicia (Kristina Wagner).
All three of those pairings are together now, but we never see them enjoying time in bed. We only see Jex on his couch or in his bed. Heck, these two have sex as such a defining point of their relationship (with little else) that they even got a sunscreen-applying scene in public complete with a sexy background track to remind us again they are the only couple in Port Charles that can enjoy one another in the biblical sense.
GH Love In The Afternoon Opportunities Abound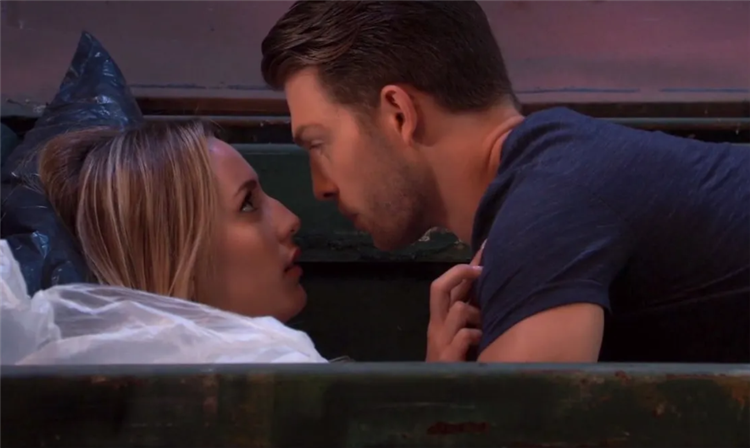 GH reminded us how sexy Chase and Brook Lynn can be with some fun scenes by the pool. The pair shared a romantic date with a sexy dare that had Chase stripping down and skinny-dipping. We expected them to take it to the bedroom by the next episode, but they were sadly nowhere to be seen. Instead, we got Jex having sex again after he told her all about finding a dead body in the alley outside the hospital.
It's been close to two years since Sonny and Nina have had a full love scene, nearly a year since Anna and Valentin's night in her townhouse, and we still haven't seen Spencer (Nicholas Alexander Chavez) and Trina (Tabyana Ali) consummate their relationship, which is something their fans are clamoring for. It makes little sense that Josslyn and Dex entered into a healthy sexual relationship after knowing one another for about six months, and more than two years later, their younger set counterpart has shared nothing but a few chaste kisses. Both couples have passionate fan bases, but only one is allowed to show passion on screen.
At least Josslyn's mom got to have a love scene with Drew before he went off to prison, while more popular pairings languish without love week after week and month after month.
General Hospital Can Fix The Problem
This ailment comes with an easy remedy. Write more love scenes for couples that fans are in love with. It's not that hard, and GH should be ready for it. In January, Soap Hub featured an interview with the soap's intimacy coordinator Liz La Mura in which she described how she choreographs love scenes. So, give her more love scenes to help bring to life so love in the afternoon flourishes throughout Port Charles and not mainly on Dex Heller's living room couch.