The title of Blue Bloods has a double meaning. On the one hand, it emphasizes the fact that every member of its central cast is a member of law enforcement. It also conveys the fact that each of its main characters is related to one another. Thus, "blood" refers to both the protagonists' professional and familial identities.
At the heart of the series, each member of the Reagan family works in a different field of law enforcement. Frank Reagan, played by Tom Selleck, is the commissioner of the New York City Police Department. Meanwhile, his daughter Erin Reagan (played by Bridget Moynahan) works as an assistant district attorney. Storylines that follow different family members at their various jobs eventually come together at their weekly Reagan family dinners.
Those Sunday dinner scenes are, in a sense, Blue Bloods' lifeblood. Blue Bloods' family dinners unify various character and plot threads by providing a domestic environment in which personal and professi onal developments can come to a head. While the meal isn't generally the focus, each dinner scene does provide each attendant character with a full serving of food. Among the main characters, Moynahan is notable for her ability to pretend to eat what's on her plate rather than actually consuming the food in front of her.
A master class in impersonating food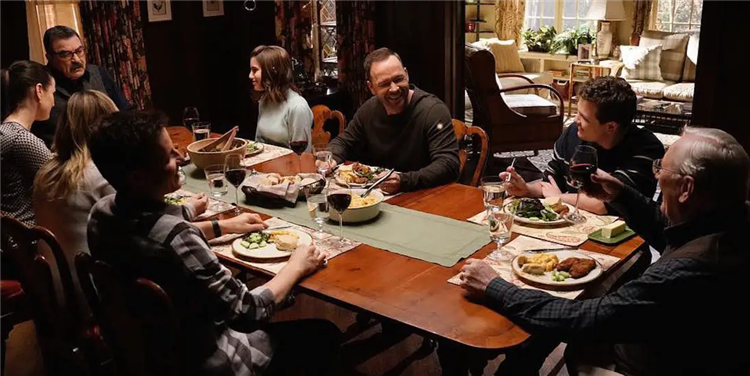 Jim Lillis, who works as the property master on Blue Bloods, revealed in an article for The Virginian-Pilot that the degree to which the cast members present at each family dinner eat the food in front of them varies. Lillis is in charge of setting the table used in the series' dinner scenes, among other things, so he spoke from experience. According to the article, Moynahan is one of those who simply move the food on their plate to simulate eating rather than taking actual bites of the food in front of them.
An earlier interview with Moynahan sheds some light on why she developed this habit. As it turns out, Moynahan is on record as saying that the food served at Blue Bloods' family dinners is generally of poor quality. As a result, Moynahan did eat the food in front of her at family dinners at one point. Only as the series progressed did it appear that Moynahan developed a skill set that allowed her to skip the most difficult parts of those scenes, which she still has in her repertoire today.