CBS dropped a sneak peek into what fans can expect to see in the upcoming episode of Blue Bloods titled, Irish Exits, and it's not looking good for Detective Maria Baez (played by Marisa Ramirez).
The short clip kicks off with Detective Maria Baez and Donnie Wahlberg's Danny Reagan having an intense conversation in their office.
"12 years ago I put a man named Sam Evans away for brutal murder," Maria nervously explained to Danny.
"What makes you think he's the one that sent the flowers," Danny replied as he gestured to a large bouquet of flowers sitting on a desk in the next office.
Maria explained her suspicions as she recalled the moment Sam's trail.
She went on to say: "At the trial, he was just staring at me the whole time I was on the stand."
Clearly not taking Maria's concerns seriously, Danny replied: "What do I know, but that is probably what I would do too."
"The whole time? I'm serious," Maria explained as she looked confused at Danny's reaction to her concerns.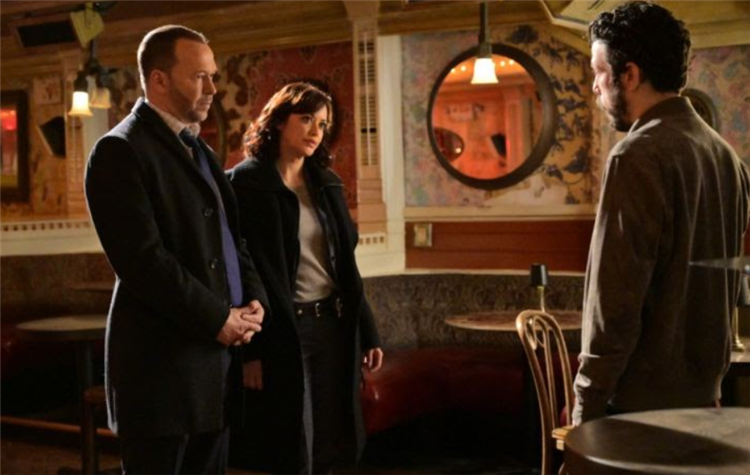 Finally, it seemed Danny was beginning to take Maria's worries seriously, as he went on to say: "Okay, okay, I understand we all have that one person that we're afraid is going to come back and pay us a visit when they get out."
Then Maria dramatically reminded her colleague: "Mine got out today!"
Danny, who then had a worried expression on his face, repeated: "Today?"
The promo then finished on a cliffhanger, leaving viewers unsure of what lies in store for Maria when her previous defender gets out from behind bars in the next episode.
However, CBS has given fans a little more insight as to how the next episode will play out with a short synopsis of episode 13.
It reads: "Frank (played by Tom Selleck) worries his longtime friend is hiding his true reason for returning to the city
The teaser then confirms fans' worried that Maria should be watching her back, as it says: "Baez and her daughter are targeted by a criminal Baez once put away."
Meanwhile, it appears Anthony (played by Steve Schirripa) has his hands full in the next instalment when he is sucked into the inner workings of an underground crime ring.
Blue Bloods airs on CBS in US or is available to stream on Paramount+ and Amazon Prime in the UK.