There's a reason why "Blue Bloods" has become such a Friday night staple for CBS. Years of following the Reagan family have resulted in a legion of fans who would cross the desert to find out if Danny Reagan (Donnie Wahlberg) will end up in a romantic relationship with his decades-long partner in the field, Maria Baez (Marisa Ramirez). They're addicted to those Sunday night dinners which feature the entire Reagan clan talking out their current problems, celebrating their latest victories and mourning their latest failures. They want updates on the marriage between Eddie Janko (Vanessa Ray) and Jamie Reagan (Will Estes), and desperately want to know if Eddie's set to have a baby. And they need patriarch Frank Reagan (Tom Selleck) to find love again in the long-past wake of his wife's death. And hey, what the heck happened to Nicky Regan-Boyle (Sami Gayle) anyway?
To make an audience truly love your show, you have to excel in a way that makes you superior to your nearest competition. So, what specific ingredient has turned "Blue Bloods" into such a roaring success? With programs like "9-1-1" and "Chicago P.D." around, what makes it stand so tall over the TV landscape?
Frankly, the show's success comes from the simple art of combining a memorable and unique family story with a police procedural that gives viewers a fresh angle on policing every week. It's the perfect combination of comfort food and unpredictability — a nightly joy that's delicious enough to earn a plate on those family dinners.
Watching Blue Bloods makes you feel like a Reagan
There aren't many TV shows about a whole family of police detectives doing their thing, to say the least, and "Blue Bloods" is almost entirely focused on the dynamic between the Reagan siblings, their father, and their grandfather. Instead of doing what other procedurals do — focusing on friends, colleagues or lovers-in-arms, who usually form a kind of found family for a show's central protagonist — the Reagan's most important bonds are with one another. On other cop-related shows you're lucky if you get a parent-child or sibling-related connection. Here, we're allowed to see the bad and the good parts of the Reagan family's personalities, and how they all mesh together as a unit, tied together by love and blood.
Naturally, the show deviates from this formula occasionally – at one point, by pulling focus on Danny's marriage to Linda (Amy Carlson), and now by spending a little story time on Eddie and Jamie's union. But this works, and it works well, because watching the show makes you feel like you're a big part of the Reagan family yourself, sitting with them at that dinner table and following them about at work. If you've had a lousy relationship with your closest relations, watching the Reagan tease, love and even provoke each other can be comforting. If you had a family even slightly like theirs, then spending an hour watching the show can feel like coming home for Thanksgiving dinner — without having to hear about your Uncle Lou's goiter operation.
Frank's role as a patriarch influences his take on crime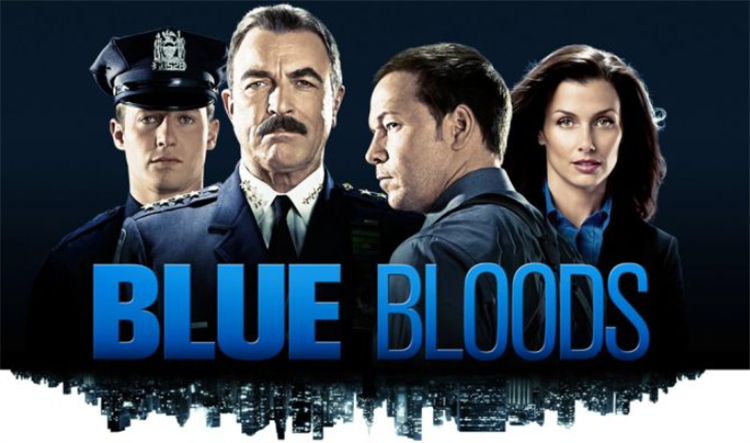 Naturally, a procedural must place a lot of its narrative weight on legal cases, and "Blue Bloods" distinguishes itself by taking a look at the politics of policing and what sort of conflicts can arise between upper brass, beat cops, and citizens. While "Law & Order" may follow a case from crime to investigation to prosecution and incarceration, "Blue Bloods" takes a deeper look at Frank Reagan's job more often than not. Working as a commissioner, he has to deal with overloaded budgets, bad publicity, and the horrors of political jockeying. It's definitely different from the one-and-done cases his children have to cope with every week. In other words, he's the ultimate dad figure — even to those he works with.
While there have been plenty of police procedurals over the years have focused on a chief-as-father motif, the familial themes which are central to "Blue Bloods" come out more in Frank Reagan's work than for any other cop on the block. And the show doesn't shy away from portraying the tough parts of trying to lead, either. Frank is a master at trying to balance all of these different warring factions, but he's only human and gets angry, making mistakes based on his own passion and his own desires. On the home front, he's worried that he's modeled a poor example for the grieving Danny, and he continues to intensely mourn his late son, Joe. Naturally, he's portrayed as being a basically good man, even when he's put in conflict with his daughter, Erin Reagan (Bridget Moynahan), who is set to throw her hat into the political ring. Again, the focus on family makes him more relatable than he might be on a different show.
The show's sense of family is what makes it unique
The ongoing conflict between Jamie and Danny has underscored the larger theme of families within the working sphere. During Season 13, they feud over job duties, with Jamie's more methodical style clashing with Danny's more intense ways. The whole situation is made worse when Jamie is promoted over Danny and pulls him from a case important to him. Eventually the two brothers figure out how to compliment one another as cops and as brothers, and that's the kind of plot you don't often see in police procedurals. The general feeling is that no matter what, like many other families, they'll find their way through to reconciliation. Because even if they do different things during the week or get in a shouting match, they still come together for Sunday dinner.
That sense of family is what underpins everything about the show, and it extends to characters like Maria. When she becomes a single mom during Season 12 by adopting Elena, it's Danny and the rest of the Reagans who circle the wagons and help her adjust to midnight feedings and diaper changes. If you're close to the Reagans, they'll never forget you, and they'll risk life and limb for you. Just look at Lenny Ross (Treat Williams), Frank's ex-partner, whom Frank goes out of his way to support even when he's in dire trouble.
That, ultimately, is why America has opened its arms to the Reagan clan. You're not going to get this level of closely-knit family fondness on another procedural show — specifically, the kind of fondness that reaches out and embraces the viewer. Ultimately, no matter what strife the Reagans must confront in their multilayered relationships, they have each other, and Friday night viewers always have them.