One of the most prominent themes running through CBS's "Blue Bloods" is partnership. No character is an island, and each one must rely on those around them to accomplish their goals. Frank Reagan (Tom Selleck) relies on his trio of confidants. Erin Reagan (Bridget Moynahan) leans heavily on her trusty investigator, Anthony Abetemarco (Steve Schirripa). Jamie Reagan (Will Estes) depends on his former work, and now life partner, Eddie (Vanessa Ray).
For Danny Reagan (Donnie Wahlberg), partnership is something that has been a constant question mark for him throughout the series. He went through some in-universe auditions for a partner at the beginning of the series before landing a permanent partner in Jackie Curatola (Jennifer Esposito). He then had to do it again upon her leaving (even getting "The Blacklist" star Megan Boone for a couple of episodes) before settling in for the long haul with Maria Baez (Marissa Ramirez). Some of those partners have shown chemistry that could be seen as more than platonic.
This is sometimes the subject of online debate about the future of Reagan and Baez. For instance, u/makaeye08 posted on Reddit that they believed the relationship should happen, stating, "I think they should give a relationship a go. They are detectives, not patrol. They don't spend all day in a car on the road. The patrol guide still says nothing, so they should remain partners while dating." The response to this post was divided. What has the fans so divided and could a relationship actually happen?
They have had a long partnership
Danny Reagan had a little over two seasons of partnering with Detective Curatola before her sudden departure in season 3. While Jennifer Esposito's exit from the series and the conflict surrounding it was well known, who would fill her shoes wasn't. Kate Lansing (Megan Ketch) was the first to step into the role, only to return to her previous post with Internal Affairs. Candice McElroy (Megan Boone) was next before she also returned to a prior role in "Vice." The third and final partner he tested was Detective Maria Baez. The partnership worked so well that she has been in the position for the last decade.
The two have been through a ton together. Danny was present when her brother Javi (Kirk Acevedo) was killed while working undercover for the department. Because she was a cop and he was someone who always struggled with drugs and the law, they had an estranged relationship. Not surprisingly, the strong-rooted family man that Danny is couldn't help but give her advice on how to fix the relationship, which they did before Javi's death. Similarly, Baez has been a rock after Linda Reagan's (Amy Carlson) death between Seasons 7 and 8. She also hasn't shied away from calling him out whenever his late wife's death is clouding his judgment.
When two people go through this much together over nine seasons, it is only a matter of time before fans start to speculate on if the writers will take their relationship up a notch. Here is what the fans think about a possible budding relationship between the two detectives.
Fans seem divided over whether it should happen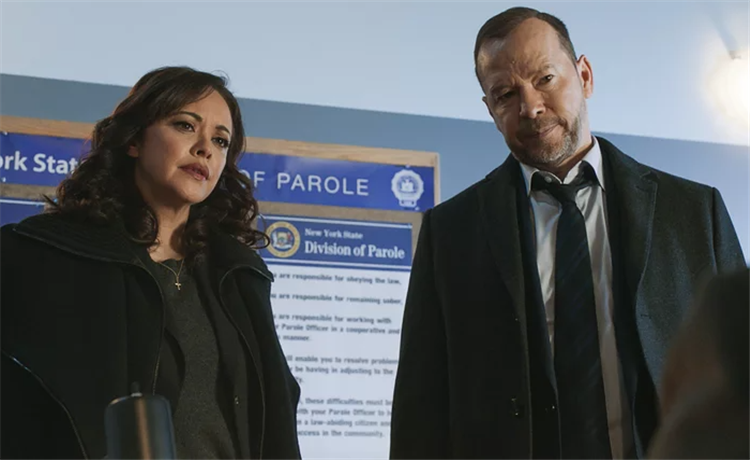 Like any good show, the fans have their opinions on the direction certain characters should take. For Danny and Baez, they can't seem to agree. As stated, u/makaeye08 believes it should happen and reasoned that it "would be a good story cause it could cause friction with brothers over Jamie and Eddie. However, if you remember, it was Jamie and Eddie that finally made the split. There was no order handed down. They choose to settle for family sake. I think it needs to be fought. There is no one better to have your back than your significant other and if it's a cop ever cooler cause they would know what life is like as a cop." u/xforce4life agreed with the sentiment with a simple, "For it."
u/Navitach opposed them passionately, stating, "For the love of God, please stop with this!! They are professional partners, and yes, they're good friends, but they should NOT be anything more." They go on to explain that the decision would feel repetitive and lazy when done on the heels of the Jamie Reagan/Eddie Janko storyline that followed a similar arc. u/Beautiful-Method4170 added that the latter two had a sexual tension that persevered for years before they got together, and it was part of the storyline. They continued by confessing they believe there was better chemistry between Danny and Curatola.
Even though the fans seem pretty divided on whether the long-running detectives should take their relationship to the next level, the people involved seem to have landed on an answer for what will … or will not happen.
Those involved don't believe it would or should happen
In some ways, it doesn't matter what the fans think should happen if the actors and showrunners have different ideas. They are the people involved and have a grasp on the big picture, something the viewers are not privy to. After a few years of the single life, and with one of his two sons out the door and the second on his heels, questions arise about his future.
In a conversation with TV Insider, showrunner Kevin Wade weighed in on the suspicion of a budding relationship. "I'm gonna use Sam and Diane from 'Cheers' and really age myself here, but once it happens, there's nowhere to go." While Wade was a little coy on the possibility, essentially saying it could happen down the line when there was no story left to tell, the stars were more direct. "Will Estes plays my younger brother on the show, and Vanessa Ray plays his now-wife. They started as partners, and the minute they got together and got married, they don't have scenes anymore," Donnie Wahlberg said. "So, if they start a relationship, we won't have scenes together and then I'll miss my friend." Marissa Ramirez echoed the sentiment with the comment, "I don't want to be here if I don't have scenes with him."
While the fans speculate over and over online about the future of the two characters, the actors seem to have a grasp on what they prefer. And more importantly, the showrunner agrees. If you are holding your breath for more romance on "Blue Bloods," you probably won't breathe any time soon.