Tom Selleck could have been forgiven for resting on his laurels when he joined "Blue Bloods." By the time the offer to play New York City Police Commissioner Frank Reagan came along, Selleck had already dominated TV with the original "Magnum P.I." and several "Jesse Stone" movies. With an ensemble that includes pros like Donnie Wahlberg and Bridget Moynahan and a role that didn't require Selleck to throw his body around like he did on "Magnum P.I." "Blue Bloods" could have been a cushy gig to top off an impressive career.
Selleck helped create another long-running hit with "Blue Bloods," though, and part of the reason for the show's success is Selleck as Reagan. The patriarch of the Reagan clan is often the voice of reason, guiding his family and colleagues through turbulent times. Selleck also brings a calmness and inner peace to Reagan that makes the character surprisingly thoughtful and empathetic, even when he needs to put someone in their place.
One of Reagan's most trusted allies is Det. Abigail Baker (Abigail Hawk), who works closely with the commissioner. Hawk has appeared in a bulk of the show's episodes and has become an integral part of the series despite not carrying the last name Reagan. According to Hawk, her character only exists because of Selleck, an acting veteran who was clearly invested in "Blue Bloods" far beyond his role.
Tom Selleck came up with the name Abigail Baker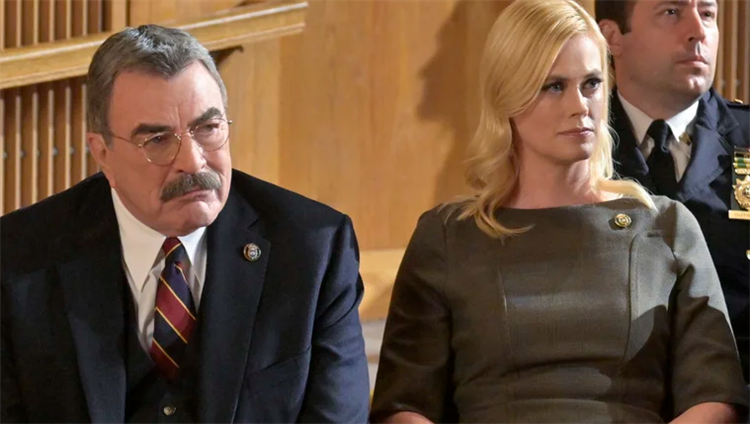 For Abigail Hawk's first episodes of "Blue Bloods," Abigail Baker was little more than a cardboard cutout, with no last name and no real identity beyond her relationship to Frank Reagan. Hawk revealed while promoting the show that it was Tom Selleck who decided on her character's name.
"Originally, she did not have a last name. She did not have an age. She did not even have a gender. She did not have a race. She did not have an anything. She was either detective Mel or Melissa. So, no first name. Definitely not my first name. I got the role and about two to three episodes in Tom [Selleck] decided to change it to Abigail because he thought Melissa was too ordinary, which I guess is a compliment – so I'll take it," the actress told Starry Mag in 2021.
For the last name Baker, Selleck himself cleared things through the legal department, according to Hawk. She said Selleck felt it was important for her character to have a name and background and thanks to some pushing from the actor, Abigail Baker became more than just background filler, she became a necessary character.
"He obviously thought it was very important for me to have a last name since I was a person on the show. So, they gave me a full-fledged identity and that was all him," Hawk said.