"Blue Bloods" on CBS has a venerable who's who of talent, not the least of which is TV legend Tom Selleck as the family patriarch Frank Reagan. To a generation of viewers, Selleck may be best known for his role on "Magnum, P.I.," but his presence on "Blue Bloods" means he's the rare actor with multiple iconic television roles to his name. Many actors are lucky enough to get just one, but then again, Selleck isn't like most actors, and you can tell that's the case by the way his co-stars talk about him.
Selleck may have years of acting experience under his belt, far more than any other performer on "Blue Bloods," but Donnie Wahlberg, who plays Danny Reagan on the police procedural, more than holds his own against him. The two have had ample scenes together over the years, so suffice to say, the two actors have had numerous opportunities to get to know each other. As expected, Wahlberg has nothing but kind things to say about his co-star.
Donnie Wahlberg refers to Tom Selleck as an 'experienced, very smart guy'
Considering Tom Selleck has decades of experience in the industry, it should come as no surprise to hear that he's a delight to work with. After all, you don't get that kind of consistent work without people excited at the prospect of hiring you. In an interview with Outsider, Donnie Wahlberg let it known that he adores working alongside the veteran actor. He said, "Tom [Selleck] is a leader himself. He is a very experienced, very smart guy. Very dedicated, much like myself. There are times when we both see the hidden game, and we both want the same thing but we have very different ideas on how to do it."
It's a great sensation for an actor to go up against someone who challenges them. It prevents one from getting complacent and always striving to deliver another stellar performance. Wahlberg goes on to describe how it's almost like a dance between the two, as he states, "Knowing when to step up, knowing that this is the time Tom could really use my input. Or knowing when to step back and knowing this is the time I gotta trust Tom. It is very truthful off-screen as it is on-screen for Danny and Frank."
It sounds like there's nothing but respect between the actors. That dynamic has led to a ton of great storylines over the past 200 episodes, and it should come as no surprise that "Blue Bloods" likely won't come to an end any time soon.
Selleck's character is one of the reasons that Wahlberg joined the show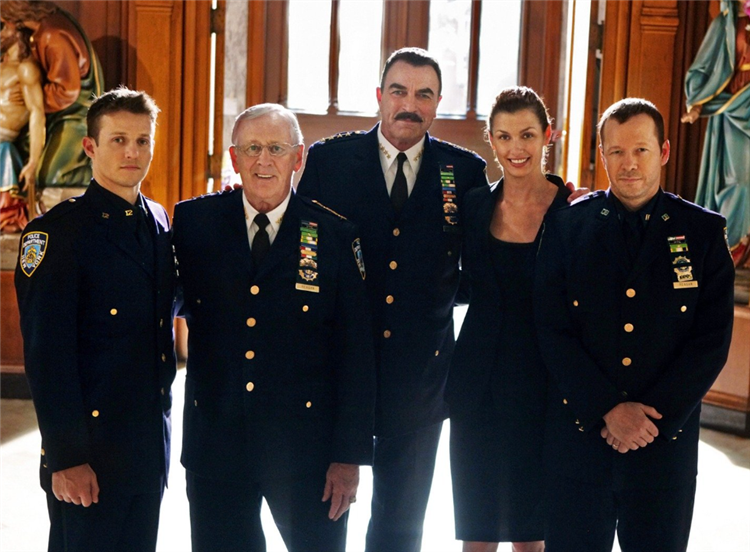 Part of the reason why Selleck and Wahlberg get along so well is because Wahlberg sees a lot of his own father in Selleck's character. In a 2013 interview with The Huffington Post, Wahlberg spoke about what drew him to "Blue Bloods" in the first place. As one of nine children, Wahlberg could relate to his character Danny as one of a group of siblings who often squabble, but always come together in the end.
"'Blue Bloods' is a throwback show because they don't make shows that focus on families like this anymore," Wahlberg said. "Nowadays, it's about the family down the street selling heroin or the husband with three wives. Everything's focused on the unusual family. When I read the pilot the family dinner scene attracted me most. I've felt the heat of my dad staring down at me and my sister while we're arguing and that same heat's there with Tom Selleck and Bridget [Moynahan].
"And just like we tease Tom on-screen, that's directly from my childhood with my dad. He was a very tough guy and we loved trying to break through that hard exterior and make him laugh."
Off-camera, Selleck and Wahlberg have a father-son relationship
Wahlberg and Selleck's relationship has deepened in the years since "Blue Bloods" first went on the air. In a recent interview with Entertainment Tonight, which he gave shortly after the death of his mother, Alma, Wahlberg talked about his bond with Selleck.
"I call him dad now, and he calls me son," Wahlberg said. "I mean, that's how we talk to each other off-camera. First he used to kind of grumble at me, like… 'This music guy's kind of weird.' And then now he calls me son. And he'll come in and give me a big hug. You know, you get a hug out of Tom Selleck, that's a big deal."
With a show like "Blue Bloods," it only works if the actors can believably portray the family dynamics we're all familiar with. Luckily for Wahlberg and Selleck, it doesn't sound like they have to fake the father-son dynamic too much – and that's one of the many reasons why "Blue Bloods" has connected so well with fans.