With an acting career spanning nearly 25 years, fans of Bridget Moynahan have had plenty of opportunities to become familiar with her work. The New York native focused primarily on film in the early half of her career and starred in popular movies like "Serendipity," "I, Robot," and "Coyote Ugly." She made a noticeable splash when she made the jump to the small screen and was featured in seven episodes of HBO's "Sex and the City."
Today, Moynahan is best known for her role as Erin Reagan in the long-running CBS series "Blue Bloods." Fans of "Blue Bloods" have been enjoying Moynahan's performance as the New York District Attorney since the series debuted back in 2010. The character is the oldest of four siblings who, along with their parents, are connected to New York law enforcement. As a by-the-book enforcer, Erin is in a constant tug-of-war between her family and the very laws established by her predecessors. Moynahan has expertly portrayed Erin, as the character bounces back and forth between being a professional and doing her best to focus on her family as a single mother.
Just recently, took on a new role for the series and stepped behind the camera, making her directorial debut in a Season 12 episode. Now, Moynahan has notched a couple of director credits on her resume, and based on her reaction to this transition, the opportunity was a long time coming.
Moynahan was emotional seeing a picture of herself directing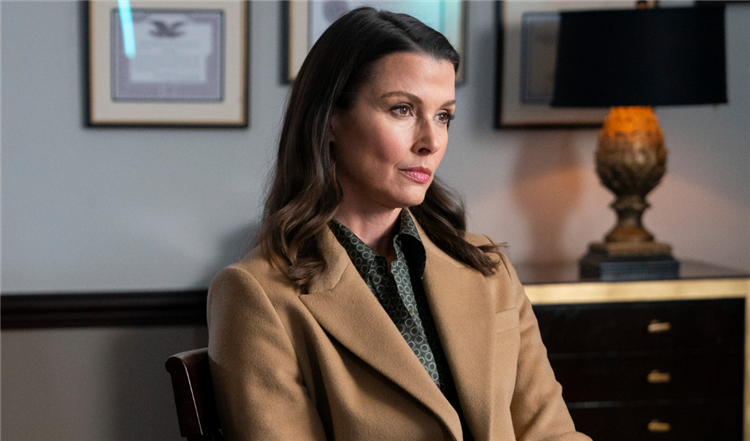 It must be very difficult for an established actor to suddenly step away from the spotlight and put on the director's cap. This difficulty surely gets even more enhanced when you are making this transition on a series that you've been performing on for over 13 years. Suddenly, you're throwing your directorial visions toward fellow castmates who have been standing with you on set. This is what Bridget Moynahan must've experienced when she decided to give directing a go, calling the shots for two episodes of "Blue Bloods."
During an interview on "The Drew Barrymore Show," Moynahan discussed the challenges of making the jump to directing and discussed how she was encouraged to try her hand at helming an episode of the series. "I think I grew into it," Moynahan said. "I think that people always encouraged me." This encouragement came from other women from different behind-the-camera departments who "earned their wings" to direct.
Perhaps the most significant admission from the interview was Moynahan's very real reaction to seeing a picture Barrymore showed of her directing. "I just almost started crying when I saw that photo," she admitted. "It feels really great to take on this new challenge and go to the next level and this next step."