"Blue Bloods" is a CBS police procedural that has enjoyed a healthy amount of popularity since it first premiered in 2010. Currently on its twelfth season, the series, which was created by Robin Green and Mitchell Burgess (both of whom were previously tenured on HBO's "The Sopranos" as writers and executive producers), sets itself apart from other cop dramas thanks to its focus on family relationships and legacies.
"Blue Bloods" stars Donnie Wahlberg, Bridget Moynahan, Will Estes, Len Cariou, and Tom Selleck as the Reagans, a family with a long and storied history of work in New York City law enforcement. Although the Reagans are the main focus, the show has featured plenty of noteworthy supporting characters over the years, including Kelly Peterson, NYPD inspector general, and later, NYC corporation counsel. She appears in nine episodes across Seasons 4 and 8.
Bebe Neuwirth, who plays Peterson, is a veteran of the screen and stage who has popped up in a number of memorable productions throughout the years. Here are a few of her most notable roles.
Bebe Neuwirth was Lilith on both Cheers and Frasier
Born in Newark, New Jersey, Bebe Neuwirth began her career on stage, with a particular focus on musical theater. Throughout the '80s and '90s, she appeared in Broadway shows like "A Chorus Line," "Sweet Charity," "Chicago," and "Damn Yankees," winning an impressive two Tony Awards in the process (via IBDB).
It was also in the '80s and '90s that she became known for playing Dr. Lilith Sternin in the "Cheers" television universe. An uptight, perpetually stoic, fiercely intelligent psychiatrist, Dr. Sternin was initially introduced as a date of Frasier Crane's (Kelsey Grammer) on the Season 4 premiere of "Cheers."
Per the book "Cheers TV Show: A Comprehensive Reference" by Dennis Bjorklund, Lilith was originally intended as a one-off character by the "Cheers" writers, and even Neuwirth herself didn't expect for the role to last beyond a single episode — she'd only auditioned for the part at all because she was staying in Los Angeles for the Tonys. But the writers loved Lilith so much that they brought Neuwirth back for Season 5 as a love interest for Frasier. The rest is history: The actor remained a part of the series' cast until the end of its run, won two Emmys for outstanding supporting actress in a comedy series, and reprised the role on the "Cheers" spin-offs "Wings" and "Frasier."
Neuwirth played the Shepherd kids' baffled Aunt Nora in Jumanji
For those who happen to fall within a certain age bracket, "Jumanji" is all but guaranteed to be a childhood relic. The Joe Johnston-directed blockbuster is usually described as belonging to genres such as "fantasy," "adventure," and "family," but from the perspective of a child, it's really pure horror. Few things could be more emotionally overwhelming than the havoc wreaked by that darn board game.
Just ask poor Nora Shepherd, the aunt of Judy (Kirsten Dunst) and Peter (Bradley Pierce) who takes them in following their parents' death. One day, without anyone telling her what's going on, Aunt Nora suddenly finds herself having to deal with dangers beyond her wildest dreams after her charges begin playing the magical board game. Nora is perhaps best remembered for being the butt of the film's sense of humor, and her scenes wouldn't have worked as well as they did without the sharp comedic skills of Bebe Neuwirth. The actor also returned for a brief cameo as Nora in 2019's "Jumanji: The Next Level."
Neuwirth won awards for the bizarre early-2000s indie Tadpole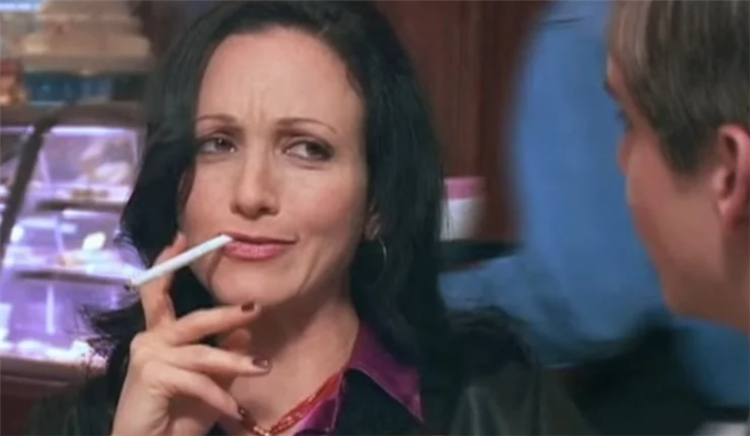 The early 2000s were a weird time in a lot of ways. They were, for instance, a time in which a straight-faced comedy about a 15-year-old boy "romancing" two middle-aged women could be not only released but also become a critical darling.
Directed by then-up-and-comer Gary Winick (who would later achieve mainstream success with "13 Going on 30"), "Tadpole" is just what it says on the tin: A film about a precocious teenage boy (Aaron Stanford) who is utterly uninterested in girls his own age, and only has eyes for older women. The film finds Aaron caught halfway between the affections of his stepmother Eve Grubman (Sigourney Weaver), and those of Eve's best friend, Diane Lodder, played by Bebe Neuwirth.
Although the film's sexual politics have obviously aged quite poorly, at the time, the indie was a big moment in Neuwirth's film career. She received strong reviews for her mesmerizingly unhinged turn as Diane, and was nominated for and even won several awards, including the Seattle Film Critics' award for best supporting actress (via IMDb), making it her most awarded movie performance to date.
Neuwirth was one of the stars of Law & Order: Trial By Jury
We've known for a while now that "Law & Order" is coming back soon for a 21st season, but you couldn't blame anyone who skimmed the news if they initially assumed NBC might be doing a new spin-off of some sort or another. After all, at this point, if we count its crossovers with the "One Chicago" franchise, the number of distinct branches in the "Law & Order" universe is nearly on par with the number of seasons of the original show.
One of those spin-offs was the short-lived "Law & Order: Trial By Jury," which marked the final appearances of Jerry Orbach as Lennie Briscoe before the actor's death in 2004. An attempt to shake up the "Law & Order" formula by focusing on the process of preparation for a jury trial, "Trial By Jury" was canceled after a single season of 13 episodes, but still managed to leave something for fans of the franchise to remember it by. Bebe Neuwirth starred on the series as Tracey Kibre, the homicide bureau chief for Manhattan's district attorney.
Neuwirth starred as Nadine Tolliver on Madam Secretary
"Law & Order: Trial By Jury" wasn't the luckiest spin-off in the world when it came to popularity and longevity, but that didn't keep Bebe Neuwirth away from primetime. Between 2014 and 2017, she played Nadine Tolliver on the CBS political drama "Madam Secretary."
The series, created by Barbara Hall, imagines the routine of rites, crises of international consequence, and run-ins with hostile media that Elizabeth "Bess" Adams McCord (Téa Leoni), the fictional secretary of state of the United State, is faced with.
Initially distrustful of Bess and introduced as something of an opponent to her in the context of the series, Bess' veteran chief of staff, Nadine, eventually warms to her new boss. The two women go on to develop a strong, mutually trusting relationship over the course of the series. "Madam Secretary" ran for six seasons, of which Bebe Neuwirth took part in three, plus a few episodes, before leaving midway through Season 4.