After 13 seasons, the CBS drama "Blue Bloods" has managed to maintain its stellar ratings and continues to entertain fans with each entry. With every episode comes an assortment of personalities the Reagan clan has to deal with. Frank Reagan (Tom Selleck), in particular, has to go up against some influential adversaries, including Archbishop Kevin Kearns.
With one being a big deal in the justice system and the other being a top dog in the Catholic Church, the two often cross paths. The relationship between Kearns and Reagan is somewhat friendly but strictly professional. The two aren't afraid to go to one another for help, but their interactions always seem to be very tense. There are a multitude of cases and issues the two have dealt with together onscreen, and there is no denying that the actor playing Kearns gives an exceptional performance, going toe to toe with Selleck.
While the character hasn't been in a wide range of episodes, the time he has spent on the series has been impactful, and many viewers might wonder who plays the archbishop.
Stacey Keach plays Archbishop Kevin Kearns on Blue Bloods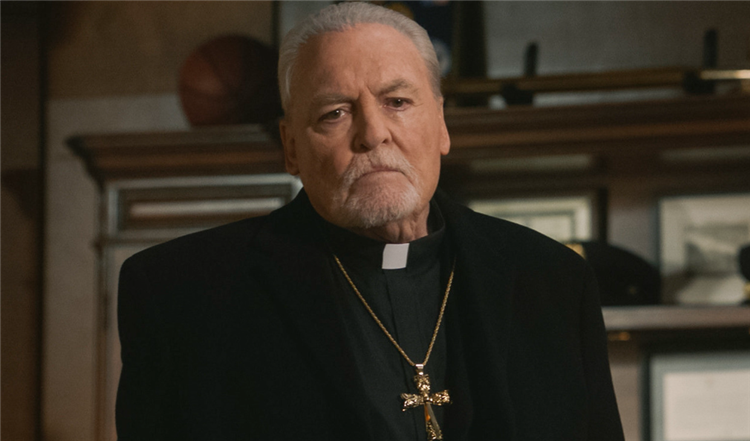 Stacey Keach is the one who plays Archbishop Kevin Kearns on "Blue Bloods," and the role is just one of his many accomplishments. Keach has been an actor for some time, with over 200 credits making up his impressive body of work dating back to 1964.
When it comes to movies, viewers may recognize him from "Fat City," "Escape from L.A.," "Nebraska," "The Bourne Legacy," "Gold," or "Sin City: A Dame to Kill For." As far as television is concerned, he has made a number of appearances in a plethora of programs, like "The New Mike Hammer," "Prison Break," "The Simpsons," "Titus," and "Man with a Plan." His lead role in the 1989 limited series "Hemingway" could very well be among his best, as it secured him an Emmy nomination and a Golden Globe win.
But Keach isn't just the kind of guy that only performs in front of a camera. He has also contributed to the realm of theater in productions of "Hamlet," "The Crucible," "Death of Salesman," and "Macbeth." His efforts on stage solidified his exemplary status in this field as he was inducted into the Theater Hall of Fame in 2015.
The actor has appeared in nine episodes of "Blue Bloods" so far, including Season 9, Episode 22 ("Something Blue"), which is considered to be one of the best episodes of "Blue Bloods," adding another victory to Keach's legacy.